Google Hangouts Meet free for now, best alternate for Zoom App. Here's how to get it and how the group video conference tool works and what are the limits of the promotion.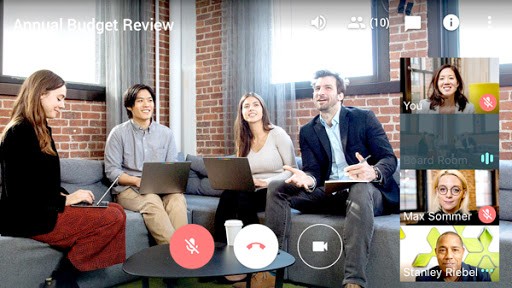 What is Google Hangouts Meet, the program for making video calls and video conferences useful for those working remotely: the service will be free until September 2020 to deal with the coronavirus emergency and allow all professionals to work from home. But how does it work?
Telework is now part of the reality of many professionals who can practice their profession even at a distance.
Google Hangouts Meet will allow members to make video conferences and meetings remotely in comfort.
Google Hangouts Meet: what it is and how it works
Google Hangouts Meet allows you to manage virtual meetings up to a maximum of 250 people connected at the same time, with the possibility of being able to show live teleconferences up to a maximum of 100,000 spectators.
The meetings carried out with Google Hangouts Meet can also be conveniently stored on Google Drive, through specific videos (similar to Zoom, another app that has experienced a real download boom).
Google Hangouts Meet: prices, how much does it cost?
Google Hangouts Meet is part of the G Suite and its cost varies according to the package chosen: a version of the Basic plan costs $6 USD per month, but it can also be found on offer at different times of the year even at $4 USD, while the Business package reaches $12 USD per month. The premium membership is called Enterprise and costs $25 USD per month.
All prices reported so far are for single user.
Google Hangouts Meet free for now: how the offer works
Google's choice to provide Google Hangouts Meet for free, for a decidedly extended period of time, is subject to certain particular conditions.
The promotion is in fact reserved for those who have already signed up for a previous offer of the G Suite package and G Suite for Education (for schools) will not be subject to subscription costs for the following months starting from the current one, April, until September 30.
The service can therefore be used free of charge only by those who already have an active subscription and not by those who, aware of the offer, register today to take advantage of it.