One thing users often forget to do before formatting their computer is to make sure they have a copy of the drivers needed to install the hardware devices in their computer.
To avoid this kind of problem, you can use Double Driver, a portable tool that lets you back up drivers installed in Windows and restore them after you have reinstalled Windows.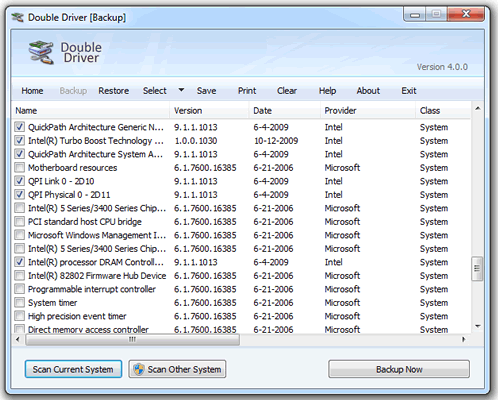 Double Driver is very simple to use, to back up your computer drivers click the "Backup" button and then the "Scan current System" button to access the list of drivers installed on the system.
The "Scan Other System" button allows you to back up a Windows installation that is on another partition or hard disk of your computer, such as a dual boot Windows installation.
Next, Double Driver will analyze the operating system and list the drivers installed on the system. By default, it automatically selects the drivers considered important, which are all "non-Microsoft".
Check the list and select the drivers you want to back up. You can also use the "Select" option to select all drivers, invert the selection made, deselect all selected drivers.
After selecting the drivers, click the "Backup Now" button, select the location where you want to save the backup and the storage form (folder, zipped or self-executing file) and click "OK" to start the backup.
Restoring drivers is pretty much the same process, but in reverse. Click the "Restore> Locate Backup" tab, select the backup folder or file you want to restore, and click "OK."
Doing so will display all drivers available in the backup. Select the drivers you want to restore to your computer and click "Restore Now" to restore the selected drivers.
In summary, Double Driver is an excellent option for backing up the hardware drivers installed on your computer before formatting your computer and restoring them after a fresh installation of Windows.
Compatible with Windows XP, Windows Vista, Windows 7 and Windows 8 (32 and 64 bits).