The HDMI standard became popular as an option for better audio and digital image on various types of screens, such as monitors and TV. However, it is not the only option and DisplayPort can also send video and digital sound in high definition. But what is the difference between HDMI and DisplayPort? How to choose between one or the other? See this and other questions below.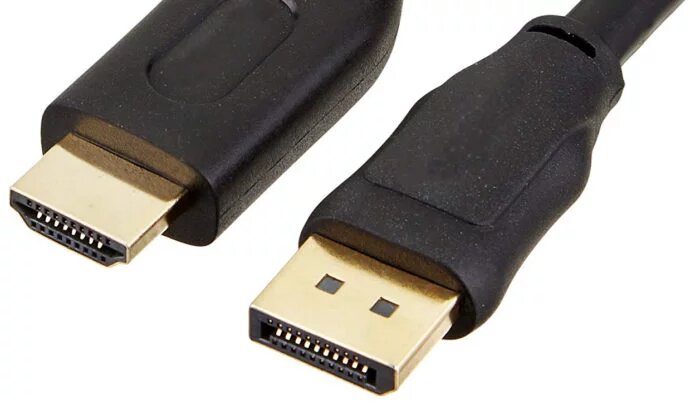 What is HDMI
HDMI was designed in 2002 as an option to replace the old DVI, VGA, SCART standards and component video (video signal divided into two or more components. It was that cable with colored connectors).
You can find five types of HDMI connectors:
A (standard connector)
B (extended connector) with specification 1.0
C (mini connector) with specification 1.3
D (micro connector) with specification 1.4
E (automotive connector) also in specification 1.4
What is DisplayPort
Designed in 2006, the DisplayPort (DP) standard, as well as HDMI, also conducts audio and image in high definition compared to the old DVI, VGA, SCART standards and component video – if both your electronic device and screen are compatible.
Although it has existed for some time, its popularity is still less than HDMI, but the arrival of electronics with an option for DisplayPort may change this reality in the coming years. The DisplayPort has a 20-pin connector and the cable can be found in two sizes: the standard and the Mini DisplayPort.
What is the difference between HDMI and DisplayPort
Cables
Regarding cable types, the HDMI standard has four options on the market and a fifth, newer standard for HDMI 2.1. The problem with this variety is that, at least on older cables, there is no indication in the product as to which model it is (standard, standard with ethernet, high speed, high speed with ethernet).
Using a "wrong" HDMI cable, for the function you want, can cause video and/or audio flaws, problems with synchronization, etc. Not that an HDMI cable chosen wrong will ruin your device, but you will certainly have an experience below what you would like.
The DisplayPort cable comes in just one standard. It carries digital video and audio, but unlike some HDMI models, it does not send ethernet data. Note that both cables (HDMI and DisplayPort) can be used with adapters, depending on your need.
Use with screens (monitors and TV)
HDMI can handle a single stream of video and sound well, meaning it is a good option for connecting, for example, a PC to a single monitor or connecting a video game to TV. However, if you are a person who prefers to work (or play) with two monitors at the same time, DisplayPort is more suitable since it has the capacity to support up to four monitors with 1920×1200 resolution.
In the case of two monitors, the interface supports a resolution of 2560×1600 for each. If you have a card that supports the DP standard on your PC, and you want to use two monitors, this may be a good option. If your screen does not have an output for DisplayPort, it is worth buying an adapter.
Which to choose?
It depends on your type of use. It is not essential to have DisplayPort at all, but it is very interesting to be able to use it for games, for example (depending on your GPU). The best monitors, video cards and all-in-one PCs on the market have adopted the standard. At least one DP input can be found on these devices – along with HDMI.
Still on games, if you use any GPU from NVIDIA, DisplayPort is recommended if you want to use G-Sync technology (reduces the effect of "tearing", or cropping the image). FreeSync, on the other hand, equivalent to G-Sync but from AMD, works through HDMI (in recently launched displays).
The HDMI 2.1 standard is much more advanced than previous versions, with a bandwidth around 48Gbps and HDR support. The cable also features the Enhanced Audio Return Channel (eARC) function, allowing TVs to send sound signals to receivers.
For gaming monitors, which usually work with refresh rates ranging from 75Hz to 250Hz, HDMI 2.1 has an advantage over older versions (before 2.0), if your GPU is an AMD with FreeSync. Older HDMI versions limit 4K to just 30Hz.
The most recent standard for DisplayPort is 1.4, with 32.4 Gbps bandwidth. Although it seems more limited, compared to HDMI 2.1, its 3: 1 compression ratio is almost lossless. Therefore, the cable is capable of performing complex tasks of displaying image and sound.
In addition to the possibility of connecting more screens than HDMI, the DP allows high resolution video (HDR and up to 8K) and SuperSpeed ​​USB – using a cable for this. If you are using an NVIDIA video card, and with a monitor that has a DisplayPort output, the ideal is to use this cable to take advantage of G-Sync (even though HDMI outputs are available).
Again, it is important to emphasize that the cable alone will not make you able to play at, for example, 144Hz. It is necessary that both your monitor and the video card support this frequency (or higher).
Conclusion
DisplayPort has a greater focus to replace the old DVI and VGA standards on the PC, especially with the possibility of connecting, with almost no loss of visual and sound quality, several monitors (it may be necessary to use a hub for this). HDMI was designed by a group of electronics manufacturers for broader commercial applications, such as TV sets.
The difference between HDMI and DisplayPort, at the time of your choice, will depend directly on the type of content you want to display and, of course, what electronics you have available. Pay attention to the specifications of the monitor and/or TV to purchase the latest version that will deliver the best experience possible.