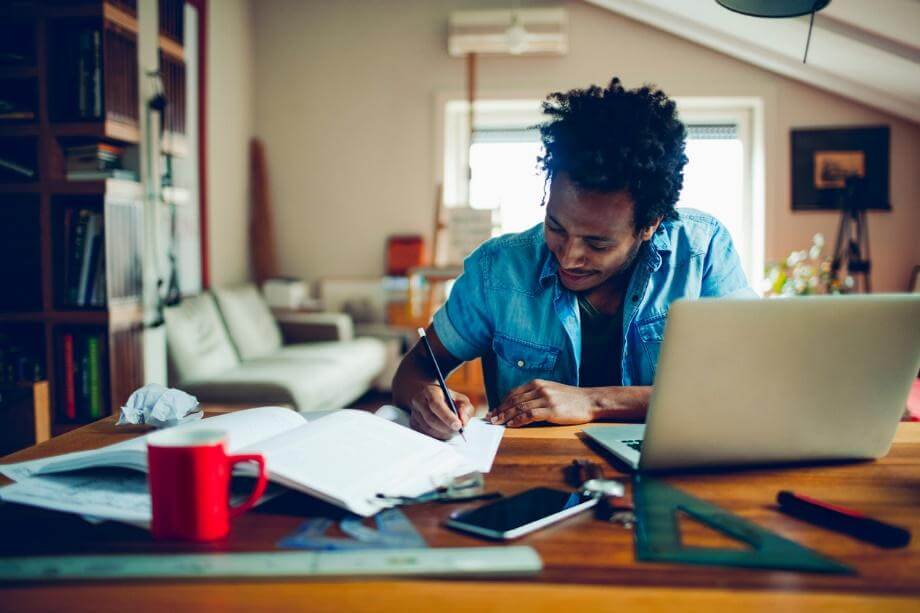 A degree will not be the only differentiating factor in your job hunt. Instead, your skills and knowledge will become more critical when applying for positions. 
In today's competitive job market, you must be as prepared as possible to make yourself stand out from the crowd of other people applying for similar jobs. The best way to do this is by keeping up with trends and improving your skills through continuing education. 
You can achieve this through online learning. This learning mode has been changing how people go about their education, and the trend shows no signs of slowing down.
More and more people are turning to online courses to study at the most convenient times and access courses not offered at their local institutions. In addition, online classes allow students to learn from some of the top experts in their fields of interest. 
They will likely receive excellent training and education at much lower costs than in traditional brick-and-mortar schools. You can attribute the growth in popularity of online courses to several factors discussed in this post. Read on to learn more.
Understanding online learning
Online learning refers to the process of taking classes or studying by completing lessons and assignments online without ever having to attend classes physically. Students and institutions utilize various technology-based tools to make this possible. 
For instance, tools such as Skype allow students from different parts of the world to learn together in real-time. Additionally, services such as Blackboard offer tutors an easy way to post lectures and readings for their students to watch anytime. 
The internet also provides access to resources that would otherwise be difficult for people who live in remote locations or have financial challenges. 
Online learning has the potential to be more cost-effective, flexible and accessible than traditional education. For example, attending an in-person class can be less expensive and may not require you to take as much time off from work. 
The advantages of online learning for you and your career
Online learning can be an extremely beneficial tool in your personal development, as well as your career growth and advancement. It allows you to find the balance between education and your personal life that works best for you. 
The platform also allows you to learn from some of the best professors worldwide without commuting to their classrooms, saving you time and money. Here are the top advantages of online learning for you and your career.
More comprehensive range of courses and programs
You're no longer limited to the courses offered at your local college or university. You can choose from a broader range of courses and programs when you learn online. 
This means that you can find a program that's right for you, no matter where you are in the world. For instance, if you pursue a career in nursing, you could enroll in an MSN-FNP online program that offers advanced training in nurse practitioner education. You could also consider getting an MSN for nurse educators to teach future nurses the wisdom you've obtained from your career.
The course requires a minimum of 3.0 GPA and an active RN license. You will learn, complete projects, and get feedback on what you've learned without leaving home. 
This variety of online courses enables you to customize your studies and degree plan. It's up to you which degree or certification track suits your needs.
Online learning can help in improving self-discipline
It would help if you did more than sit back and listen to get the most out of any educational experience. You should actively participate in learning by asking questions and researching new topics. 
Self-discipline is a great thing to develop early on in life because it's something that you use in every area of your life. Unfortunately, self-discipline does not come naturally to many people, so it can be difficult to cultivate on your own. 
However, online learning allows you to practice self-discipline while working towards achieving your academic goals. For example, taking an online course that requires weekly reading assignments will allow you to improve your study habits. 
Over time, you will start developing a better understanding of how long it takes to complete specific tasks. So, when you go back to school or have a job in the future, you'll know which tasks take longer and which ones can be done faster without sacrificing quality or accuracy.
You can apply what you're learning to your current job
One of the significant advantages of online learning is that you can apply what you're learning to your current job. Whether you're taking a course on marketing or web development, you can use your new skills at work right away. 
If you're looking for a new job, the knowledge you gain from online courses can help you stand out from the competition. For example, when interviewing for an entry-level marketing position, employers are likely to ask applicants about their understanding of social media and email campaigns. 
You can answer these questions confidently if you have taken an introductory marketing course. Furthermore, with today's rapidly changing business landscape, people must stay up to date with their field by taking continuing education courses. 
Online learning facilitates networking opportunities
With more competition arising in the job market, it is imperative to think about how you can stand out from other applicants. One way to achieve this is through leveraging networking opportunities. 
Online learning allows you to network with other professionals from around the world. Traditional education might limit you to networking only with the people you meet in person. 
However, with online learning, you can connect with people from all over the globe who share your interests and goals. It provides online discussions, projects and mentoring opportunities that can lead to valuable connections with people who may not be part of your daily life. 
Online learners typically have fewer social interactions than their traditionally educated counterparts. However, they might find these connections more meaningful because they can cultivate an authentic relationship with someone they respect before meeting them in person.
Tailored or customized learning environment
When taking an online course, you can customize your learning experience to suit your needs. If you are a visual learner, you can watch lectures or read materials in addition to reading the textbook. 
If you are a more hands-on learner, you may be able to watch a video that goes through a procedure with step-by-step instructions. For example, if you need to learn new software for your job, you can take an online course that covers only the topics you need to know. 
This approach is much more efficient than attending a traditional classroom course, which would cover a broad range of topics that may not be relevant to you. 
With personalized learning, students can access online tutoring services where they can connect with experienced teachers who will help them succeed.
Offers opportunities for career advancement
When you take on a particular career, there will inevitably be specific skills or qualifications that are necessary to advance your position. In many cases, some of these skills may not be easy to learn. 
Additionally, you may not have enough time to return to school while working full-time. However, online courses can teach you the necessary skills without leaving home.
The following are some tips you may employ to help you advance your career:
Set clear goals about your expectations
When figuring out what courses or training to take, make sure that you know what career path you want. Then set a goal for how much time and money you're willing to invest in getting there.
Approach your goal with a step-by-step plan
Have a strategy in place so that you can see the light at the end of the tunnel. Make a list of all your desired outcomes and prioritize them based on their importance to your future career success. 
Actively search for new opportunities
Once you've come up with a comprehensive plan, the next step is to implement it. Take the initiative by actively searching for new opportunities where you could put your skills and experience to use. 
Discuss your career goals with a supervisor or colleague
If you're unsure which direction to go, speak with someone who has been in your shoes. They will be able to advise you on the best course of action for your current situation.
Keep track of your progress
As you progress, try to keep tabs on your progress. That way, you'll identify where things went wrong and how you could fix them in case of setbacks.
By employing these tips, you can navigate the world of online learning and prepare yourself for more excellent opportunities.
Online learning enhances your ability to gain technical skills
With technology constantly advancing in society, it's crucial to have the skills to use it effectively. Online learning can allow you to learn these skills at your own pace and in a way that is convenient for you. 
The internet grants you access to endless resources that can help you learn new technical skills. Whether you want to learn how to code, use Photoshop, or improve your writing skills, online courses and tutorials are available to help you.
These skills are essential for college graduates and professionals who want to stay competitive in their industry as employers are looking for employees with a diverse set of skills. 
Taking courses on different topics and developing your portfolio may increase your credibility in the job market. 
Online learning is more affordable
When you compare online learning to a traditional brick-and-mortar school, it is much cheaper and more affordable. Because there are no physical buildings or classrooms, online schools can save on overhead costs. 
Institutions tend to pass these savings on to students through lower tuition rates. With the average four-year degree costing more than $120,000, this is a great way to save money.
In addition, many online programs offer grants and scholarships that help to reduce the cost of your education. This option benefits people who want to pursue a degree but cannot afford a traditional college experience.  
Online courses also typically take less time to complete than courses taken in person. A shorter time to graduation means cutting on potential costs and expenses. That way, you can use this extra money towards future goals such as retirement, buying a house, starting a family, or starting your own business.
Online learning offers time savings and flexibility
Online learning can be a great option if you have a busy schedule or prefer to learn at your own pace. Rather than spending time commuting to and from class, you can study from the comfort of your own home. 
For instance, if you work full-time during the day, you may find it challenging to make it to evening classes. Online courses allow students with full-time jobs or family commitments to fit their education around their schedules without compromising their careers or personal life. 
It is also possible that not all of your desired classes take place on evenings and weekends. Luckily, an online course could offer an opportunity for something more flexible with your schedule. 
Also, online courses allow you to complete assignments in your own time. You don't need to worry about fitting in homework with other responsibilities because you complete an online course asynchronously. 
Generally, flexibility allows you to maintain your career while still getting the degree you want. Online courses are even more accessible as most degrees do not require physical attendance at lectures and labs.
Virtual collaboration opportunities
With online learning, you can take advantage of virtual collaboration opportunities. This ability means that you can connect with other students and professionals from around the world who are also taking part in online learning. 
It allows you to share your ideas, knowledge and insights on various topics with people worldwide. On top of this, they will have access to information about your work as you will also be posting it online. 
Such understanding can significantly benefit your career if you are looking for international jobs or plan on working overseas at some point in your life. 
Collaboration also goes a long way to improve your self-confidence and ability to cope with difficult circumstances. You don't have to worry about being bullied by those with more experience because everyone is new to the material. 
Things you should know before taking an online course
As we have established, online learning has become a popular option. It allows you to take classes from the world's best universities without leaving your home or office. However, before you dive into an online course, make sure that you know the following.
Online classes demand excellent time management skills
Most people think that they can take an online class whenever they want and that there are no set meeting times. However, this is not always the case. 
Online classes usually have set deadlines for assignments and exams. This means that you need to be able to manage your time well to succeed.
The professor will usually assign due dates for when you must turn in all of your work. If you don't complete all of the work on time, then it may be graded down or counted as a late submission.
Online classes are as difficult as traditional classes
Just because you're not sitting in a classroom doesn't mean that online classes are a piece of cake. They can be just as complex, if not more difficult, than traditional classes.  
For example, there's often less direct instruction, and students must figure out the answers to problems independently. They also tend to result in students having higher levels of anxiety and lower levels of motivation. 
Also, as it's easier for students to cheat when taking online courses, there's even more pressure on them to produce work that's theirs.
Not all online degrees are equal
Many schools offer online courses and degrees, but not all of them are created equal. It's important to research to ensure that you're getting a quality education.  
For example, if the school has not been accredited by one of the six regional accrediting agencies in the US, then it may be subpar or non-accredited altogether.
You need to be tech-savvy
To take an online course, you need to be tech-savvy. You should know how to use a computer and the internet and be comfortable using email and other forms of communication. 
Additionally, you'll need to be able to download and install any software that you may require for the course.
Wrapping up
Online learning is an excellent option to improve your job prospects. It will not only help you in your personal life but also in your professional life.  
Online learning is also an easy way to maintain your current lifestyle while pursuing new opportunities in the form of a degree or certificate program. Consider looking at the different online courses available to find the one that best suits your needs.