While it is not yet possible to take photos on your smartphone with the same quality as a dedicated camera for this purpose, versatility and portability are all in favor of mobile devices, which have seen considerable technology evolution in recent years, and they can make beautiful high resolution photos.
If you've bought a smartphone in recent years, there's a good chance it has two, three or even four cameras in the back. But why should a smartphone need these cameras? What is the function of these extra cameras?
In this article, we will list the types of secondary lenses and how they are making the smartphone camera much more powerful.
A brief explanation of the focal length


If you've ever been to a camera store, you've probably seen the terms "10mm" or "35mm" scattered to sort the lenses, or describe how the pictures are made. These terms refer to the focal length, which is the distance between the camera lens and the image sensor.
Simply put, focal length determines two things: How much of a scene is captured and how much it magnifies a part of what you see.
A camera with a short focal length allows you to capture a wider image, while a long focal length allows you to zoom in on details from a distance. Lenses for DSLR cameras usually have a variety of focal lengths that can be used, such as 18mm-55mm or 9mm-18mm.
The telephoto lens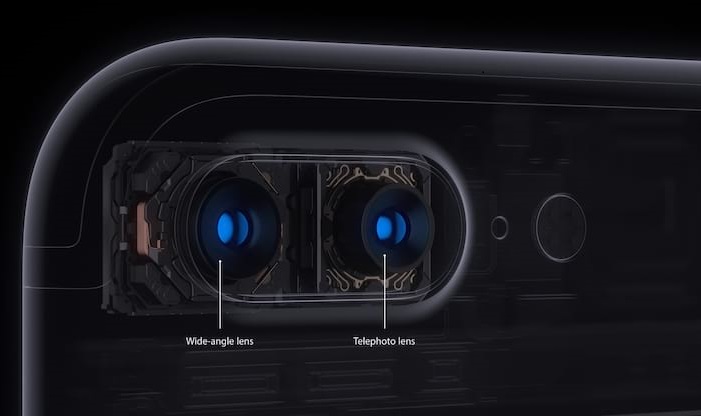 There are two ways a camera can zoom in on a distant subject. Many smartphones use the digital zoom, which is simply magnifying a portion of the captured full resolution image. This usually results in a significant loss of detail, especially over long distances.
Dedicated cameras use the optical zoom. This method uses a telephoto lens, which allows you to increase the focal length of the captured image so you can zoom in on a subject without compromising image quality.
Although many people would like their smartphones to have better zoom capabilities, smartphone manufacturers may not include a telephoto lens. These lenses would either make the devices much thicker, or add a large preponderance to the back.
Many smartphones, such as the iPhone Xs and Galaxy Note 9, use a second lens with longer focal length. When you use the 2x optical zoom function of a dual camera smartphone, what it really is doing is switching to the other lens, which magnifies the image without a noticeable drop in quality.
Some devices, such as Google Pixel 3, use advanced imaging software to digitally enlarge photos without a secondary lens. How this works depends on the camera application software, but the results are usually comparable to the pictures taken with an optical zoom.
Other smartphones, such as the upcoming 48-megapixel Xiaomi Redmi, use megapixel high-count cameras to enhance zoom.
Examples:  iPhone 8, X and XS/Max, Samsung Galaxy S9 and Note 9, Huawei Mate 20 and P20
Wide angle lens
There are also times when you need to capture more of the subject in an image. For example: if you are taking a photo of a sunrise in the ocean or the skyline of a city. In these situations, you need a camera that has a shorter focal length than usual, also known as a wide-angle lens.
Unlike zoom, there is no way to digitally re-create a wide-angle socket. Therefore, wide-angle lenses are an especially powerful addition to a camera's arsenal. Before Huawei launched Mate 20, LG's top-of-the-line smartphones were the only smartphones that included wide-angle rear cameras.
Even before the open-angle cameras were added to the rear of the devices, they were already being used in front cameras. They can expand the number of people who can fit into a selfie.
Examples: Huawei Mate 20 Series, LG V40 ThinQ
Portrait Mode
Almost all dual camera smartphones released in recent years have a portrait mode built into their camera applications. Portrait mode allows you to create a bokeh effect by blurring the background while the foreground remains in focus. To help these devices create this effect, some have a camera that analyzes depth information.
On intermediate smartphones, this type of secondary camera usually has a lower resolution than the main camera. It works by detecting where the foreground ends and the background begins. This technology is commonly referred to as edge detection.
Many other types of secondary lenses function as a depth sensor. The OnePlus 6T comes with an additional 20MP snap-in that improves digital zoom quality and enhances photos taken in portrait mode. The iPhone Xs also uses the telephoto lens to collect depth information.
Examples: Pocophone F1, Motorola Moto G6, OnePlus 6T, Vivo V9 and V11
Monochrome lens
In certain situations, black-and-white photos can be more dramatic and attractive than color photos. However, most smartphone cameras are limited to filters that turn the photo into black and white after capture. A dedicated monochrome lens can take black and white photos in real time, which makes the images much more striking.
Since Huawei announced the partnership with Leica, all of its top-of-the-line (including Mate 10 and P20) have a dedicated monochrome lens that lets you take black and white photos. Since then, it has been discontinued and replaced by the wide-angle lens in Mate 20 Pro.
The monochrome lens has also entered other devices, including Motorola's top of the line, and the Sony Xperia XZ2 Premium.
Actual black-and-white photos tend to have stronger contrast than those that pass through a filter, with deeper shadows and lighter highlights. In addition, the monochrome lens increases the amount of light coming in to enhance the detail and vibrancy of the color photos made with the main lens.
Examples: Huawei P20, P10 and Mate 10, Sony Xperia XZ2 Premium, Moto Z2 Force
Cameras with more than one lens
In addition to the ones mentioned above, several smartphones have interesting uses for their dual camera settings. Most notable is the Huawei Honor View 20, released in early 2019. It features an exclusive daylight camera, which is used to capture 3D images.
Meanwhile, in 2018, Samsung launched the Galaxy A9, an intermediary device that was the first smartphone with quadruple rear camera. In addition to its primary lens, it has a telephoto lens, a depth sensor and a wide-angle lens.
If the increasing number of cameras on smartphones is a trend, we will be seeing more quad-camera configurations soon.
Smartphone cameras continue to improve
Whether your smartphone has four rear lenses or a single lens, the quality of photos made on smartphones is much better than a few years ago.
Which smartphone should you buy? It depends on what you want to do. If you take many pictures of urban landscapes, or group photos with many people, then a wide-angle camera works wonders.
Do you put in your Instagram feed dramatic and striking photos of urban life? A monochrome lens will be very useful. There is a great camera for a smartphone for all use cases and all budgets.