The Apple AirPods, the wireless apple headphoneshave a number of competitors, but none of them are as "similar" as the Airdots Pro, launched by China's Xiaomi. By placing one next to the other, you notice the incredible similarities of design, but what about the differences? Yes, they do exist and we list them all down.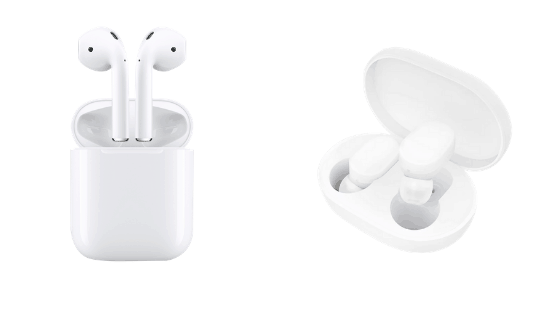 What is the difference between Apple AirPods and Xiaomi Airdots Pro?
1. Design
Introduced in September 2016, Apple AirPods are similar to good old EarPods, the Cupertino giant's wired headphones, with the obvious advantage of being fully wireless. Although they have a controversial look, with the rod-like body not exactly ergonomic, the headphones are  and are designed to fit into the ears of any .
The AirDots Pro, introduced in December 2018 by Xiaomi, is an update of the previous AirDots, more similar to the Gear IconX, from Samsung. These were, like the Korean company, solutions in themselves, with internal storage of songs and dispensing the cell phone as a constant companion. But in today's AirDots Pro, Xiaomi has chosen to do the same thing as Apple by featuring wireless headphones that rely on a cell phone to work. Both have no internal memory.
 AirDots Pro is a blatant copy of AirPods (the "kibe", alias is a standard Xiaomi behavior), even though  with the classic rubber that can be changed  advantage, is that the user can choose the ones that best fit his ear, unlike the Apple headphones, which is a case of "all or nothing."
2. Connections
AirPods connect to any Apple device, either iPhones and/or iPads (iOS 10 onwards), Apple TVs ( Apple TVs 11 or later), Apple Watches (watchOS 3 or later) or Macs (MacOS Sierra onwards), and with a little effort, even with Android phones (!), since they are just ordinary Bluetooth headsets.
As they use the Bluetooth 4.2 standard, AirPods are able to play music and answer calls normally, but when used with an apple gadget, you can have access to extra features like the Siri virtual assistant.
AirDots Pro also uses Bluetooth 4.2 (interestingly, the previous generation used the 5.0 standard), and can be used with Android devices and Apple gadgets normally, just like any other wireless handset. Identical also, at this point.
3. Performance
While it is possible to use AirPods with other non-Apple devices, they are designed to work better with iGadgets: by placing them on their ears, they automatically start playing iPhone audio; when one is removed, the sound is paused, and when you take both, playback is stopped, without the user using commands.
In addition, if the user uses AirPods, iPhone and Apple Watch at the same time, the headsets will be connected to the other two gadgets automatically, effortlessly.
AirDots Pro, in turn, features a feature called Unilateral Mode: the user can answer calls with only one handset, while the other calls a friend, who continues to listen to music. Transmission was taken care of and the Xiaomi headphones feature a 7 mm neodymium driver and titanium-plated diaphragm.
4. Autonomy
The AirPods battery can support up to 5 hours of audio playback, while the AirDots can handle up to 10 hours of use. Note that the case that stores the Apple earphones stores a further 24 hours of charge and, by spending 15 minutes inside the case, they gain 3 full hours. Xiaomi guarantees that 10 minutes of charging in the case will inject another 70 minutes of power into your headphones. Chinese headphones last longer.
5. Price
AirPods are more expensive: Apple earphones cost $159 in the official store, while AirDots Pro exits for $65.99.
Which is the best, Apple Airpods or Xiaomi Airdots Pro?
AirPods are undeniably superior when connected to an iGadget, however, AirDots Pro are very similar, have unique features, and are cheaper. So Apple headphones make more sense to an iPhone user, while Xiaomi's are better suited to Android users.