The best Android emulators for Windows PCs, have you ever wanted to download the Android applications on your PC? There are hundreds of thousands of amazing apps available in the Google Play Store, each of which will serve you for different purposes.
So, if you do not have an Android device, you can download an Android emulator on your computer and use it, you'll be able to run the best Android apps or games on your PC.
What is an Android emulator?
An Android emulator is software that creates an Android environment on your computer so that the applications you use on your phone can run smoothly on your PC.
Using one of these Android emulators that we are going to review in the post, you will be able to download almost all Android applications on your computer.
Notes: I have tried the emulators on my HP Envy (Core i7) with Windows 10 Home operating system and can confirm that they work as published below.
All of these applications should work on Windows 7, 8, 8.1, but given the wide range of hardware on some computers they may not work well.
The best Android emulators for Windows PCs
1. Bluestacks
BlueStacks is one of the best Android emulators for PC and is the most popular among users all over the world. It works only on Windows PC, but it is perfectly compatible on Mac. The user interface is simple and you will be able to search any application in a few seconds.
You can download Bluestacks from the official website as it is completely free to download for Windows and Mac. Once the software is installed on your PC, you can search for the applications you wish to install using the software search icon.
The installation process is quite simple and you do not have to face any difficulties. Once the application is installed, you are already part of the Android world. Download Bluestacks for PC from below. This application is for more powerful hardware.
2. YouWave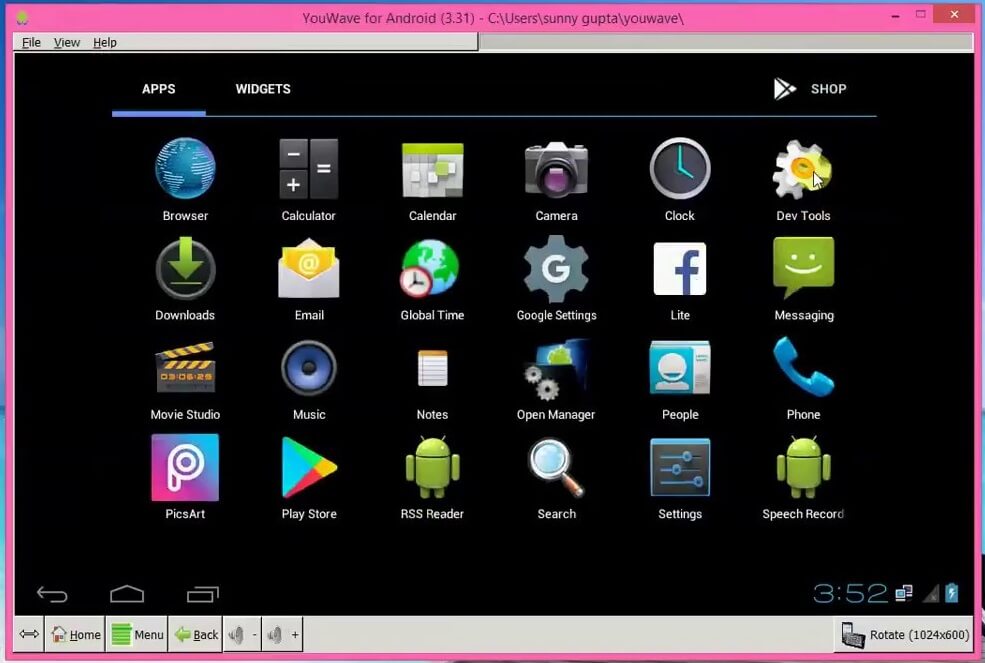 YouWave is the second in the standings and a popular alternative to the Bluestacks emulator. Although it is not free, but you can still use the free version with some limitations to install Android applications on your PC.
The YouWave interface is also quite simple as the screen is divided into two parts – the one on the left that shows the installed applications and one on the right looks like a smartphone screen. The YouWave interface is simple and clean and better than many other Android emulators available. Download YouWave for PC from here
3. Jar of Beans
Jar of Beans has a nice name, a hard name, you can download Jar of Beans from the official website as it can be downloaded for free. Now you can download Android applications from the emulator and install them on your PC. The process is quite simple and you will find it easier than ever.
4. Remix OS Player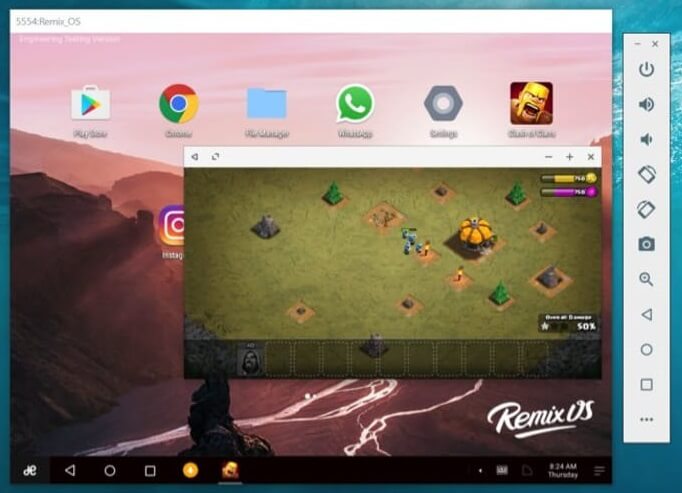 Remix OS Player is an operating system based on the Android x86 project. While you can install Remix OS on your Windows or Mac, there's an even simpler way to experience Remix OS without going through the hassle of installing it.
Remix OS Player is a free Android emulator for Windows based on Android 6.0 Marshmallow. Before installing OS Remix Player, please note that it does not support some AMD chipsets and also requires "virtualization technology" enabled in the BIOS.
The first time you run Remix OS Player, you should be greeted by a new-looking interface, complete with the taskbar at the bottom and a shortcut button to access all installed applications.
The Remix Central application offers recommendations on the games that can be downloaded. It supports the Google Play Store, so you can download applications and games without any additional installation.
Download: ( Free )
5. Memu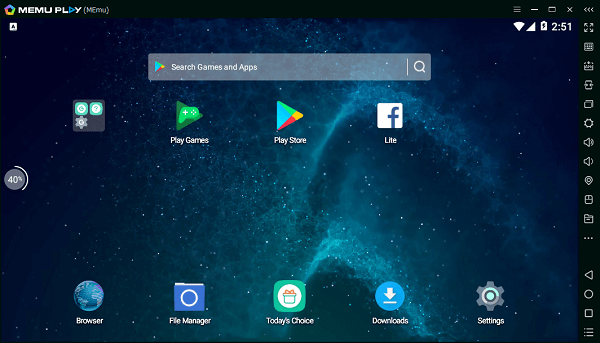 MEMU is a high-performance Android emulator for Windows that is based on Android Lollipop. Unfortunately, it is pre-installed with Android Jellybean 4.2 and the upgrade to Lollipop requires the download of additional packages. It does not pose any problem to your PC. It is compatible with Windows PCs Intel, Nvidia and unlike Remix OS Player is also compatible with AMD chipsets.
The first time you open it, you will be greeted with an ancient Android version of 4 years, with the main menu hidden in the right sidebar. It comes with the Google Play Store pre-loaded, so you can browse and download Android apps and games with ease.
Download: (Free)
6. Nox Player (Recommended)
We talked about this emulator in this article.
7. AMIDuOS
AMIDuOS, also called Duos, is another Android emulator developed by American Megatrends, a company based in Georgia. Before installing DUOS, make sure that you have "virtualization technology" in the BIOS and that you have installed Microsoft NET Framework 4.0 or higher.
Download: ( 30 days free trial, $15 full version, $10 Lite version)
8. LeapDroid
LeapDroid is a powerful Android emulator that was acquired by Google last year and has been shut down/closed. But make no mistake, despite the suspension, LeapDroid still manages to be one of the strongest Android emulators.
It is based on Android 4.4 KitKat and comes with all AOSP applications such as navigator, music, camera, etc. The main screen offers links to download the titles of the most popular games like Clash of Clans and Pokémon GO. But that is not all. It also comes with full support for the Google Play Store, you can download Android apps and games in no time.
Download: (Free)
KOPlayer
Like MEmu, KOPlayer has a more traditional interface because you recognize the three (virtual) buttons typical of Android. It can also be noted that these buttons are a bit old and reminiscent of the old Android. This is simply explained: it is Android 4.4.4.
As for the features, overall KOPlayer offers the same functionality as other emulators on the market: the installation of APK through the Play Store or APK, optimizing performance through settings, keyboard shortcuts, geolocation and so on. The emulator can access your webcam, which can be useful in certain situations. An option is also available if you want to record your screen, it can be useful if you are doing tutorials or playing games.
Download: (Free)
Conclusions
Today we talked about the best Android emulators for Windows PCs. Be careful even if I tried these emulators on my PC, this does not mean that they will work well on yours. If your PC is more powerful than mine then you will not have any installation problems, but if it is not so then try one at a time until you find the Android emulator that works well on your computer.
Andy is one of those emulators that can create problems if your PC is not very powerful, the last 4/5 software are able to run even on less powerful devices.
We recommend the no. 6 NOX App Player emulator, it works well on any PC and once installed it can also work in dual boot with Windows.
I hope this post on the best Android emulators has been useful. I suggest you download and use Bluestacks on your PC as it is the currently best available for both Windows and Mac platforms. But it needs good hardware.
However, if you have already used it for a long time and want to change it with another emulator, then choose another one from the list.
If you liked the post, please share the post with your friends and let them know the best emulators for Android to run Android applications on PC.
Other helpful Guides on Emulator: