Do you have any PDF which needs an urgent editing? But you don't have or can't install any PDF in your computer? Here is how to edit or convert a PDF with HiPDF online.
Sometimes, we need to fix or edit a PDF for our work or college projects. But unfortunately, it is not necessary that we have any PDF Editor installed on our computer. Well, there could be many reasons behind it, maybe your system doesn't meet requirements or you are using someone else' computer. In such cases, an online PDF editor comes into play.
Recently, I received many requests from our readers who were asking about which PDF Editor I use and which software is best to edit PDFs. So, instead of answering our readers one by one, I created a complete guide on the PDF editing tool which I use i.e. Wondershare HiPDF. In the next lines, I will tell you why I use it and why do I prefer it over other PDF editors.
Wondershare HiPDF is an all-in-one online PDF solutions which means it just doesn't allow you to edit PDF but it also gives you features to review, protect, sign and convert PDFs and as it is online it doesn't matter whether you are using Linux, Mac or Windows. Well, there are other functionalities too which HiPDF provide about which we will talk in details in our next lines.
Why do I use HiPDF
Being a professional, most of the times when my team provides their reports and sometimes just correction isn't enough as my files get so big which are difficult to send so I need to compress, some times I need analytics report in excel so I have to compress them where I need a good OCR tool also which I can't get in just a simple editor tool. But HiPDF provides all these functions. Here are the main functions of Wondershare HiPDF and how to use them:
Word to PDF: If you are a professional or a student then you know very well how important it is. Whenever you write a document using MS Word, it saves file as ".docx" format and problem occurs when you have to open that file on another system which doesn't have MS Office. In this case, we need a Word to PDF Converter. Once our file get converted into PDF we can open it any system without Office.
How to use HiPDF Word to PDF function
Word to PDF function by HiPDF is really easy to use, you just need to:
Create a wondershare account and login into HiPDF

Choose Word To PDF.

Upload your Word File.

Click on Convert button

Once converted click on download button.

Isn't it easy?
Compress PDF: Do your PDFs get heavy? Take too much time in uploading or you just can't upload your PDF because of size limit and you can't compromise with its content? Then the solution which we have now is just reducing its size obviously by compressing it.
Follow steps 1 as mentioned above.
Choose Compress PDF.

Upload your PDF.

Once uploaded, choose compression quality.
Now click on Compress.

Once converted click on Download.
Easier than ever.
Merge PDF: When we have so many PDFs related to same project, it gets difficult for us to manage all these at once and becomes a complete mess. In this case, we need a PDF merger to combine all of our files just in a single PDF. And even for this I prefer HiPDF.
Follow steps 1 as mentioned above.
Choose Merge PDF.

Upload all PDFs which you want to merge.
Now click on Merge button.

And now click on Download.
Here your files has been merged in a single file.
Sign PDF: Now this is the function which every professional want, while we make an agreement with any other party or our clients, their signing is a must. Well, there are so many ways to take their signatures on documents but they don't seem to be professional. For this case, Wondershare has made a solution. By using it, both parties can sign the agreements in a hassle-free manner. But you get this functionality in the pro version. But if you are professional like me then I think it worth its price.
How to e-sign documents online with HiPDF:
Follow steps 1 as mentioned above.
Hover over to All Tools and e-Sign

Now, it will redirect you to another webpage.
Now sign in into it with your same Wondershare account.
Once signed in, it will take you to the user home page.
Now click on Start Document Signing.
Here it's time to upload your PDF.

Once uploaded, click on next.
In the next field, enter another signer's email id and fill fields as per need and click on Next.

Once another signer accepts your request both of you will be able to sign your contract.
OCR: A must feature which every PDF Editor should have. But unfortunately, most of the editors have lack of this feature, and others OCR function doesn't work properly. But when I used OCR in HiPDF, each and every character was same as it was in the PDF. Not just it, it is really convenient to use.
How To Use OCR by HiPDF:
Follow steps 1 as mentioned above.
Click on "OCR".

Upload PDF.

Once uploaded, check OCR Settings.
Once confirmed, click on Convert button.

Now your file is ready to download.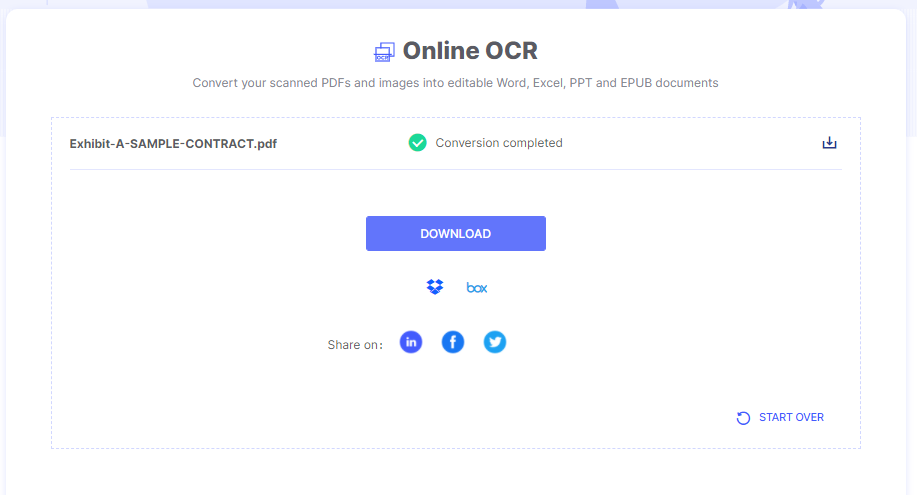 These are some of the main functions which HiPDF provides. But it isn't just it, HiPDF also has functions such as: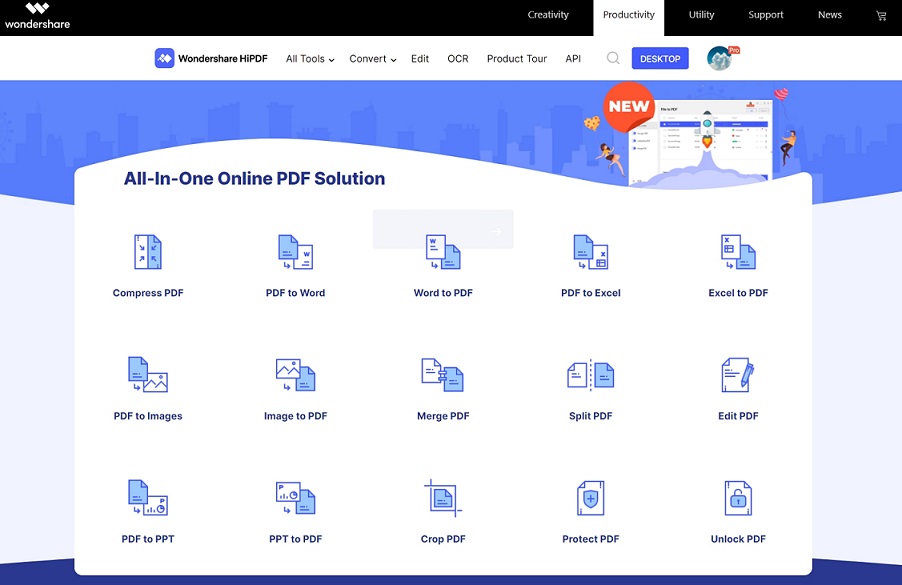 Final Words:
When I switched to HiPDF from my previous PDF Editing Tool, I find its UI really user friendly but there were just few limitations on e-sign which I simply bypass by using its trial version. If you also want a good tool for your work then HiPDF really deserves a try.
If you still have any doubts or suggestions related to this then feels free to contact us via our dedicated page.