We are using optical disks as a storage medium for more than a decade. It is true that after the invention of other storage devices like Pendrives, SD cards, etc… the number of users of optical disks has been decreased considerably. But still, DVDs & CDs are widely used by a large mass of people. The main advantage of using DVDs/CDs over the other storage devices is the low production cost.
Having a DVD video convert toolkit installed on your computer will be always helpful. Think if you need to extract files from a DVD to store in your computer or on your mobile then you must need some tools for that. You may have a lot of colorful memories of the past stored on CDs/DVDs. It is okay to keep it there on the disk itself unless you don't want to watch it on your mini devices such as phones, tablets, etc… Keeping a digital copy of all important data in your computer hard disk will always be beneficial so that we can even upload it to cloud storage later.
We'll see the best two ways to rip DVDs into digital files.
Rip DVD Free Using Handbrake [Easy Method]
Handbrake is a free tool that will help you to rip common DVD discs with simple steps. It is useful for those who need to extract their file with open source.
One of the major disadvantage of using Handbrake is it is not possible to rip copy-protected DVDs. And it is limited with the output formats (only support MP4 and MKV). For this purpose you will have to use any free mp4 converter.
The software is not capable of taking inputs from damaged or scratched devices. But still, you will get the value for using the toolkit which will be limited to a certain extent.
Free rip DVD to MP4, here are some tips on Handbrake best settings to get high quality.
Using WinX DVD Ripper [Most Effective Method]
WinX DVD Ripper from Digiarty is the best DVD Ripper tool for converting DVDs to MP4 format. Unlike Handbrake it possible to rip even toughly copy-protected DVD files to your computer. This highlighted feature makes WinX DVD Ripper to stand top of all other similar DVD ripper software.
By using WinX DVD Ripper you can not only convert DVD to MP4, but it is also possible to convert DVD to ISO or DVD to AVI, WMV, FLV, MOV, MPEG, H.264, MP3, etc… So that you can get rid of the fear of losing data.
Due to the effective utilization of NVDIA & Intel Hardware acceleration for Hyper threading, the DVD to MP4 conversion speed with WinX DVD Ripper has been escalated significantly than any other similar utilities.
Let's get into the other important benefits of using WinX DVD Ripper.
Supports All Types of DVDs
If you are using WinX DVD Ripper then you don't have to worry about the condition of your disk. Even it is in a scratched/damaged condition the utility will help you to back up your files partially or completely. WinX DVD Ripper works perfectly on both old and new DVDs, homemade DVDs, blockbuster movies/episodes, etc.
Also, you will get access to settings of the video so that you can make changes in frame rate, sample rates, resolution, etc… and you can be able to edit the video as well (Trim, merge your DVD videos, crop, select audio tracks or attach subtitles).
You can Convert DVD to ISO/MPEG2 copy
It is possible to copy the DVD to your computer in ISO format and keep it as uncompressed, original without losing any quality or structure of the Audio/Video track. Also, you can again burn the extracted files to another disk. By using the feature of converting to MPEG2 then the original quality will sustain.
Helps in Removing Disney Protection & Facilitates DVD Ripping
You may have noticed DVDs with 99 titles. These types of devices are highly copy protected. So you will be facing issues while trying to back up the data from such disks. Fortunately, WinX's specific & accurate decoding scheme can help you to get the issue solved. If you have WinX DVD Ripper on your computer then you don't have to worry, you can be able to back up all most all copy protected disks.
Before going to see how to digitize DVD with WinX DVD Ripper we can have a look at differences of Handbrake & WinX DVD Ripper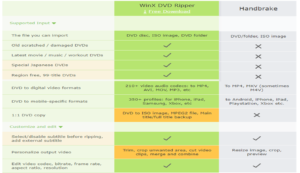 How to Digitize DVD to MP4 with WinX DVD Ripper
You don't have to be a professional tech geek to operate this simple utility. Everyone with basic knowledge can use WinX DVD Ripper effortlessly. In order to digitize DVD to MP4 using WinX DVD Ripper, you have to follow the steps.
Firstly, you have to download and install the WinX DVD Ripper.
Special Giveaway Offer is going on there you will get a free license of the platinum version to use full features of WinX DVD Ripper! The offer will be valid only for a certain limited period only, so grab the license now!
WinX DVD Ripper License Giveaway Offer >
After installing activate the software by entering the license code, you will get the full functional software.
From the top left corner select "Disk" option.
Make sure that you have inserted the disk on your computer/laptop. After that select source of DVD and click OK.
Then it will pop up a window to select the output profile from the list as shown in the picture.
After selecting MP4 video as output profile, just click run. That's it! You have done!
WinX DVD Ripper is a powerful utility that can be used effectively for all your DVD needs. No matter how old your disk is the utility's advanced functional mechanism handles all tough tasks for you. Below is a comparison between Handbrake and WinX DVD Ripper on DVD to MP4 ripping speed, quality and file size: