Download WhatsApp on iPad: finally it's possible, here's how to do it. Discover our guide to download, install and use WhatsApp on iPad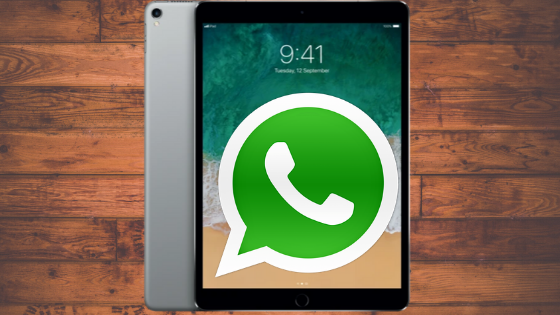 WhatsApp on iPad
Do you need to download WhatsApp on iPad? Do you want to use the WhatsApp messaging app on your iPad but don't know how? Do you need a guide to download and configure WhatsApp on iPad?
You're in the right place!
After years of waiting and endless requests from users, finally WhatsApp for iPad is coming.

Unlike Telegram, WhatsApp has never allowed simultaneous use on multiple devices and has never allowed the installation on Apple tablets. Things, however, are finally about to change: all iPad owners will be able to use the famous messaging app on their tablets.
WhatsApp for iPad
At the moment (OCTOBER 2019) it is not yet possible to download WhatsApp on iPad via the App Store, but soon, very soon, all iPad owners (WiFi and 3G or 4G connection) will be able to use WhatsApp on their tablet simply by downloading the application from App Store.
For now we can only analyze the information leaked on the internet and allow us to have more details and information on the upcoming arrival of WhatsApp for iPad.
At the moment we know that:
we will be able to use the same WhatsApp account on multiple devices at the same time. This function can be used, for example, to talk on an iPhone and an iPad at the same time
the iPad variant of WhatsApp is coming. The app would actually be ready to be published, but the developers will only release it when synchronization between multiple devices is actually available. No explicit reference is made to Android, but we expect that the function will soon be implemented also for the Google operating system.
How to install WhatsApp on iPad
How do I download WhatsApp on iPad? Here are the steps to follow.
As soon as possible we will update the guide and explain step by step how to download and install the app on your iPad. We can't tell you when the news will be released for all users, for now we have to be patient.
Install WhatsApp on iPad without iPhone
In theory, when the new iPad app is available, users will be able to download, use and install WhatsApp on iPads without iPhone in a simple, easy and fast way.
Also for this point, however, we have to wait for the release of the official app to understand how the installation process will take place.
WhatsApp for iPad free
Just like on the iPhone, the app will also be available for free on iPad and tablet.
Conclusions
That is all for the moment. We will update the guide as soon as WhatsApp is available on the App Store also for iPad.