After 4 years of operation and development, Apple Music has become one of the most famous music streaming service platform worldwide. In 2019, the number of Apple Music users in the United States surpassed Spotify, which means Apple Music has become the most used music streaming service in the United States. And in the United States and even the whole world, there is something as popular as Apple Music, which is also a very important symbol in the music industry, the iPod. I believe that people who like music must have used or heard of the iPod, a product developed by Apple Inc, just like Apple Music. So, naturally, people wonder if they can listen to Apple Music on various models of iPod. Unfortunately, I am afraid that I will give a negative answer to this question.
Currently, the only iPod models that support Apple Music are the 5th, 6th and 7th generation iPod Touch running with iOS 8.4 or later. Users of other models like iPod Nano, iPod Shuffle, iPod Classic and the older generations of iPod Touch are unable to listen to Apple Music on their devices. After Apple Music was launched, almost all the users had reported that they feel very disappointed with this fact. Many users found this after joining Apple Music's 3-month free trial or even after paying for the subscription. Some users also tried to transfer downloaded Apple Music tracks to their iPods, but they all ended in a  failure message that "Apple Music can not be copied to an iPod". However, there is still a method to help users to enjoy Apple Music with all iPod models.
It's known to all that all generations of iPod support plain audio file formats like MP3, WAV, AAC, M4A, etc. So, what if we just convert the Apple Music tracks to audio files in MP3, M4A, WAV, AAC, etc. formats? This could be a feasible way for all iPod users to enjoy Apple Music on their iPods. To achieve this, we will need a tool that can convert Apple Music tracks to plain format for offline listening and other purposes, TuneKeep Audio Converter is exactly such a professional Apple Music Converter. This is currently the most convenient and simple method, so I recommend that every iPod and Apple Music user should try this tool.
Let's find out the features and references of TuneKeep Audio Converter and see if it can really help to make Apple Music tracks available on iPod Nano, iPod Shuffle, iPod Classic and iPod Touch.
Main Functions:
Convert Apple Music songs to MP3, M4A, WAV, etc. for playback on iPod
Keep all ID3 tags of each song after conversion
Sort output files into folders with ID3 tags and rename with slash, hyphen or underline
Convert Apple Music tracks at up to 16X faster conversion speed
Perfectly support latest Windows 10 and macOS 10.15 Catalina
Extremely easy-to-use interface and built-in song search box
Supported OS
Windows: Windows 7/8/8.1/10 (32-bit & 64-bit)
Mac: macOS 10.9.5 (Mavericks) – macOS 10.15 (Catalina)
Note: iTunes is required on Windows and macOS 10.9.5 – 10.14. iTunes 12.2 or later, both standalone iTunes and Microsoft Store version of iTunes are supported. For macOS 10.15 Catalina, the program works with new Music application.
Price
Lifetime license (1 PC or 1 Mac): $39.95, free lifetime upgrade. Only $27.96 (30% OFF) before January 15, 2020
How to Enjoy Apple Music on iPod
Unlike most similar tools, the features and advantages of TuneKeep Spotify are sundry while the operations are actually simple. Any user who knows how to use iTunes (Music app on Catalina) can learn how to use TuneKeep Audio Converter in a short time since the interface of TuneKeep Audio Converter is similar to the iTunes. So, let's start with the basics and see how we can use TuneKeep Audio Converter to help us listen to Apple Music on the iPods.
Step 1: Launch TuneKeep Audio Converter
Launch TuneKeep Audio Converter on your computer and iTunes (Music app on Catalina) will also get launched. If iTunes is running before you launch the converter, please close it first. Since iTunes (Music app) is required during the process, so please keep iTunes (Music app)  running before the conversion is completely done.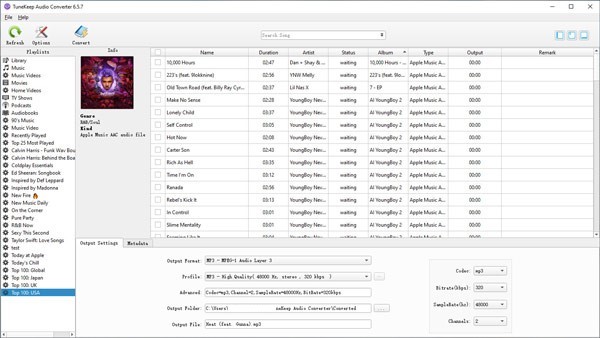 Step 2: Choose Apple Music Tracks
All the media contents in your iTunes library will be listed as playlists in the left panel. Choose the playlist and the Apple Music tracks in it will be shown in the main panel. You can choose different songs of different playlists since batch conversion is provided. Check the checkbox of the songs if you want to convert it. there is a built-in search bar at the top of the interface, if you can't find a song, you can use it to search and locate.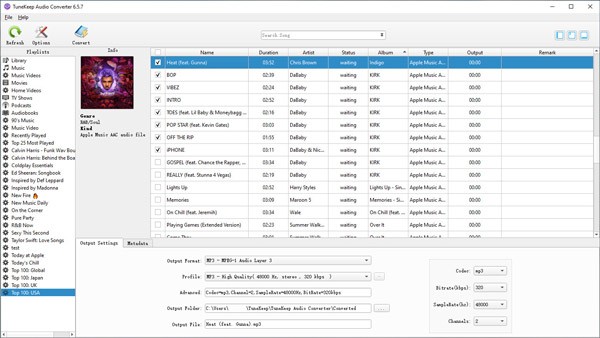 Step 3: Choose Output Format
In the bottom panel, you can choose the output format, output folder parameters and metadata. TuneKeep Audio Converter supported output formats are MP3, M4A, WAV, AU, AC3, AIFF and FLAC. There is an Options button in the top left corner, you can make changes to the conversion in the Options window, click it and you will see.
Step 4: Start the Conversion
When you have set up everything as you want, you can click the Convert button that is placed in the top left corner to start converting Apple Music tracks to plain audio files for offline listening on iPods. To locate the output files, you can click the "Open Output Files" (on Windows) or "Explore Output Files" (on Mac) button.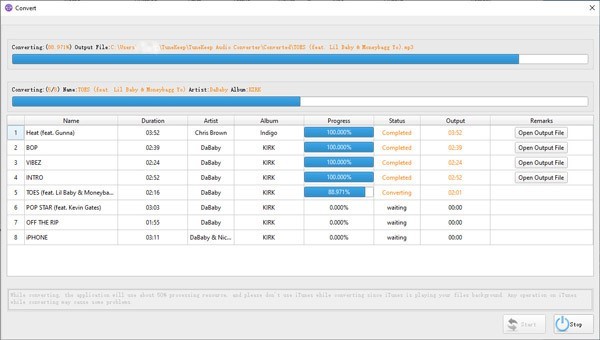 Conclusion & 30% Off Discount
To all the Apple Music and iPod users, TuneKeep Audio Converter is a useful Apple Music converter that any of them should get one. There are still a huge number of people who are using iPod Nano/Shuffle/Classic and iPod Touch to enjoy music, especially Apple Music. As the number of Apple Music users grows, the demand for Apple Music on the iPod mentioned in this article is bound to grow. To be honest, plenty of people have already used TuneKeep Audio Converter to help them bypass the restrictions of Apple Music. In my opinion, if you are a user of Apple Music and any generations of iPod, you should get yourself a copy of TuneKeep Audio Converter to gain better music experiences. Now TuneKeep Software provides 30% off discount for Xmas and New Year, sieze the chance before January 15, 2020.