If you are planning to reinstall Windows or want to use system upgrade and reset options, you must have the product key (serial number) in hand to activate your Windows license later.
However, if you cannot locate your product key, you can use the free ProduKey utility to save your Windows 7/8.1/10 serial number before you reinstall, upgrade, or reset Windows.
The best part about Produkey is that it is portable, so you don't have to install the program on your PC, just download the program, extract the ZIP file to a folder on your PC and run the EXE file.
How to recover the Windows 7/8.1/10 product key:
1. Download Produkey and extract the ZIP file to a folder.
2. Double-click on the Produkey.exe file to open the program.
3. When you do this, the Windows product key will be displayed in the Product Key column.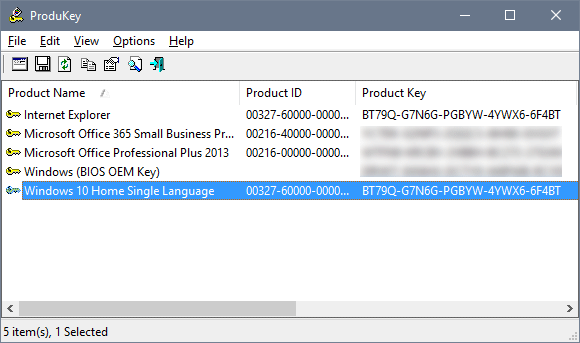 4. You can also save your Windows product key in a text (txt) file for future reference. Just right click on the product key and choose the option "Save selected items".
If you purchased a pre-installed Windows 8.1/10 notebook, you will probably also see a BIOS product key. The product key is from the version of Windows preinstalled on the notebook.
In addition, you will notice that it not only shows the Windows product key, but also the product key (serial number) of other Microsoft programs, such as Microsoft Office.