The name, it is evident, seems rather strange, so I will start this article by answering a more than legitimate question: what is IFTTT? The name IFTTT stands for "If This Than That" which consists of an automation that allows you to connect two services in a cause-effect relationship. Being an automation, when something happens with a service, the event triggers the action selected for the connected service. Let's take a practical example. You used to go periodically to a place like, for example, to work. For your need, you need to personally catalog the office entry/exit times in something like an Excel sheet. Or again, you are interested in saving every photo you are tagged on Facebook to an album on Drive. It would certainly be convenient if these and many other operations were performed automatically without lifting a finger. Well, IFTTT was created exactly to make these services interact with each other in total autonomy and can be used not only for the web, but also for Android and iOS. Let's see in detail how.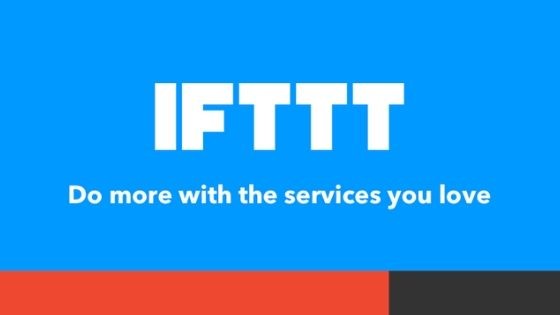 IFTTT guide: first steps
As indicated above, the IFTTT elaborates a set of actions as long as there are the conditions for doing so and the services and devices concerned have been connected. In order to make the best use, it is right to understand the nomenclature used. In particular we will have:
Service: Service that you decide to involve in our self process. The currently compatible ones are more than 360 and, each of this, offers different events. In particular, we find Facebook, Twitter, Instagram, the Android location and many many others;
Applet: Represents the combination we created with the chosen services and events. These can be made by us or choose an existing one by accessing the rich library already present.
In case you are interested in an existing applet, the use procedure is very simple. Just click on Turn on, access the two services to be connected and you're done. If, on the other hand, the existing applets do not satisfy you, let's move on to the actual creation of the automation of our interest.
Applet creation
At this point comes the most interesting and creative part of IFTTT, or the creation of our Applet. To do this, you can proceed in 2 ways:
If the site allows you to better view the immense list of available services, the use of the app is more practical and immediate. However, the procedure remains the same. To create a new applet you will need to navigate in your profile, click on Create and you will be taken to the page where you will need to create the trigger.
First of all, it is necessary to choose which will be the trigger for our automation. Among the available services we choose, for example, Instagram and we take the uploading of a photo as the trigger event. At this point, all that remains is to choose how to proceed accordingly.
One of the features most used by IFTTT users is to upload photos published on Instagram also on Twitter, as the automatic sharing already present does nothing but publish a link to the photo. So, in the appropriate section relating to the reaction to be triggered, we choose Post a tweet with image.
We note that there are two particular fields already filled out which, however, may contain the following items:
Photo Caption: Text attached to the posted photo;
Instagram URL: Link to the post on Instagram;
Image Source URL: Link to the original photo;
Create Date: Creation date of the post;
Embed Code: Code to be incorporated.
These items, called Ingredients, obviously depend on the services used and will change according to the one chosen. After filling in the fields as we see fit, we tap on the tick to see a preview of our Applet. From here, we can change the title and decide whether to be notified each time it is activated.
Using Applet for home automation
Applets have great potential and can avoid wasting time, for this reason it is necessary to know how to make the most of them. A very interesting area of ​​use is certainly Smart home automation systems, a branch of technology aimed at improving the quality of life. In this field, in fact, we find multiple applets to be used relating to brands such as Samsung, Roomba, SmartThings. The most famous are those compatible with Google Home and Alexa.
Using IFTT with Google Home and Alexa
In order to use the applets compatible with Google Home and Alexa, you must first carry out a search on the official website or proceed with the creation in the manner indicated above. Do you want to know how to use the applets connected with Google Home and Alexa? Here are some examples:
Store events on the calendar
Keep track of necessary notes throughout the day, such as the shopping list
Post on social media
Send messages from your device via Google and Alexa or ask to track your smartphone
Turn off and on the lights, a thermostat or any other device suitable for use via IFTTT
Using IFTT without resorting to intelligent speakers
If you think you have to necessarily buy a smart speaker to be able to use the IFTTT, you are wrong. There are countless applets compatible with various camp beds to be used without the help of Google Home and Alexa. Here are some examples of what you can use:
Switch on the coffee machine using the D-link smart plug
Activate Roomba when you are away from home
Turn the Philps Hue or Hive bulbs on and off or adjust their brightness as desired
Set the Netatmo thermostat temperature when you are away from home
Receive a screenshot or an email when a stranger approaches your home.
These are some examples, but we can create various combinations based on the products available and the services available. We will never tire of repeating that you can create the iFTTT of your interest by following the procedure mentioned above.