Carnival is coming and, if you prefer the sofa, stay tuned. The month of March in 2020 brought Netflix releases and originals for you to update "My List". Among the news from Netflix in March are the third seasons of the original Elite and Black Lightning series. For animation fans, the Studio Ghibli Collection grows with Spirited Away and three more titles. Hunger Games is another sequence ready to marathon.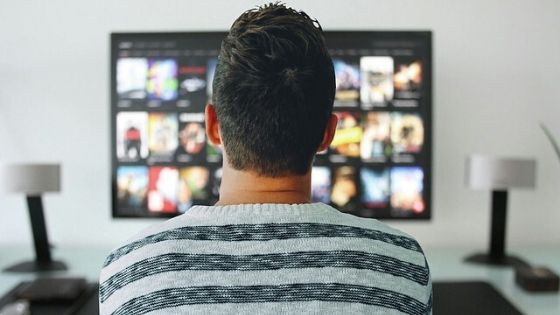 Netflix launches in March
It is worth noting that these titles and the originals are highlights of Netflix in March. Films and series are included every day in the catalog.
The list of Netflix releases in March is organized by date and title: series, films, documentaries, children's and anime. Netflix originals are marked with "*".
Series (and Netflix Originals *)
(3/6/2020) The Last Guardian: Season 3* – Chaos takes hold of Istanbul, and Hakan faces a powerful Immortal who seeks the key to the destruction of the city.
(11/3/2020) On My Block: Season 3* – Third season of the fun series that follows an eclectic group of friends facing the challenges of adolescence and the lack of money.
(3/13/2020) Terror Collective* – This Norwegian anthology series mixes terror and acid humor in a universe of surreal stories.
(3/13/2020) Elite: Season 3* – A new murder triggers yet another investigation at the school. The students try to move on, but ghosts from the past still haunt them.
(3/13/2020) Kingdom: Season 2* – The zombie series set in Korea during the Joseon dynasty is back for another season.
(3/13/2020) The Killer of Valhalla* – An Icelandic detective and a Norwegian police officer join forces to investigate a series of grisly murders that may be related.
(3/19/2020) Feel Good* – In this semi-autobiographical series Mae Martin is a Canadian comedian living in London, facing a new relationship and the challenge of sobriety.
(3/20/2020) The Life and History of Madam CJ Walker: Miniserie * – The incredible story of Madam CJ Walker, the first African American woman to achieve fame and fortune with the creation of the empire itself. Oscar winner Octavia Spencer is the protagonist of the plot.
(3/20/2020) Letter to the King* – In this fascinating fantasy series, the destiny of a kingdom is in the hands of a boy who is tasked with delivering a secret message.
(3/20/2020) Do not provoke* – Mystery, drama and danger surround a school and its team of cheerleaders with the arrival of a new trainer that shakes the status quo.
(3/22/2020) Brooklyn Nine-Nine: Season 6 – While the team continues to fight crime, Jake and Amy adapt to the wedding and Holt settles accounts with a rival.
(3/26/2020) Nothing Orthodox* – To escape an arranged marriage, a young woman flees from Brooklyn to Berlin, where she is forced to face the past.
(3/26/2020) Black Lightning: Season 3* – The series in which Cress Williams (Prison Break) brings DC Comics' first African American superhero to life in its third season.
(3/27/2020) Ozark: Season 3* – Emmy-winning series about a family who moves to a remote region of the United States to try to launder millions of dollars.
Movies (and Netflix Originals*)
(3/1/2020) The Pelican Dossier – Law student Darb Shaw discovers a plot involving the murder of two Supreme Court judges. In danger, she asks a reporter for help. With Julia Roberts and Denzel Washington.
(1/3/2020) Arrest Me If You Can – An FBI agent decides to put con man Frank Abagnale Jr. behind bars. However, in addition to constantly escaping, Frank has fun with the chase. Directed by Steven Spielberg, the film stars Leonardo DiCaprio and Tom Hanks.
(3/1/2020) Earthquake: The San Andreas Fault – After a major earthquake in California, a helicopter pilot runs out of time to rescue his daughter before a further quake. With Dwayne Johnson.
(3/6/2020) Double Change* – Upon ex-prison, former police officer Spenser investigates a murder and re-engages with the Boston underworld. Film with Mark Wahlberg based on the work of Robert B. Parker.
(3/8/2020) Sitara: Dreaming of the Stars* – A Pakistani girl dreams of becoming a pilot without knowing that her father plans to marry her to an older man. Directed by Oscar winner Sharmeen Obaid-Chinoy.
(3/13/2020) Lost Girls – The Crimes of Long Island* – In this drama based on a true story, a woman in search of her missing daughter is faced with a series of unsolved murders. With Amy Ryan and Gabriel Byrne.
(3/20/2020) The Hunger Games: Hope – Part 1 – Back in District 13 after ending the Hunger Games, Katniss is reluctant to become the symbol of a popular rebellion against the Capital.
(3/20/2020) The Hunger Games: Hope – Part 2 – Katniss Everdeen and her allies launch an attack on the Capitol to try to free Panem and assassinate President Snow.
(3/20/2020) The Hunger Games: On Fire – After triumphing at the Games, Katniss Everdeen travels through the districts on the Victory Tour, as a rebellion begins to form around her.
(3/20/2020) The Well* – In a prison where inmates on the lower floors are fed with leftovers from the higher floors, a man fights for everyone to get enough.
(3/22/2020) Me, Daniel Blake – While struggling to receive government benefits after suffering a heart attack, a widowed carpenter meets a single mother in a similar situation. Palme d'Or winner film at the Cannes Film Festival in 2016.
(3/27/2020) Notes of Rebellion* – A young man faces his father's disapproval by fighting for the dream of becoming a sommelier instead of running the family's traditional restaurant.
Documentaries and Specials
(3/3/2020) Taylor Tomlinson: Quarter-Life Crisis* – In a good mood, comedian Taylor Tomlinson talks about the end of her engagement and the terrible choices she made in life, like always dating the wrong car.
(3/3/2020) Lil Peep: Everybody's Everything – Intimate documentary that portrays the rise of rapper and songwriter Lil Peep, who has won fans worldwide with his mix of musical genres
(06/3/2020) Ugly Delicious: Season 2* – Dave travels to Mumbai, Sydney, Istanbul and other destinations in search of extraordinary dishes while preparing for his greatest adventure: being a father.
(11/3/2020) On the Dirty Money Route: Season 2* – Corporate empires built on lies. Scandals that shocked the world. The series returns with more stories of greed and corruption.
(3/20/2020) The Mafia of Tigers: Miniseries* – The documentary plot dives into the bizarre universe of tiger breeding and reveals the fierce clashes between rival breeders.
(3/25/2020) Crip Camp: Revolution for Inclusion* – In the Woodstock wave, there is a revolution in a summer camp for teenagers with disabilities, transforming their lives and driving a movement.
(3/27/2020) There's Something in the Water – Based on the book of the same name by Ingrid Waldron, the documentary by actress and director Ellen Page explores the theme of environmental racism, revealing the current and historic decisions of the Canadian government that place profits of large companies above the health of indigenous peoples and black communities in the province of Nova Scotia.
Children
(05/3/2020) Little Mighty Bheem: The Festival of Colors* – Little Bheem prepares all kinds of fun for the spring festival, including amazing shows and a shower of colors with friends.
(3/16/2020) Chefinho – Back to Business: Season 3* – After losing his job at Baby Corp, Chefinho starts working on his own and improvises a team with his friends. A very important mission is coming!
(10/3/2020) Carmen Sandiego: Steal or Not, Here's the Question* – In this interactive adventure, it is the audience that helps Carmen save Ivy and Zack after being captured by VILE during a robbery in Shanghai.
(3/16/2020) Go! Go! Cory Carson: Season 2* – In season 2, Cory embarks on new and fun adventures. Parties, treasure hunts, doctor visits and more. He's stocked and ready for anything!
(3/17/2020) Shaun the Sheep – Farm Adventures* – The smart sheep Shaun is back in this series derived from the award-winning Wallace & Gromit.
(3/20/2020) The adventures of Arquibaldo: Season 2* – From adventures around the world to crazy inventions, the chicken Arquibaldo takes it all and is always ready to enjoy what the world has to offer.
(1/3/2020) DC Super Hero Girls: Season 1 – In this series, Wonder Woman, Supergirl, Bumblebee, Batgirl, Zatanna and Green Lantern fight crime, do high school jobs and deal with crushes.
Anime
(3/5/2020) Castlevania: Season 3* – In the third season of the series, Belmont and Sypha go to live in a village full of secrets and Isaac embarks on a journey in search of Hector.
(3/13/2020) BEASTARS – The Good Wolf* – In a world inhabited by creatures of all kinds, a gentle wolf faces his predatory impulses while a murder is investigated at his school.
(3/19/2020) Altered Carbon: New Cover* – This anime adaptation explores and expands the Altered Carbon universe. From Dai Sato, the creative mind behind Cowboy Bebop.
(3/23/2020) Sol Levante* – Experimental project by Netflix and Production IG, one of the main anime producers in Japan, to produce the first hand-drawn animation short film in 4K HDR quality.
(3/26/2020) 7SEEDS: Part 2 * – The world they knew no longer exists, and the new reality is dangerous. Story based on the award-winning manga by Yumi Tamura.
Studio Ghibli Collection [1st March]
(1/3/2020) Spirited Away – Chihiro arrives in a magical world dominated by a witch. Those who disobey are transformed into animals.
(1/3/2020) Princess Mononoke – A prince suffers from a deadly curse and sets out in search of a cure. He ends up in the middle of the battle between a mining town and forest animals.
(01/3/2020) Princess Kaguya's Tale – This magical nymph born from a bamboo stem grew up to be a beautiful woman courted by an entourage of suitors.
(1/3/2020) The World of Little Ones – Little Arriety befriends a very, very big boy. Now, she has to protect her tiny family from his huge relatives.
So, what are you going to watch on Netflix in March?