The wait is over for the most requested feature…Finally here are the WPForms Surveys and Polls addon readily available for download. Do you know? Now you can create surveys very easily with the drag & drop feature on WPForms for your website.
Though there are other WordPress plugins available, they lack proper analysis and reporting. Thus WPForms made an extra effort in making the world's best in class survey and poll plugin for its users.
They managed to build a beautiful UI for intuitive design with simple drag & drop, you don't need to pay high monthly subscription charges. Also, this easy-to-use plugin claims to be power-packed with features.
Before we take a look into every feature they are offering, let's have a simple classification of what is a Survey and Poll.
| | | |
| --- | --- | --- |
| | Survey | Poll |
| Definition | Series of questions for the audience to collect data | A mini survey to quickly measure opinion at a specific moment |
| Results | Take some time | Declared Immediately |
| Usage | Gaining Insights and making decisions | Knowing trends and generalizing results |
| Information | On various topics of interest | On a single topic |
| Data | Sufficient | Limited |
| Time Taken | Comparatively more | Less |
Advantages of Survey and polls
To start a conversation: Sending a survey-filled page for your audience is an ideal approach to engage them to communicate with you, they will love it when someone is caring about their opinions.
Quick & Easy: With this WPForms you can create a survey very quickly in no time and start collecting the data from your users, as outsourcing this will consume both time & money.
Brilliant Ideas: You can create a beautiful survey in trend to catch your user's time, so they feel free to fill it or they might give new ideas for you in the Feedback/comment section.
No Limits: Your users will complete your survey or poll in their free time, without a time limit and anyone can distort their response.
Satisfaction: In Bussiness, it's necessary to know your customer satisfaction if you make the right decision which will get reflected in your customer satisfaction. Using surveys and polls to know the performance of your business might help.
Universal Solution: Generally, we might use different tools with separate functionalities, but surveys and polls are included for free in email marketing.
No Additional Charges: Don't need to spend a lot on marketing just own a survey and poll plugin from WPForms.
Efficient Results: Analysing results will be very quick & easy with one tap, also you will get the results in different forms like percentage at one glimpse with WPForms plugin.
Features of Survey & Poll WPForm's Plugin
Smart Survey Fields
WPForms plugin will turn your website form into a survey form with a single click. So, you don't need to take the effort in creating a "Radio Button" and duplicate fields confusing your users.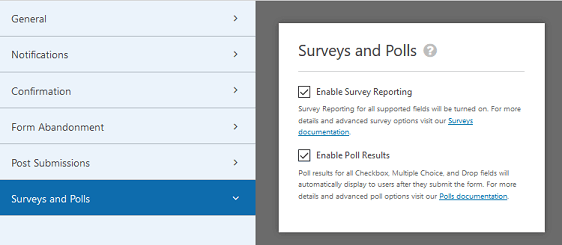 When you enable the survey & poll feature, all form fields will be converted to survey fields includes the Dropdown field, radio buttons, checkboxes, rating fields.
Remember the Likert Scale? Your's favorite. This time we have included this to make the survey smart as we feel their presence is more important.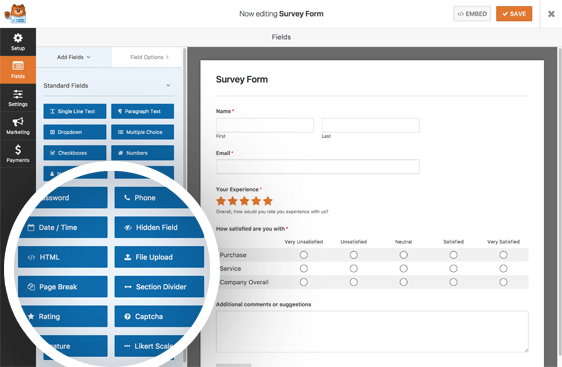 World's Best Survey & Poll Results Report
After modifying several database structures to strive to build the world's best reports, wondering how WPForms are better than others?
1.Beautiful Visual Reports
There is an intuitive real-time report which will be built automatically based on your visuals selection.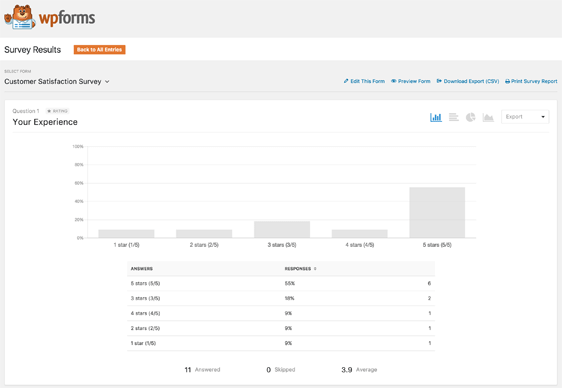 2. Enable Survey & Poll Reports on Older Forms
You can also convert the smart survey fields into your old forms, this way it is convenient for the users to work with. This idea is has not been implemented in other plugins.
Disable the surveys and polls option to get back to old forms.
3. Real Time Reports
With this feature, you can watch the results of each user individually after they submit the survey. Also, you can embed polls in your WordPress Sidebar widgets, inside a post or page or basically any other area you want.
4. Export/ Share Charts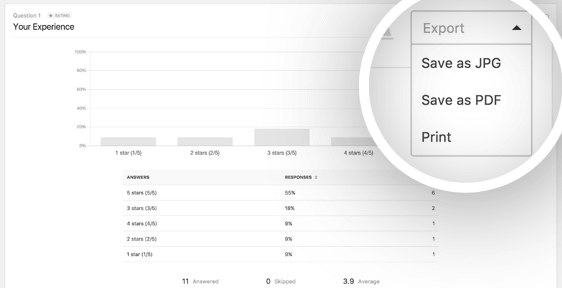 Sharing the results from surveys or polls is essential in a company internally or it might be for social media profiles. Apart from exporting the entire report, you can export individual chats as a image or PDF this time, making this super easy for you.
5. Customize Styles
Even if you are working on a written proposal, plugin got you covered.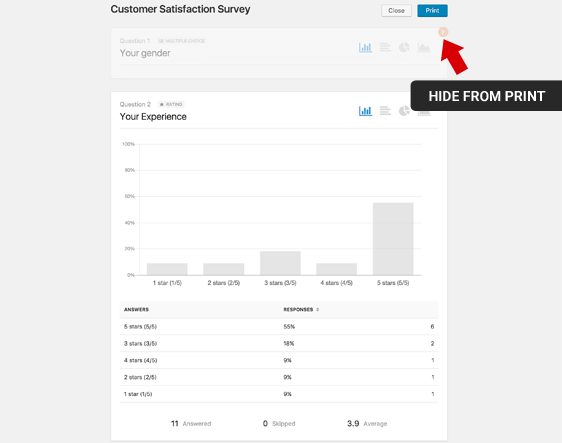 Now you can also customize your print reports by selecting individual questions in graph or visualization styles.
Survey Logic
It's possible to personalize your survey questions with our extended survey logic that makes sure your audience gets a wonderful experience every time they complete surveys or polls.
To eliminate the choice bias, there is a randomized order option is available for the multiple-choice/radio buttons field.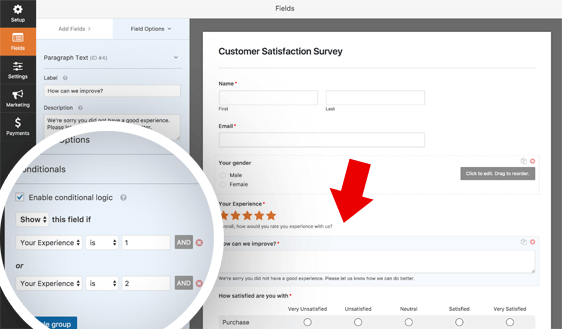 To enable this feature you need to got to Advanced options tab.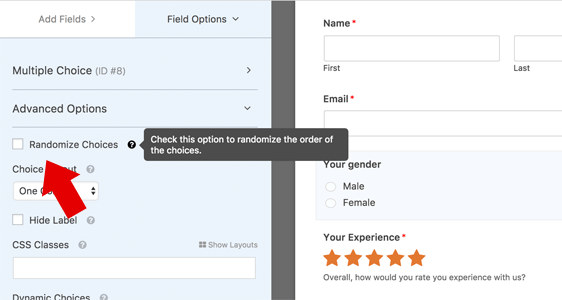 New Templates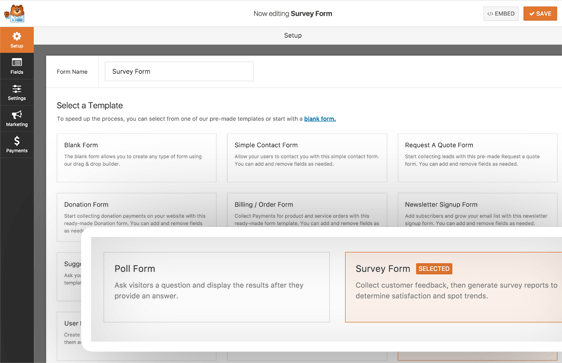 All these features with an old-school design don't make any sense, So we need a signature pioneering the concept of new templates in the WordPress industry. So along with all these features, we have added two new templates to quickly create a survey or poll form.
Conclusion
After checking all these features I got amazed to create a form(survey or poll) with this plugin, even you can try this today.
FAQs Related to Polls & Survey Plugins
Are There Any New Templates?
In this new Plugin, there is two new template design to refresh the mood of the audience to collect the data simpler and quicker.
Can I Export Individual User Reports?
Yes, you can export the individual user reports in your convenient format like JPEG, PDF. Also, you can export the whole report once.
Can I revert back to Old Style form Survey?
Yes, by disabling the Survey & Polls feature you can turn back into old style forms.
Will I Get Real Time Reports?
Absolutely, you will get the real-time reports along with a feature to embed this real-time report as your widgets, sidebar on your browser WordPress site.