You can create interest in potential customers in a product or service with the help of different strategies. Let's take a look at 11 key strategies for online stores in 2022 from our lead generation blog. They cover both digital and offline marketing channels. By applying them, you can increase website traffic and improve sales.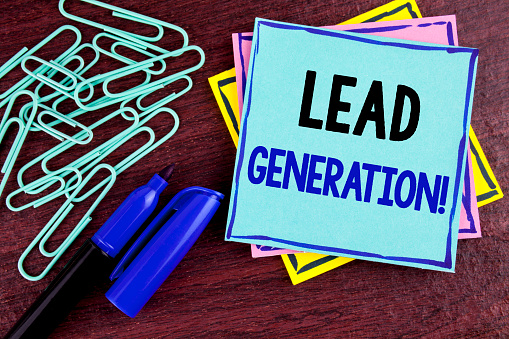 Handwriting text Lead Generation Motivational Call. Concept meaning Sales pipeline digital generating leads written Sticky Note Paper wooden background Marker and Paper Clips next to it.
Basic Lead Generation Strategies for E-commerce 
In ecommerce, a lead is any person who is interested in a brand, product or service by taking certain actions:
clicking through to a website;
subscribing to a social media page;
researching products and making a wish list;
subscribing to a newsletter by e-mail and so on.
Each lead attracted is a potential customer. His or her actions can provide valuable information. The sales department can use such data to convert potential customers into loyal ones.
10 Key Methods to Attract Leads
Let's look at effective lead generation strategies for online stores, which are worth using in 2022.
Working on Search Engine Optimization (SEO)
The main goal is to increase traffic from search engines in order to increase leads and sales.
The first thing to do is to do keyword research and choose those that have a high search volume and low competition. This ensures high positions in the regular search engine results, which leads to more traffic to the site.
Social Networks
Social networks are one of the most powerful tools in the marketing arsenal. They help generate interest in the brand and bring in a lot of customers.
It is important to actively interact with subscribers, respond to comments and questions. This will help build loyalty and trust with potential customers. Use social media advertising to reach a wider audience.  
Email Referral Program
Referral email systems are easy to customize. And they can be very powerful in attracting new clients. 
Reward the clients by recommending the online store in exchange for rebates or rewards for each and every new client they bring in. Doing so increases the number of leads you receive and grows your customer's company's base.
Video Marketing
We recommend adding instructional videos to the site to make the information more varied and interesting.
They help to attract potential customers because visual content is perceived better than text content.
Relevant Content for Your Audience
Begin with a thorough study of your target market and create tailored content that matches the needs of your customers. Social media, your online store's website, and mailing lists are all ways to communicate your message. Look into systematic actions or raffles with giveaways for those who share content with friends and families. Doing so will keep you engaged with potential new customers.
User-friendly Design on the Site
The main goal of web design is simplicity and convenience for end users. Make sure visitors can easily find the information they need on the site through product pages, navigation menus and search bars.
It's essential to use clear and concise text so clients can determine at a quick glance that they're reading about.
Pop-ups on Intent to Exit
Using smart exit intent technology, you can target visitors who close the online store's tab. This reduces the bounce rate. Pop-ups offer discounts, show personalized recommendations with selections of the right products.
Behavioral Targeting
Use behavioral targeting for maximum customer contact. It allows you to customize your entire ecommerce lead generation process. This effective tool will give you the ability to get leads at the right time with the most appropriate messages.
Time-Limited Offers
Create pop-ups with countdown timers. Open a two-step pop-up to collect an email address and then display a coupon code. The design of the countdown pop-up should match the site and appeal to shoppers.
Simplify the Checkout Process
Customers like simple solutions.
That's why you need to optimize the checkout process. Include simple and clear buttons with a smooth and short process and prompts. Many companies offer one-click checkout with a short form that simply asks for relevant information. Once the purchase is complete, you may be asked to create an email account.
The e-commerce industry is very competitive. Make sure your online store stands out from the crowd. One of the top methods to do this is to engage potential customers using the strategies mentioned above.
So, running a successful lead generation system will help increase sales and revenue, and increase brand awareness. All of these methods work for the long term. The key is to be creative and constantly engage with your target audience.