If you're often the person responsible for the playlist, you'll enjoy some DJ apps that will make the task a lot more fun.
What is different about them?
These disc jockey apps will help you mix and move from song to song more fluidly. They detect BPMs, synchronize songs and offer mixer. Thus, you do not feel the interruption of switching from one track to another.
You will find a number of DJ apps on Google Play and the App Store. Paid offers additional features, sharing with social networks like SoundCloud, and other real-time mixing features. We chose some to suggest here.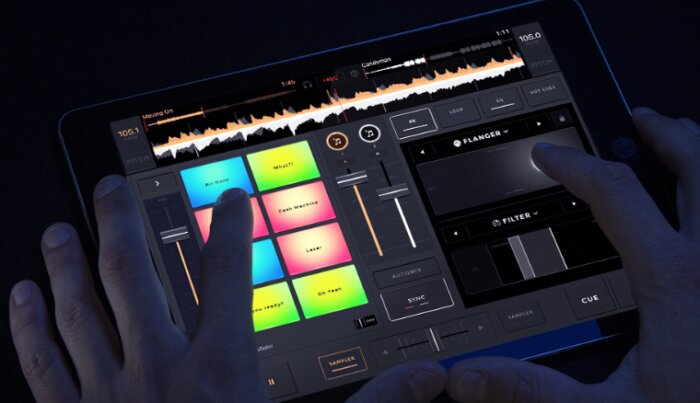 Cross DJ (Mixer)
Cross DJ claims to be the 1st professional DJ app for Android (but you don't have to take it so seriously, it's still a joke). Mix tracks with perfect sync for you to take a wave. It was designed and designed by Mixvibes. There are two versions, the free and the paid (yes, more "professional"). The app • detects track BPM, offers sync button, split mono, manual progressive pitch bend, customizable manual pitch range, beat-grid editing, has parallel waveforms, automix and more…
In-app purchases get ads.
DJ Studio 5
DJ Studio 5 is for those who miss vinyl, it comes with a virtual spinning disc that lets you mix, remix, scratch and loop to the beat. It's totally free and has some paid skins, to make the virtual DJ app look like you. There are two cross fader pickups, access to the .mp3 music library by folder, artist, album, name, edit and reorder playlist and have eight effects: flanger, phaser, gate, reverb, bit crusher , 3D, brake and flippingdouble.
djay FREE
Djay Free has versions for iOS, Android, macOS and Windows. That is, it is one of the most compatible apps on this list. DJ software integrates with your local music library and Spotify, which is great. You can play live, record mixes or activate Automix mode. It's the perfect software for casual DJs, while djay Pro is DJ software designed for professional DJs. It has something for everyone.
Traktor 2 DJ
Traktor DJ is more complete and has a free version for desktops (macOS and Windows) as well as iPads. It looks better on the big screen and I recommend watching the tutorials on the official site before use. It has absolutely everything you would expect from a virtual controller, with advanced features including professional DJ effects. If you want to get out of automatic mixing and venture into this world, that's a great start.
Kondzilla Super Pads (MPC)
Kondilla's application footprint is a little different. With it, you create funks yourself using pre-recorded beats and other items. It sounds complicated, but the app itself has tutorials. The app already has kits with the best beats, offers excellent audio quality, no need to update to download new ringtones and works on all phones and tablets (better with big screen). It is like a game.
On the Super Pads YouTube channel you will find Kevinho's "Look at the Explosion" tutorials, Fioti's "Bum Bum Tam Tam", MC Loma's "Twin Wrap", Zaac and Jerry's "BumBum Granada" "Trophy of the MC Nando DK & Jerry Smith's Year, Dani Russo's "Best of the Ball," and several other hits from the famous funk channel KondZilla.
DJ Mix Pad (MPC)
Beeeeem simpler than Super Pads, the DJ Mix Pad also works like an MPC where you set an audio/effect for each button and make whatever combinations you want to beat. It works offline, records and plays sequences and is free.
Very entertaining.
edjing mix
Developed in partnership with DJs, edjing Mix turns your device into virtual control with some cool features: access to Deezer, SoundCloud and all your local folders and instant remix with over 20 DJ effects and features as ready-to-use sample packs. between one song and another.
The amount of ads can be annoying, but the app offers internal purchases to block this type of advertising. Most of the free ones still work like this.