While waiting for the Cupertino company to decide to take the Dark Mode to iOS, we will see how to activate the dark mode on one of the most undervalued devices of the same giant. We are obviously talking about Apple TV, a device that can turn any TV into a smart machine and keep up with the times. 
Apple TV is often used in the evening and therefore in low light conditions, this is obviously due to its functionality strictly linked to the world of multimedia streaming. The Dark Mode, in this case, could actually improve the user experience and above all less tired eyes. There is also the possibility of setting everything automatically and therefore allowing the interface to vary between light and dark depending on the time of use.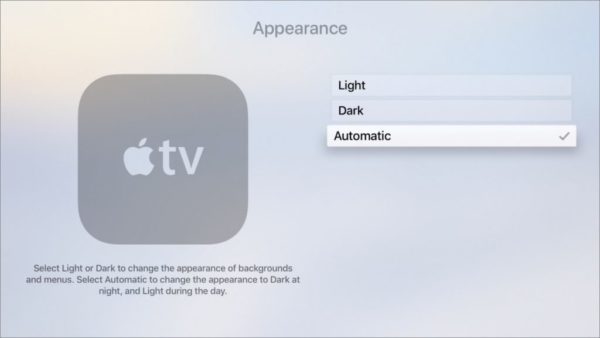 Apple TV has its Dark Mode, here's how to activate it
To activate dark mode you will need to go through the system settings of the device. In any case, before starting, we invite you to check that the installed version of tvOS is the most up-to-date. To do this simply access the settings, continue with "System" and then click on "Update software". The Dark Mode is actually present on Apple TV since the days of iOS 11, but it is always preferable to have the latest update available.
Open the settings app
Click on "General"
Continue with the "Aspect" preference
Choose the preferred mode
The procedure will be complete when the toggle changes from "light" to "dark" or "automatic". Obviously the same operations can also be performed to return to the basic aspect with predominantly clear and mostly white screens.