One of the most precious things that one could have in today's world is someone's data. Due to this, firms having a large user base are earing in billions mostly by selling this data to third parties. And for avoiding this data leakage, you can take the help of a VPN as it keeps your data encrypted along with providing security. And apart from these two basic things, there are a lot more additional benefits of VPN that one can enjoy. Still you have missing a VPN Service then you should read these 7 Major Benefits of usnig VPN
7 Major Benefits of using a VPN
There are hundreds of VPNs available in the market and every VPN has different attributes. But there are some important things that every good VPN platform provides and these are: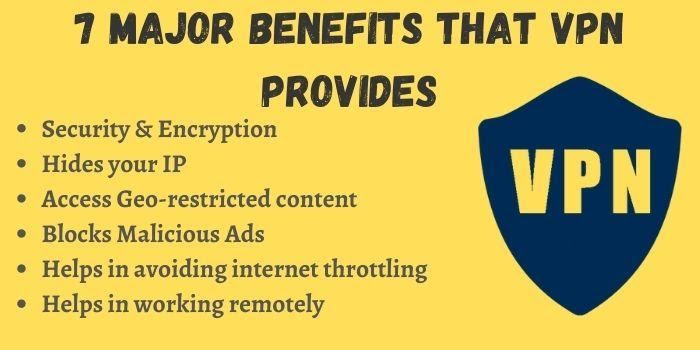 Provides security and Encryption
The basic advantage of using a VPN is that it provides security to the users and for this, it uses various security protocols. Some of the widely used security protocols are IKEv2/IPsec and OpenVPN. Apart from this, a VPN also allows you to safely share files by encrypting them and the most popular encrypting protocols are Military-grade 256-bit encryption.
Anonymity/Masking IP
The next best thing that one can enjoy with a VPN is anonymity. A VPN provides complete anonymity to you by hiding your IP while you are browsing the internet and this helps in keeping your identity secure. With the help of this feature, even the web host of the site you are accessing won't be able to know about you.
This feature can also provide you safer Wi-Fi connections while you are using the public Wi-Fis by masking your IP.
Country specific content
There are some websites or contents that are banned in your country or there are some websites that are made accessible only to people residing in a specific region. You can access this country-specific or geo-restricted content by changing your IP locations to other regions. Like, Netflix is banned in China, so you can access it by switching your IP to countries where Netflix is available.
Blocks Ads
There are several sites that promote ads for making money and many of these ads are malicious. With the help of a VPN, you can get rid of these ads as a good VPN blocks these ads for you and provides you a safe and uninterrupted browsing experience.
Avoid internet throttling
In most cas es, your internet service provider slows down your internet connectivity speed once you reach a specific data usage limit. But using a VPN obstructs your Internet Service Provider to keep a check on your data usage. And this allows you to use the internet as much as you want with an uninterrupted speed.
Allow you to access some price benefits
This can be taken as a trick that can help a person to enjoy some cash benefits and this mostly happens when you are booking flight tickets. Many airlines provide amazing deals and monetary benefits to the person residing in a specific country. So, you too can enjoy those deals by switching your IP to that particular region while booking Flight tickets.
Allows to Work Remotely
While working from home or from any place outside the office, there are certain files or things that you can access only when you are connected to your office's LAN (Local Area Network). A VPN lets you get connected to your office's LAN and allows you to access or transfer files securely. And in this way, a VPN lets you work securely from remote locations.
These are the major benefits of VPN and almost all the reputed VPN brands deliver all of these features. However, choosing a Best VPN service always remains up to you and you should choose a Best VPN that fulfills your needs and fits your budget.
Conclusion
VPNs provide you the best way for personal data security, a complete security orver internes with improved performance and remote access and restricted country websites. Save your personal identity or data from hackers and get freedom of access of restricted websites.