Safari is without a doubt the best browser for MacOS, especially if you also use it on iPhone and iPad. Within this new guide today we decided to list what we think are the best extensions for Safari to install and try absolutely, even if the catalog is not as big as for example the one proposed by Google Chrome.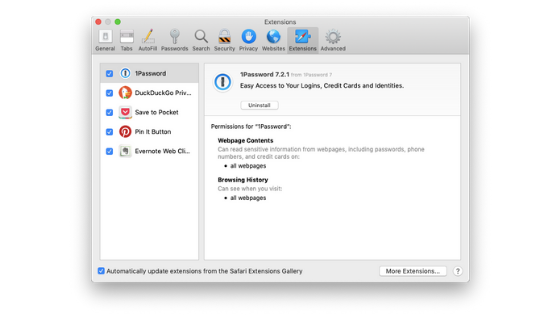 Sessions
Sessions is an interesting extension for Safari that allows you to manage the browsing session. This plugin comes in handy when you have more than 10 or 20 tabs open in Apple's browser it will help you sort things out a bit.
Sessions allows the information in the tab/window to be automatically saved, although it can also be done manually. The next time you want to know what you read a few days before, the extension history will be there to help you. In short, it is a useful add-on to save all the search cards for future reference.
Adblock Plus
One of the best extensions for Safari is Adblock Plus. As the name suggests, it is a plugin that allows you to block almost all types of advertisements on websites. Nevertheless, within the preferences you can customize the type of block to show those intrusive ads.
Adblock Plus is also able to disable advertisements on YouTube but we point out that many websites may ask you to disable this extension to access their contents.
Save to Pocket
Another interesting extension to install in Safari is Save to Pocket. If you read a lot on the Internet, then this add-on will be for you as it allows you to save articles and videos on your Pocket account to read them later.
In addition to this, the add-on allows you to read your favorite articles in a simple way as it excludes both advertising and unnecessary content. In addition to this, once the synchronization has been performed, all the posts saved on Pocket will be visible on all devices in which the official application is installed.
HoverSee
Another interesting add-on for the Apple browser is HoverSee. This extension allows you to expand the images and links when you place the mouse pointer on the icon.
For example, if you place the mouse over a YouTube link, the reproduction within a small section will be shown. HoverSee is useful, for example, when you want to watch the content of a movie without watching it completely.
Awesome Screenshot
Awesome Screenshot is one of the best extensions for Safari that can optimize your productivity when you use the browser. For example, the plugin allows you to capture a screenshot by capturing an entire page or a specific portion. In addition to this, after capturing the screenshot, the add-on allows you to make other changes like adding annotations before sharing it with whomever you want.
Incognito
As the name suggests, Incognito is an interesting Safari extension that helps protect your privacy. The main purpose of this plugin is to prevent large companies like Google and Facebook from tracking you on the Web. Once this add-on is activated, you will no longer see targeted advertisements. Fortunately, however, Incognito allows you to decide which services to block and which do not.
shortly
For many of you, it will certainly have happened at least once that you need to share a short link. Thanks to Shortly, you can do this via Safari with a few simple clicks. In an instant, in fact, the extension will show you the short link in the goo.gl format of the page you want. After that, simply use the Cmd + C key combination to copy the URL and paste it in the desired location.
PIPER
Among the best extensions for Safari we also report PiPer. This is a Picture-in-Picture extension that allows you to make a playback video smaller. In addition to this, this plugin supports both Netflix and Amazon Prime Video.
WasteNoTime
WasteNoTime is an interesting extension that allows you to save time wasted on the Web by creating a list containing blocked sites. Furthermore, this plugin shows you the time spent on each website.
Translate
Another very useful extension for Safari is Translate. As the name suggests, this plugin allows you to make an immediate translation to discover the meaning of the words by simply using the mouse.
Nightlight
macOS Mojave has introduced the long awaited night mode which allows you to tire less of your eyes when you use the computer in the evening and at night. However, if you haven't updated your Mac yet, you can use Nightlight to apply dark mode in Safari.
Honey
If you often buy online, then we suggest that you absolutely install Honey in the Safari browser. This plugin, in fact, takes care of finding the perfect offer and applying any coupon during checkout. Honey supports a huge number of online shopping sites, so it's definitely one of the best ways to save money while shopping.
PriceBlink
Together with the extension seen a little while ago, we suggest you also install PriceBlink. This is an add-on that allows you to find out if other retailers offer the same product at a lower price. In addition to this, PriceBlink provides you with details on shipping costs, reviews and any coupons.
Keepa
Keepa is a very famous extension available also for Safari that allows you to track the price on Amazon of a desired product. Once the extension installation is complete, you will have access to a complete price history in the form of a product chart for up to 3 years. In addition, Keepa allows you to set up alerts to notify you when the price of the chosen product reaches a certain threshold
LastPass
If you want to increase your security while using Safari, then the LastPass extension will surely do for you. This plugin generates and saves different passwords for your accounts so as not to use the same protection key for multiple online services and also avoids making you forget them. In addition, LastPass offers multi-device synchronization so as to access the password archive from other devices.
The best extensions for Safari: other add-ons to consider
Cleaner for Facebook: removes advertisements, sponsored messages and other similar things from Facebook.
Instapaper: allows you to save different content as articles and videos to read/see later.
Wipr: optimizes security and privacy while surfing the Internet.
Evernote Web Clipper: allows you to save almost everything you find on the Web such as texts, links, images, videos and more.
Grammarly: allows you to automatically highlight any grammatical or spelling errors.
Right Click: allows you to use the right mouse click to select a text on all those websites that have disabled this function by default.
DuckDuckGo Private Search: allows you to perform a complete anonymity search within a new tab.
Porn Block Plus: allows you to block most adult content on Safari.