There are millions of people from all over the world who use Spotify to enjoy their favorite music. According to an official statistic from Spotify, over 140 million users have used. Outstanding UI design, excellent features and a huge music library are the reasons why so many people choose to stream music with Spotify. What's more, Spotify now has become more than just a music streaming service, the music community and artist platform it builds has promoted the development of music around the world in the past 10 years.
Music playlists are one of the wonderful features of Spotify. As a music streaming service that encourages users to discover and share music, Spotify provides user-made playlists and official-recommended playlists for all users to enjoy. Users also praise this wonderful feature a lot, but nothing is perfect. Although every Spotify users can stream the playlists online (for Spotify Free users, they are limited when streaming music), Spotify decided to let users who own a Premium account to be the only crowd that can download Spotify playlists directly with Spotify desktop and Spotify app.
When you display a Spotify playlist in both the Spotify app and Spotify desktop, you will find a "Download" switch in the interface. For the Spotify app, the switch is in the top-right corner of the screen. For Spotify desktop, the "Download" switch is near the middle of the window. If you are a Spotify Premium user, you can simply turn the "Download" switch on and Spotify will automatically start to download all the songs in the playlist onto your device. You can clearly see which songs are being downloaded, which is very convenient and intuitive. Just as I mentioned above, such a convenient feature is only available to Spotify Premium users. For those who use Spotify Free, they can't even download a single from Spotify.
In fact, even if you are a Spotify Premium user, after downloading Spotify playlists, all you can do is to listen to them offline on up to 5 Spotify-supported devices. You will not be able to transfer them to other media players like Sony Walkman, iPod Nano/Shuffle, etc. Since Spotify protects all their songs with encryption technology, all the downloaded Spotify music is not available for other purposes but offline listening. More and more users have encountered this problem, but you shouldn't expect a solution from Spotify. In this case, a professional Spotify playlist downloader called TuneKeep Spotify Music Converter could be the most helpful tool.
With TuneKeep Spotify Music Converter, you can download Spotify songs, albums, playlists and convert them to all-purpose format like MP3 with only a few steps. You can learn more details about this magical Spotify playlist downloader in the paragraphs below.
Main Features
Download Spotify playlist to MP3, WAV, M4A, FLAC for multiple uses with ease
Keep high audio quality as the original songs in downloaded Spotify playlists
Retain full ID3 tags like title, album, artist, genre, etc. in downloaded files for better organizing
Conversion speed can be set as up to 5X faster to save users' precious time
Support both Spotify Free and Premium users, download Spotify playlists without a paid subscription
Automatically sort downloaded files into "artist", "album" or "artist/album" depending on your need
Perfectly compatible with latest Windows 10 and macOS (Catalina is supported)
Simple and intuitive user interface that any user can understand
Support OS
Windows: Windows 7/8/8.1/10 (32-bit & 64-bit)
Mac: macOS 10.9.5 (Mavericks) – macOS 10.15 (Catalina)
Note: On both Windows and macOS, Spotify Application is required.
Price
Lifetime license (1 PC or 1 Mac): $39.95, free lifetime upgrade
How to Download Spotify Playlist with the Program?
The operation of TuneKeep Spotify Music Converter is lucid and concise. If you know how to operate a PC or Mac, you can handle TuneKeep Spotify Music Converter easily.
Firstly, please download the free trial version of TuneKeep Spotify Music Converter that matched with your OS on TuneKeep official website and install it. You can download and convert the first 3 minutes of each Spotify song with the free-trial version. I recommend that you should try it before purchasing it. The user guide below can help you learn how to download Spotify playlists.
Step 1: Launch TuneKeep Spotify Music Converter
Spotify itself will be launched with TuneKeep Spotify Music Converter since Spotify is required when the conversion is processing. Please do not exit Spotify before the conversion is fully finished.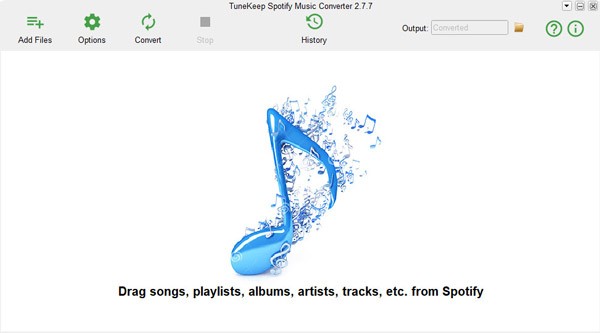 Step 2: Add and Choose Spotify Playlists
Please display Spotify and the converter in the same screen first for preparation. Go to Spotify, find your wanted playlist and drag it from Spotify, after that, you can simply drop it to the converter. All the songs in the playlists will be shown in the main interface of TuneKeep Spotify Music Converter after you drop them.
There is another way to add Spotify playlists. Find the playlist you want and right click on it to show the menu. Move your mouse to "Share" option and click "Copy Playlist Link" to copy the link of the playlist. After that, go back to the converter and find the "Add Files" button in the top left corner, press it and you will see a link bar in the bottom. Paste the link you just coped in it, click "+" button and all the songs will be added successfully.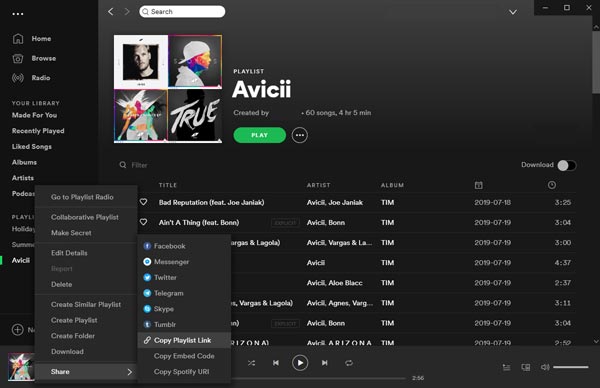 After adding songs with each way above, you can choose which songs are the ones to get downloaded and converted. If you want to download and convert all of them, you don't need to make any change since the converter will choose them all by default. When you have made up your mind, press "Add" button.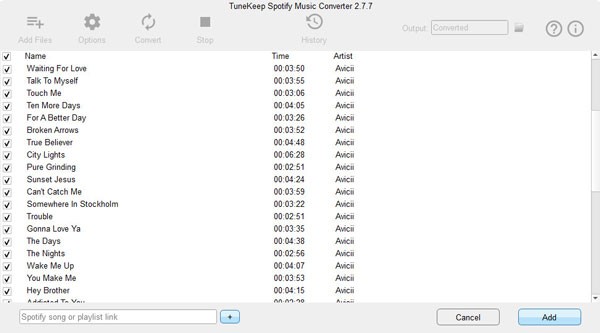 Step 3: Choose Output Folder and Format
You can choose the output format and folder in the Options window. Click "Options" in the top left corner to open the Options window. In this window, you can choose the output folder and set conversion speed (1X or 5X) in the General tab. In the Advanced tab, you can select MP3, M4A, WAV or FLAC as output format. You can also select parameters like sample rate and bitrate in this tab.
Step 4: Start Downloading Spotify Playlists
Now everything is ready. Just press the "Convert" button to start downloading your favorite Spotify playlists. After a few seconds to a couple of minutes of waiting, the whole conversion process will be successfully done.
After downloading, you can simply locate the output files in the History panel by clicking the "History" button. You can even remove conversion record and output files in this panel.
Well, you should be free to enjoy your Spotify playlists offline now. It is wonderful to enjoy them with a Walkman, an iPod Nano or Shuffle, or burn them to CDs for parties or car stereo. Anyway, TuneKeep Spotify Music Converter has helped you break the limitations of Spotify, I guess you've already known what is the best way to download Spotify playlist.
Conclusion
TuneKeep Spotify Music Converter is liked by more than 100,000 users since its professionality and efficiency. Every Spotify user can download their loved Spotify playlists to MP3, M4A WAV or FLAC with or without a Premium account. If you need something to help you download Spotify music for multiple purposes, TuneKeep Spotify Music Converter could be the best tool you can find. Guess it is the ultimate solution to enjoy your music collections, I mean your wonderful Spotify playlists without all those limitations of Spotify. If you think TuneKeep Spotify Music Converter is useful to you or your friends, you should wait no more and download and share TuneKeep Spotify Music Converter right now.