Are you tired of getting spam form entries on your website? Are you planning to implement any mechanism which can protect your website from Bots/Spams? If you are facing such issues we are here to help you! In this article, we will see a Popular Google's reCAPTCHA alternative called hCaptcha which can help you to kick bots out from your website.
Before going detailed let's understand why it is important to shut the doors of your website in front of Bots.
Advertisers will have only one objective that is to convey their product information to the public. So to fulfill their objective they will go through different ways one such way is that what we call spamming. Like the normal Email marketing, Here they will select random websites and look for forms where they can enter their marketing information with the help of bots.
When your website starts to rank high you will start getting spam entries as well. So do you think that some guy is sitting back and opening your website and giving the form entries manually? No right? here bots play a major role. So we can get rid of spam if we can stop bots from giving form entries.
How to Stop Bots from Submitting Form Entries?
As you know by implementing a captcha feature on the forms will help you to get rid of bots. There are quite a number of captcha providers out there but why we recommend using hCaptcha is that:
hCaptcha Mainly Focuses on Privacy: hCaptcha doesn't care who your users are, but they only look at how likely the visitors to be malicious. The privacy policy is compatible with the regulations such as GDPR and CCPA.
Security is Never Compromised: hCaptcha is publisher-focused and they work to give users real data and let users decide how to use it.
Enhanced User Experience: Machine learning modules are used to detect bots, thus reduces the amount of getting annoying tasks for real visitors.
Connect hCaptcha to WPForms
Now it is possible to link hCaptcha to WordPress WPForms, my favorite form builder. Thus it can help in preventing spam entries on your website. We'll see how to connect it step by step.
1. Go to WPForms > Settings > Open the Captcha tab. You will see hCaptcha & reCAPTCHA as shown in the below picture.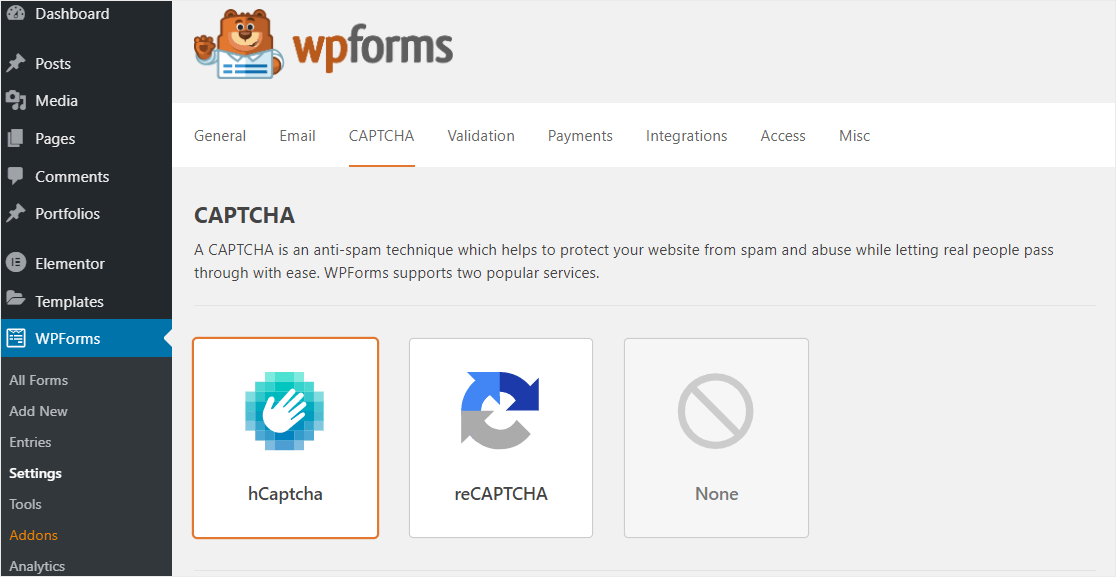 2. Now select the hCaptcha option And login to your hCaptcha Account
3. Click on the New Site button on the top right corner in your hCaptcha Account
4. You will be directed to the setup form for hCaptcha
5. If you wish you can add a name to the specific site key by clicking on the pencil icon & under general information you can provide additional information such as Hostname, Difficulty(4 modes: Easy, Moderate, Difficult, Always on), etc.
6. Once setup is done click on the Save button. Under Active Sites click on settings to copy the Site key and from the settings tab, you can copy the Secrete key.
7. Paste the Keys(Site key, Secrete Key) in WP-Forms and give a fail message, and click on the Save button.
That's all you have successfully completed the setup, say good bye to bots!
Although hCaptcha is free to use, you can get paid Enterprise solution as well to reap the benefits of more useful features.
Final Words:
It is really simple and easy to setup hCaptcha on a WordPress website and makes site free from spammy bots. If you are still facing any issues while while using hCaptcha or have any doubts or suggestions related to this article then feel free to leave a comment in the box below. I'll try to help you in all possible ways I can.