Getting Poor Google Page Experience scores? Don't know why? Do you know that the new Google update changed rank factors? If you want to load your website faster with a higher Core Web Vital score? This guide is for you…
Let's start with what's slowing your website from loading faster, it's Google. Sounds crazy right? Well, it's true that Google Analytical script slower your website speed and impacts your ranking on Google results.
So, what's the solution?
Well, monsterInsights notices this earlier than you did. MonsterInsights new update can boost your loading speeds tremendously. Want to what's inside making this possible? Let's dive in…
Improved Script to boost Loading Speeds
MonsterInsight is now loading scripts⚡ lightning-fast, thanks to the new update 7.18. Even their scripts are well optimized to get loaded quickly earlier, to enhance your Google Core Web Vital Scores the new update (Performance Addon) changes the way it loads script.
They have enabled the option to load your Gtag,js script on your own server on their performance Addon. This will ensure that your site loads faster than ever without the need to pulling external resources (which eats your website loading speeds).
Google Analytics has only two hours of cache time. But with the performance Addon (loading scripts locally). It will be always in the cache to speed up your loading time. If you could combine this with MonsterInsight performance Addon that fetches the script from Google every 24 hours. Your website speeds will skyrocket.
Enable Add Gtag.js file Locally on Performance Addon.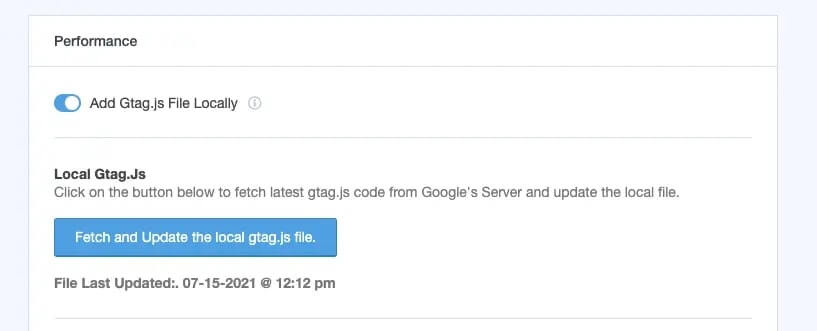 All In One SEO Integration
Though speeds matter a lot in ranking, you should have good content to rank better. If you have great content + quick speed, you can rule the Google results. So, the next question in your mind will be How to write quality content?.
With AIOSEO recommendations, even a beginner can write quality content to improve your on-page SEO scores. The writer's ultimate aim is to bring more traffic to their website. You should also look at the Analytical reports at least once to know about the reader's intention.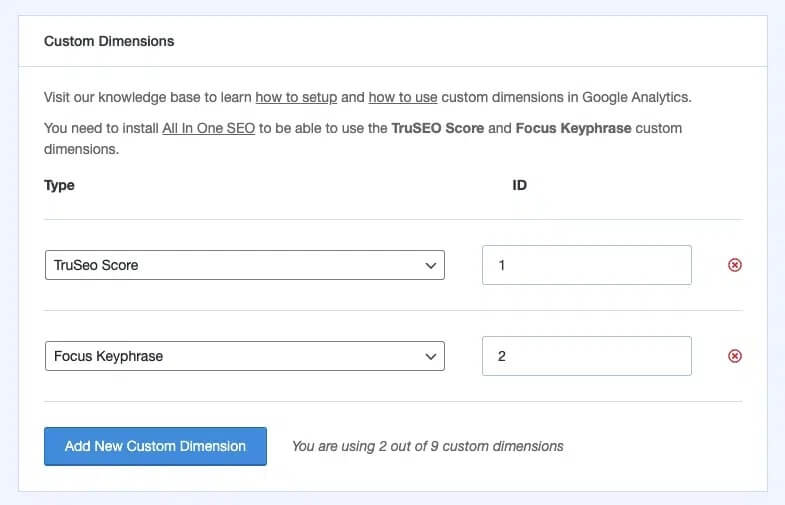 Using this new feature TruSeo Scores with Focus Keyphrases, you can know the correlation of the traffic in Google Analytics. This is one of the possible ways that bring traffic to grow your business.
Analyze user's intention perfectly with custom dimensions. So you can correlate your website speeds with traffic and rank better.
What is this Custom Dimension?
Did you saw the Google Analytics report once?. It will have dimensions and metrics.
Dimensions: There are attributes of your website visitors.
Metrics: These are nothing but quantitative measurements

of dimensions.
Google Analysis will track certain dimensions by default like Gender, age, region, source, product goals, etc. But if you want to track more dimensions then the custom dimensions option comes into handy to track every important dimension.
Check this out on, How to set up these custom dimensions to your website Google Analytics.
You can add your TruSEO scores and All in One SEO Focus Keyword to your Google Analytics data. Then you can analyze the analytical data from Google clearly to improve your business online.
FAQs Related to Website's Speed
Which Focus Keyword brings more traffic?
With All in One SEO, you can perfectly choose which keyword will bring your more traffic.
How to boots your Website speed & drive Traffic?
If you use, All in One SEO plugin that integrates Faster Script to load your website within a glimpse. You can also Improve your website ranks with quick tips and recommendations from All in one SEO.
Is Web Vital Score Really Matters?
Web Vital scores matter a lot for a website or business to draw more traffic. One will get irritated if a page takes more time to load which results in poor traffic.
How to Boost your Web Core Web Vital Score?
There are various techniques to boost your Vital Scores online. Of them here are the best techniques that fuel your web vital score.