How to create a website? Here's how not to do it: the example comes from User Inyerface, a portal created by assembling the most common mistakes and not to be followed.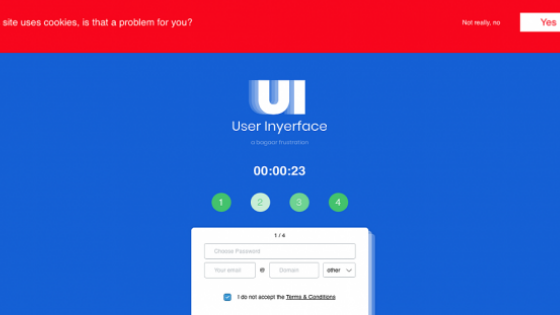 Are you wondering how to create a website and don't know where to start? Although today several editors are available to easily create a website, being a web designer requires some experience, in addition to the most common rules of good taste. Bagaar, a Belgian company specializing in online services, has created User Inyerface with a single purpose: to create the ugliest website ever.
And the operation, according to the result, seems really successful. Bagaar's goal, intentionally ironic, is to illustrate in a tangible way how not to create a website, creating one that violates all the fundamental principles for a positive user experience.
How to create a website: User Inyerface teaches how not to do it
User Inyerface, reachable at this link, is immediately quite alienating: the site voluntarily sabotages all the fundamental principles to create an effective and rewarding website.
Aesthetically apart, browsing on User Inyerface is almost a challenge for users: so ironic and fun as it is frustrating. The color palette was deliberately chosen to strain the view and concentration of the users, such as the inverted coloring inside the YES (red) and NO (green) options.
Other voluntary errors are hyperlinks via links (the case of CLICK HERE that does not present any URL), as well as the emphasis on buttons that are practically unusable (such as the huge, non-clickable green NO button).
The ugliest site ever works as a real time challenge: the goal for users and arrive at the end of the navigation between the various pages, until you see the screen you see below.
The message will bring the compliments of the developers and the time taken to get to the end of what, for a webmaster or a web designer, is a real horror manifesto. However, the informative and didactic purpose of Baggar also hides an effective and original marketing strategy that is exciting (and stressing) many online users. Are you able to complete the proposed tutorial as quickly as possible?