The FUT (FIFA Ultimate Team) is the most popular game mode in the FIFA series, in which players can create teams with cards that represent the main stars of world football. Learn how to play the FIFA 20 Ultimate Team and start building your team now.

With playing in FIFA 20's Ultimate Team mode
FUT is almost another game within FIFA 20. In it, the player uses virtual cards inspired by professional athletes to assemble their teams and play online matches.
The cards are obtained in packs, received when fulfilling objectives or purchased in the transfer market with FUT Coins, the virtual currency of the game.
They represent the real player and also indicate what are the attributes (speed, strength, pass, kick) of that athlete in the game. The cards have 4 levels of quality and rarity: bronze, silver, gold and specials. The better or rarer the card, the more expensive it will be on the market and also more difficult to obtain in packages.
How to create a team in Ultimate Team
Some factors influence the quality of your team and the bonuses it can receive on the pitch.
For example, placing players from the same club and country in close positions, such as right-back and right-back, creates a strong link between them, which results in bonuses in their attributes. This is called "chemistry" and is important for building strong teams.
The opposite is also true: if a player is playing out of position, for example, he may not receive benefits or even have his attributes slightly impaired, depending on the chemistry of the rest of the team.
What are the Ultimate Team game modes?
FUT game modes in FIFA 20 are: Division Rivals, Squad Battles, FUT Draft and Casting Challenges. There is also the option to play friendlies against online friends, but they do not count points for rankings or earn coins.
Division Rivals
Division Rivals is the competitive part of FUT. Players face each other online in matches that count points to move up or down a division during each seven-day season.
This mode also gives you access to the FUT Champions, the sports part of FIFA, from where participants in official tournaments, with prize money, promoted by EA.
Squad Battles
In Squad Battles, players face the Team of the Week (a team made up of special cards from players who have excelled in real championships) or teams of other players controlled by the game's Artificial Intelligence, selected at random. Wins yield good prizes, such as card packs and in-game coins.
There are four team options to challenge, which are renewed after a certain period. In other words, if you win all four matches in a row, you will have to wait a while to be able to play Squad Battle again.
FUT Draft
FUT Draft is a way that challenges both the skills on the pitch and the player's knowledge of building good squads. In it, you receive 5 random cards for each position, and you must create the best team you can.
Then, you must play up to 4 consecutive games against other players online or against the offline "machine". The greater the number of wins, the better the reward at the end. Participation requires a token that costs 15,000 coins or 300 FIFA Points (purchased with real money).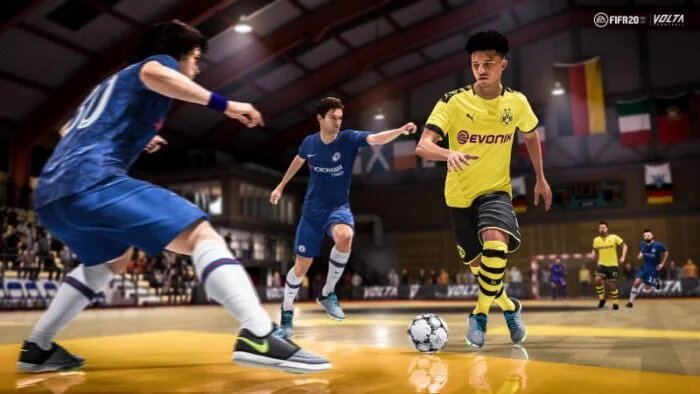 Casting Challenges
Casting Challenges, on the other hand, act as "puzzles" in which the player must create teams fulfilling certain requirements, such as a minimum chemistry level, number of players from the same country, etc.
Upon fulfilling the challenge, the cards used are permanently removed from your club, being exchanged for rewards such as packs and special rare cards.
It is a way for those who like to spend a lot of time researching the transfer market, as it can make cards considered "ordinary" cost a fortune just because they serve several challenges.
How to buy and sell cards in FIFA 20
The transfer market is an essential part of the experience of how to play the FIFA 20 Ultimate Team, especially if you want to build a competitive team. It works based on auctions, but players can also be purchased directly for a certain amount (usually more expensive).
The process of buying and selling cards is simple: go to your club's squad management, choose the player, set the minimum price and, if you want, the direct purchase price. There is no secret to buying cards either: look for the player, place your bid and follow the auction. If no one makes a better offer, the letter will be yours.
The transfer market for FUT is bigger on consoles than on PC, as there are more FIFA players on Xbox and PlayStation platforms. But, with patience and experience, you can find good offers to strengthen your squad or make good (virtual) profits by selling your cards.