No Email read Recipients bothering you? Want to know whether your receiver read your message or not? Thinking how? This guide is for you to enable all these features for your mail.
Don't worry WP Mail SMTP's latest version got you amazing features to monitor the emails on your WordPress.
Email Tracking (Clicks and Openings)
Fortunately, this feature is readily available for Users. With this, you can track everything at your fingertips. To know whether your emails are neglected or getting some attention (quickly). There are some cool features included in the new version.
Send Emails from your WordPress
Check whether order emails are receving or not
Sell courses online and measure rates via notifications
You can clearly inspect whether the email is delivered, opened and any links included in the mail are clicked or not.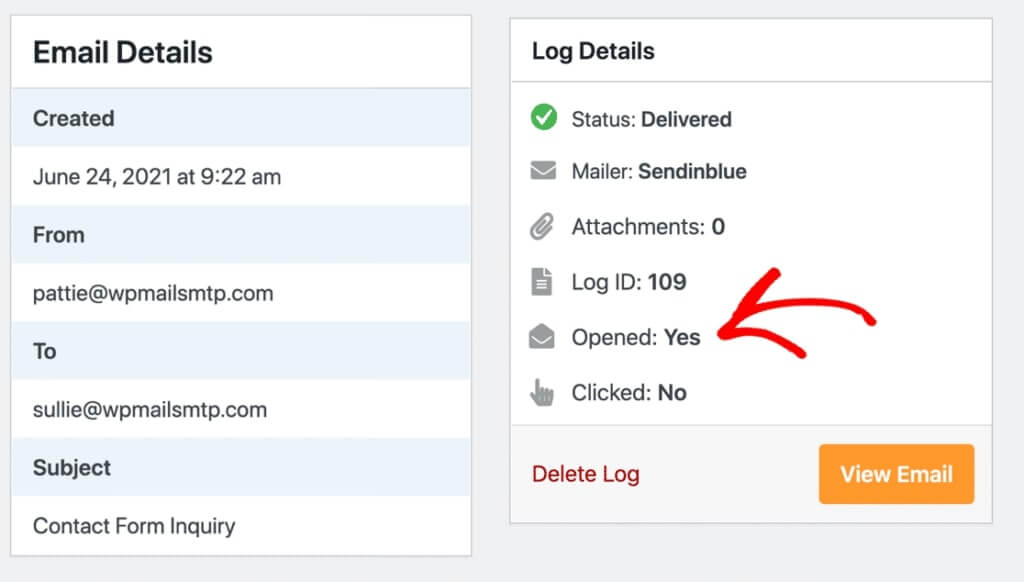 To enable this feature you need to turn in email logging (email tracking). You are good to go, WP SMTP will take care of everything automatically (logging email openings or clicks from your site). Instead of checking every mail detail, you can also get the simple overview details.

Using this you can quickly look at the user engagement for your mails. Do you think this is it? There are still more features on the way.
One-Click Email Resend
The user's more requested feature is, resending an email (due to some issues mail will not get delivered). Then you can resend it with a simple click, you can find the option in the Action section.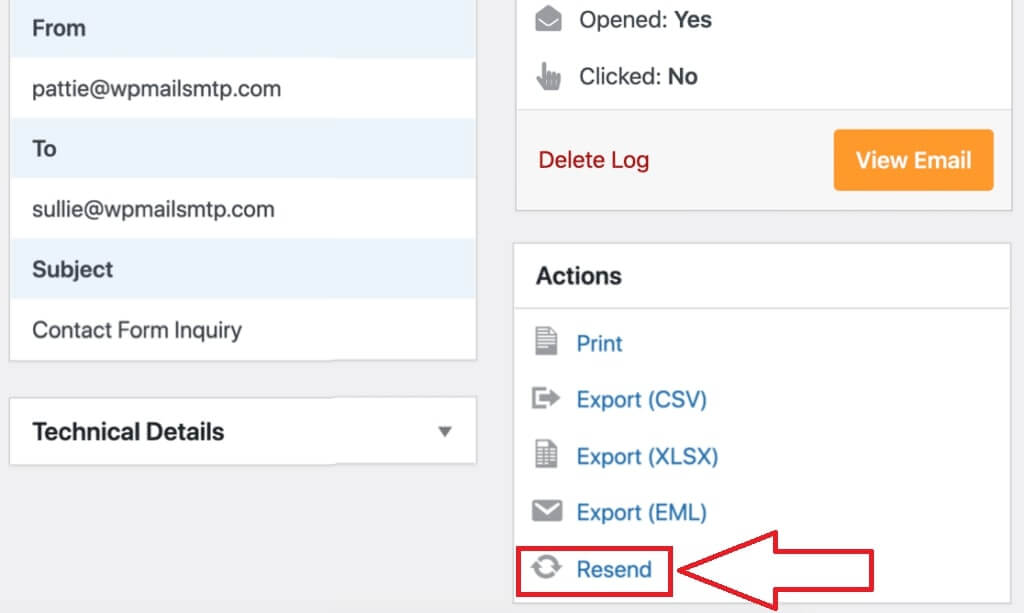 This will ensure an important email does not get wasted, you can resend it till it reaches the receiver. Even if you want to forward it to other's you can by editing the recipients. A simple dialogue box asking you to enter the receiver's email.
You can also enter multiple recipients by separating them with a comma like [email protected], [email protected],…., etc. Getting excited🥳 ? Not yet, there is a lot more to explore.
Multiple Resend
Let's take a scenario where you wrote different emails to different receivers, all of a sudden your internet connection drops. Emails are not delivered, are you 🤧willing to click on resend for every email you wrote?.
Here is the quick simple solution with WP SMTP, You can add the resend option to all the emails you wrote (bulk resend feature). So, all your emails will be sent with one click.
This latest version includes a smart queueing mechanism to arrange the emails to resend. This will not affect your site speeds (no matter even you resend a million emails at once). There is one more interesting feature.
Email Attachments
Sometimes you might have to save the email along with its attachment for future proposes, this new version brings this feature will save the attachment with the original email.
You can find it in the Attachment section, just below the actions tab. Do you have the same question in my mind? What about the disk space? well, this new release is ready with the answer.
To save the disk space, when you delete a log of email (attachments will also get deleted). Everything will be in your control. When you use resend button, these attachments will also be resent.
Electronic Mail Export (EML)
It's quite common to find CSV, XLSX export features in almost all the platforms. This time a new feature with a new release brought you EML export for the users. What's it? well, if you can export mail as mail to any other mail client. Fascinating right? What you can do with this?
Export Email & open it on any other email client (gmail, yahoo, etc)
Export multiple emails in one Zip file
You can find this feature on the Actions tab, this feature enables you to view the email exactly in the format it was sent. Awsome🤩right? It's for anyone who wants their template to look the same alike when they opened in others or you can achieve mails in a visual format.
Email Log (Aggregated)
Is it correct to open each & every subsite to view your email logs? WP SMTP addressed this issue by bringing aggregated features. So you can save a lot of time by loading all of your subsites email logs in 1 place.
This feature is available for network admins (multisite installations). Navigate to the email log page to find this feature.
This is very simple & easy to manage all the emails on subsites. I love this feature, if you have tons of subsites you can switch between them from the drop-down menu (in seconds). This feature is live in the new version.
Benefit: Also, you can maintain individual site settings if you want.
Conclusion
All these features are packed in one build, every feature is 🥰exceptionally crafted to be used in different scenarios. I personally loved email export & multiple email resend options, what's your favorite? let me know in the comment section.
FAQs Related to Tracking Email
Can I Know Whether the Reciever Opened my Mail or Not?
Yes, by enabling the email log feature for your WordPress. For that, you need to install the WP SMTP for your WordPress site. Every feature is explained what you will get with it.
How many Mails Can I Resend at Once?
You can resend as many as you can with one click (Bulk Resend feature is there). Select the mails you want to resend and click resend button, you are done.
Can I Export the Email?
You can export email as you like the format (excel, CSV, or even in the same format you received it). Check the action tab for export options in the email log.
How to Setup Email Logging?
There is a detailed guide on how to set up email logging, you can refer to that to get a clear picture.