A Open signal study of 4G signal quality from smartphones from different manufacturers such as Apple, Samsung and Huawei drew attention to latency – or delay, which is used to define how long it takes for a data packet to travel from one point to another. When high, it causes lag – a delay in graphics streaming.
The report points up to 11.1 ms difference in 4G connection speed depending on the smartphone. Therefore, choosing the phone model can impact your performance in online games like Fortnite and PUBG. Have you ever imagined being in the middle of a multiplayer game, suffering from lag and missing the opportunity to dodge a shot?
Yeah, it happens.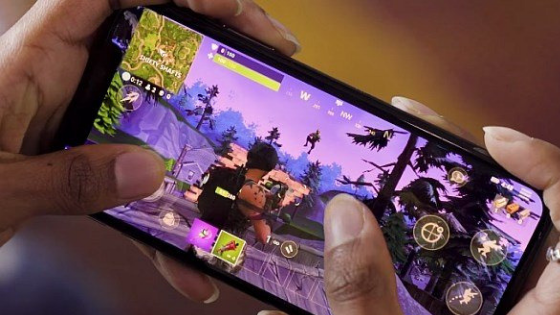 Nightmare for any gamer, it is possible to bypass the lag using high-level devices that do not make a player suffer from the delay. In Opensignal's ranking, smartphones were listed according to their 4G connection capacity (high, medium or low level).
According to research, a player who has a high-level mobile phone has a lag 18% lower than a gamer using a lower level smartphone. Which represents a difference of up to 11.1 ms between one and the other. Check out the smartphone models in the ranking below.
The best and worst mobile phones to play online
| | | |
| --- | --- | --- |
| Level | LTE Category | Smartphones |
| High level | (Category LTE 16 or more) | Apple iPhone Xs Samsung Galaxy S8 Samsung Galaxy S9 Samsung Galaxy S10 Samsung Galaxy Note 8  Samsung Galaxy Note 9 Huawei P20 Pro Huawei P30 Pro Huawei Mate 10Huawei Mate 20 |
| Medium level | (LTE Category 5 to 15) | Apple iPhone X Apple iPhone XR Apple iPhone 8 Apple iPhone 7 Apple iPhone 6s Samsung Galaxy J7 Samsung Galaxy J5 Samsung Galaxy A80 Samsung Galaxy Lite A6s Huawei P30Huawei Enjoy 9e Huawei Y6 |
| Low level | (LTE Category 4 or less) | Apple iPhone 6 Samsung Galaxy A2 Core Samsung Galaxy J4 Core Huawei Nova 2 |
What are the categories of LTE
LTE categories are a global industry standard for defining a smartphone's 4G connectivity capability. It concerns the device model only and has nothing to do with carrier location and coverage factors.
Higher category LTE phones support more networking technologies, making Internet connection faster and more efficient. This usually happens with the most expensive and new, also known as "gigabit smartphones".
In theory, the maximum download speed in one of these can be up to 1 Gbps or faster. Although it can only be achieved on paper, Gigabit LTE most often has, during testing, a true speed between 400 and 500 Megabits per second.
These users are more sensitive to operator improvements. As they include new technologies, they will be the first to experience their benefits.
The fastest phones around the world
It is a fact that there are large differences in the experience of LTE users of different categories across countries as a result of operators' approach to selling data packages. Thus, the difference in lag between them can be larger or smaller.
Huawei users, for example, showed noticeably slower speeds in the United States and Japan in OpenSignal research because they are not strong markets for the manufacturer, and in these countries their users chose cheaper models with less capable modems as well (impacting the brand) in the region.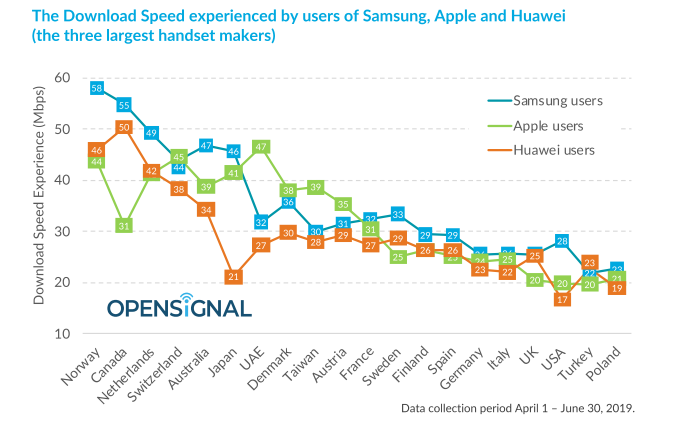 * OpenSignal data is valid for July/August 2019
** With information: OpenSignal, CableFree and Dignited