Cycling is a healthy exercise but, thinking about the comfort level everyone loves bikes. While e-Bikes are made to provide the mixed feeling of bikes & cycling. You can explore difficult or inaccessible areas by a normal cyclist. Not everyone will know the pleasure of mountain bikes, it's more fun to ride!. With Pedal assistant e-Bikes, you don't need to think about the juice left in your tank. One such great is Lesoos e-Bike Fatsky, in today's article you will know everything about this e-Bike…
Lesoos Fatsky is a foldable e-Bike that can take your 🚵adventures to next level, easily fit into your car boot space. Powered with a powerful 500W motor that gives you a thrilling experience with a max speed 50Kmh (30 Mph) packed with a juicy 🔋battery that can take you to the new 🏔️heights. Everything will be under control with a multi-function display mounted on the e-Bike handlebar. There is a huge 📃list of features yet to explore come on…..
Features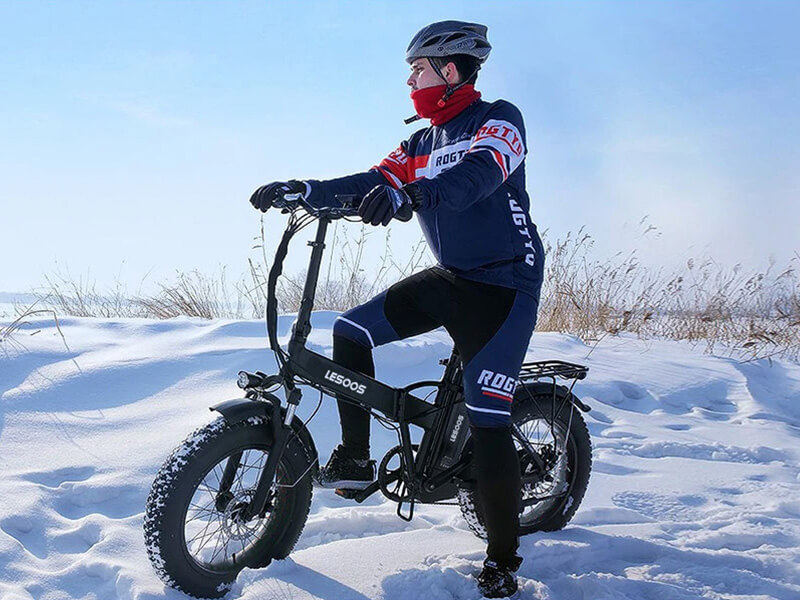 Lesoos FatSky is built 🚴adventure enthusiasts, city riders, and everyone. The most interesting thing about this e-Bike is its foldable design adding more comfort to carry to distant places. Nothing much to wonder about the Folding Fat Tire Electric Bike having 4″ fat tires makes it's more durable and well-preferred as a snow mountain bike.
Powered with a 500W brushless motor that can get you through high hills seamlessly without much strain on your body. Combining the torque from the motor with Shimano 7 speed with 3 different riding modes comes in handy in any road conditions.
It's puncture-resistant make sure that you are never stuck on roads and they are wide enough to provide enhanced traction, stability for smooth & balanced rides. Lesoos FatSky backlight display provides you with real-time speeds, battery, distance traveled, and power output.
Specifications
| | | | |
| --- | --- | --- | --- |
| Motor | 500W Drive Hub Motor | Speed | 20 Mph |
| Battery | 48V 12.5Ah Removable battery | IP Rating | IPx4 |
| Range | 37 miles / 50 miles with pedal assist | Dimensions | 175x62x125cm |
| Tires | 20″ x 4.0 Flat Tires (Puncture Resistant) | Folded Dimension | 94x38x74 cm |
| Max Payload | 330 Lbs | Weight | 66 lbs(30 Kg) |
| Riding Modes | 3 Modes | Bell/Horn | Electric Horn |
| Brakes | Mechanical Disc brakes | Charging Time | 4-6 hours |
Design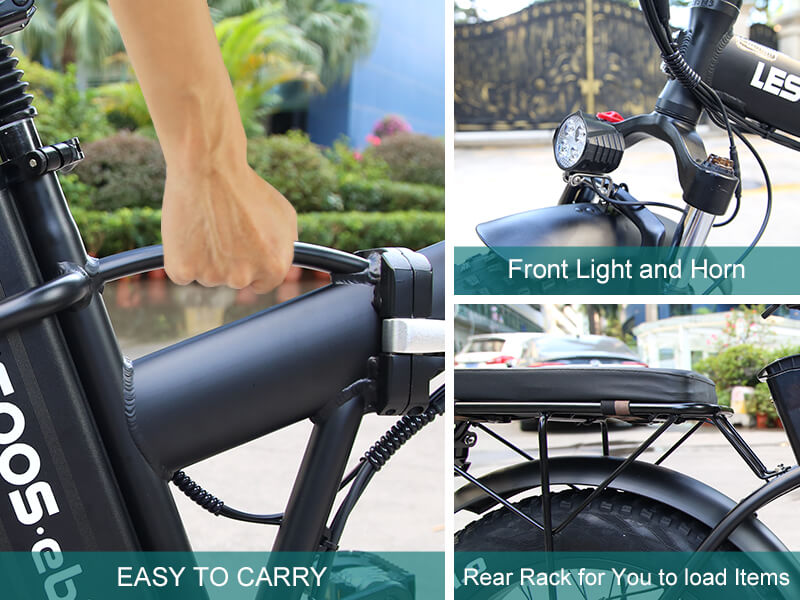 Lesoos FatSky comes with an ergonomic design with an adjustable handlebar & seat. It's a foldable e-Bike (Horizontal Fold) to fit into any of your car boot cases, most comfortable for traveling & transportation. While this e-Bike comes in black color with a rear rack case on the back. So you can carry some load or carry your partner along with you.
FatSky e-Bike is mounted with circular 🔦Dual LED lights on the front, so you can clearly see the roads even in the darkest spots. While its front suspension fork will make sure that your ride is smooth & comfortable with a locking device and suspended Seatpost.
Lesoos FatSky is finely crafted for every 🚲rider and has an electric 📢horn installed on the handlebar. It merely weighs 30Kg (less than your 75% of weight) you will fall in 💗love with the e-Bike carrying it on your shoulders.
You can charge the FatSky e-Bike directly with the 110W 🔌charger or you can remove the battery and charge them at your home and install them on the bracket to start your ride. FatSky is a Waterproof (IPx4) e-bike so you can enjoy dirt or water roads without any second thoughts.
Foldable Design
Lesoos FatSky's foldable design makes it way more convenient to carry in your 🚘car boot space by folding it horizontally. Folding this FatSky is very simple,
pull down the handlebar level to fold the handle down
pull back the top tube to fold the e-Bike body
Performance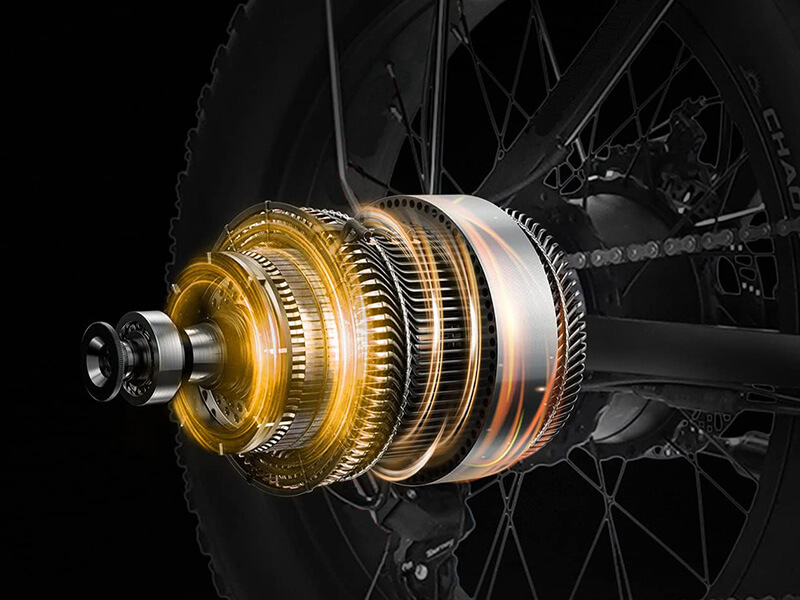 It has a 💪powerful 500W which makes it easy to climb even a tough uphill. Then moment you are on the complete electric mode you will feel the real power "No pedal effort is needed".
This e-Bike gives tough competition to other e-Bikes, well designed to boost your riding even in tough times. No matter where you want to go, worst slopes, uphills, terrains or drive in ❄️snow.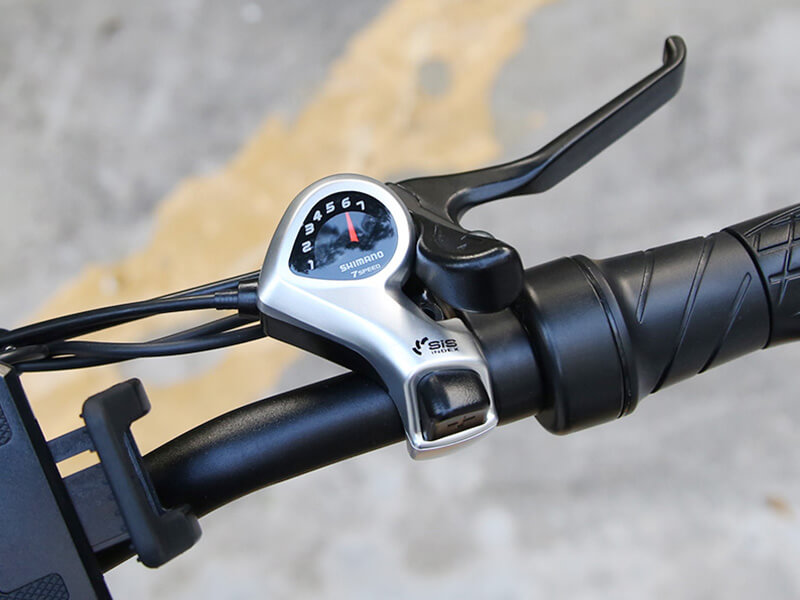 Lesoos FatSky completely utilizes the power output with a Shimano 7 Speed gearbox on the right handlebar to provide you enough torque during your rides. You can enjoy the top speed by shifting the gears, chain
The back gear cassette will adjust to the gear depending upon the gear level you are at. Depending on the riding mode the power will deliver to the wheel dragging you with the force.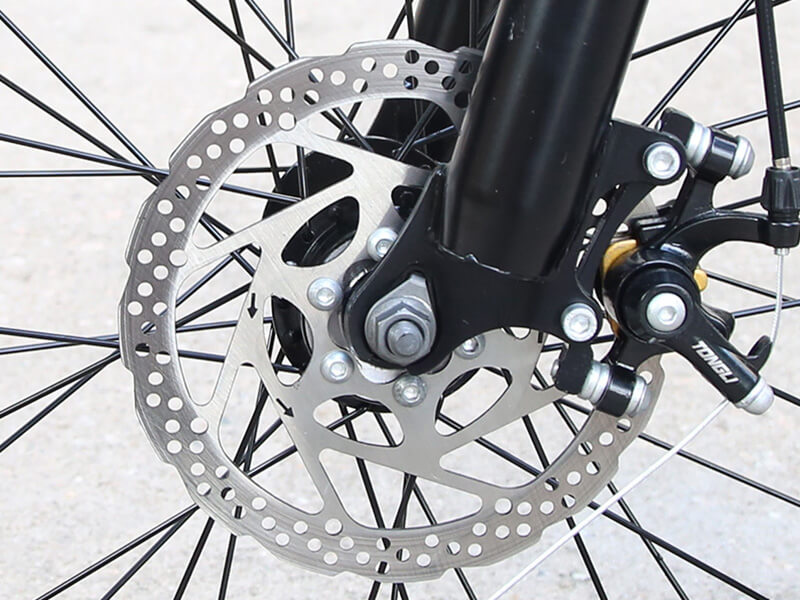 Perfectly build with a dual mechanical disc braking system that will provide enough traction to stop your e-Bike right at the moment you push the brake lever.
Both front & rear tires will have these mechanical disc brakes for a rich riding experience.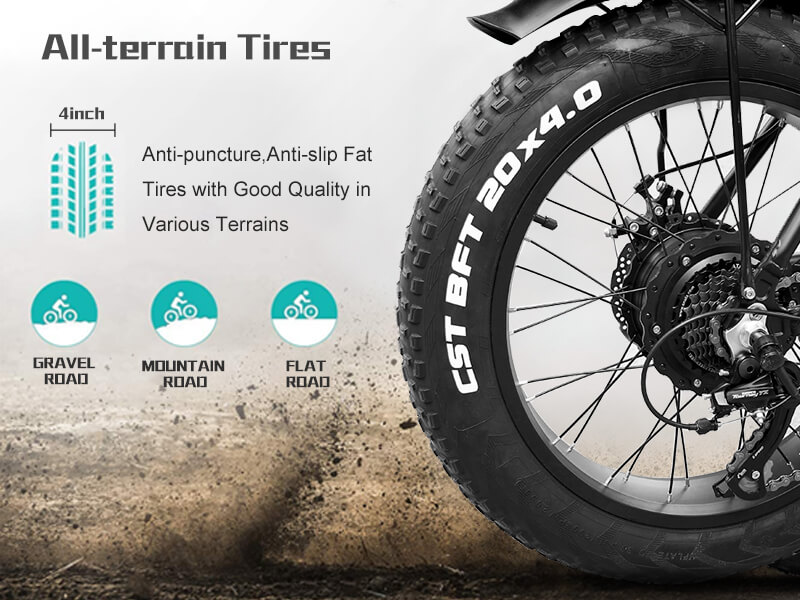 Lesoos FatSky will ensure that your riding journey is unstoppable with the 4″ fat puncture-resistant tires and crafted wide enough to make more contact with the ground surface than regular conventional bikes.
These tires can take you through anywhere dirty roads, snow roads, mud roads, and off-road. There isn't any specific limitation to this FatSky e-Bike tires. While every tire is protected under the mud-guard roof.
Range
The range of this e-Bike varies depending upon the mode you are riding. Lesoos FatSky gives tough competition to other e-Bikes available in the market. You will last longer for 60 KM with a single charge "Excellent Backup" still if you reply motor completely. With a little pedal assist you can beat reach up to 80 KM.
Pure Electric Mode: 37 Miles
Intelligent Pedal Assist Mode: 50 miles
Power
Lesoos FatSky e-Bike is packed with a most powerful engine 500W engine that provides great acceleration and high speeds of 30 Mph. You can the total powerful in electric mode or in its 3 intelligent pedal assist mode which easily outperforms all the e-Bike.
This motor still holds the acceleration even if you are in the terrain heights, as it 3 set in assist mode that provides you a great range of support from 30% to 100%. But you will feel the assistant during your pedal stroke and will be there till the pedal stop turning.
📝Note:- Lesoos FatSky e-Bike provides the same amount regardless of your pedal strokes.
Ride Modes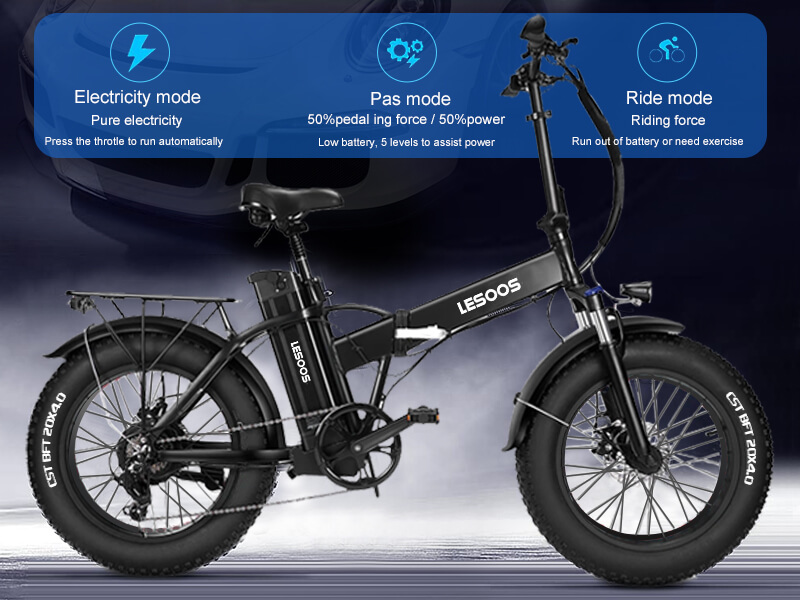 There are three different working modes available on Lesoos FatSky e-Bike, they are Pure electric mode, intelligent 3 levels pedal-assist mode, and manual mode. Whereas in the pure mode, you don't need to pedal the bike it draws the juice from the battery tank and runs at a max speed of 30 Mph.
When you are in the intelligent 3 level pedal assist mode, your range will vary up to 14 miles. In this mode, you are required to partially pedal the bike "Mixed Mode". If you are more concerned about your battery level on your bike prefer using this mode.
The last one is Manual Mode will turn your e-Bike into a bicycle, you know the 😅rest. Pedaling is completely a healthy exercise to burn your fat, it's up to you which mode you will ride this e-Bike.
📝Note: Use the button on the multi-functional display to change the riding modes.
Display panel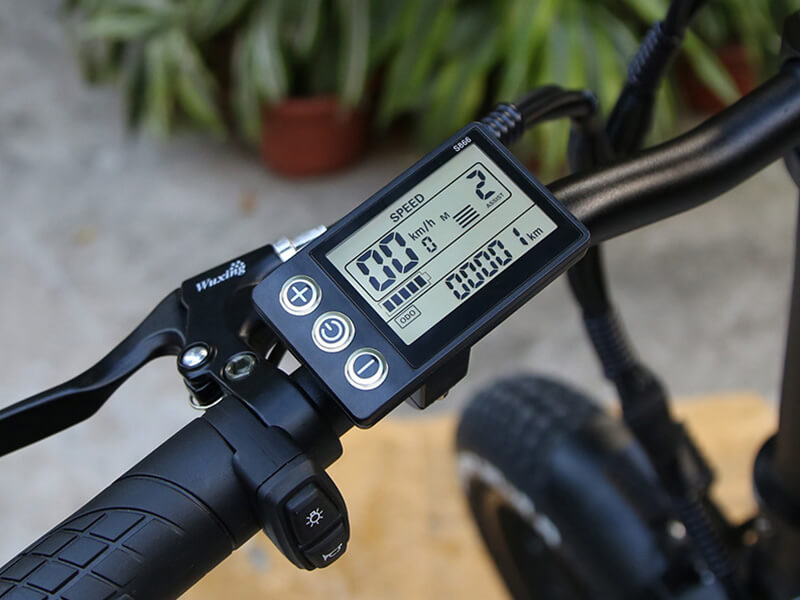 e-Bike riders 💗love to have everything at once (display). It's a multifunctional display mounted on the left handlebar of Lesoos FatSky e-Bike that comes with 3 buttons (power, increase, decrease). You can change the modes from here.
You can monitor your e-Bike Speed (Speedometer Sensor), battery level, distance covered (Odometer), and motor power (Wattmeter) in ⌚realtime.
Battery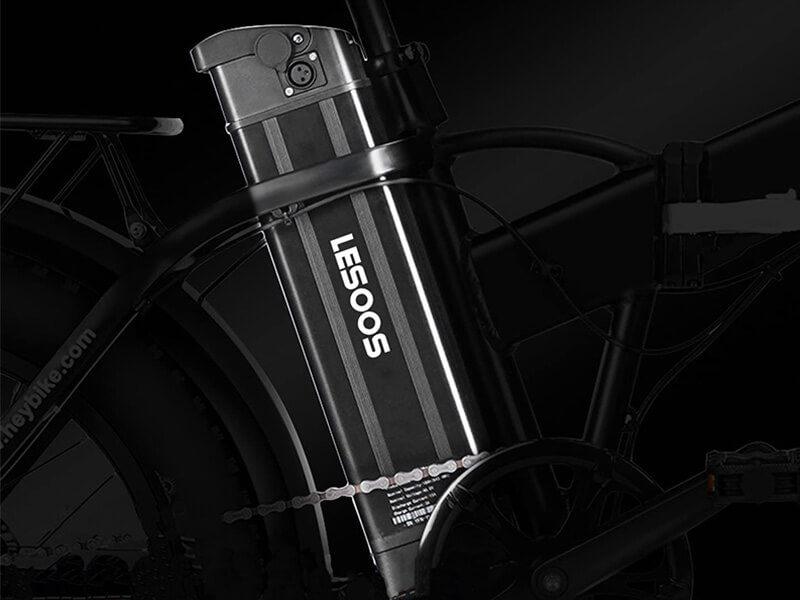 Lesoos FatSky e-Bike comes with a removable battery placed under the seat and comes with a ⚡overcharge, ⛈️overdischarge, 🌟overcurrent and short circuit protection. They are 48V 12.5Ah or 600wh with an estimated 12wh per mile long lasting 50 miles with some pedal assist.
While they are high-quality batteries protected under the hard plastic shell and have a LED battery indicator 🔔notifying you when to charge them. Either you can charge the batteries directly or you can remove and carry them inside your 🏠home. It takes 4-6 hours to completely charge the batteries.
Final Verdict
Lesoos FatSky e-Bike is a 🤗joyful e-Bike for eScooter lovers. Its cutting-edge design allows any person to ride this bike with its adjustable handlebar & seat. Its 32 Mph speed brings more thrill & excitement, while its 4″ fat tires ensure perfect grip on any road.
FatSky e-Bike comes with dual disc brakes & LED lights to light up the entire road. Its multifunctional display is really incredible showing every metric (Speed, Range, power output) in real-time. Its foldable design makes it more convenient to carry with you anywhere.
While the Shimano 7 speed provides great torque in 3 different working modes assisted by a 500W powerful motor. This e-Bike comes with an electric horn pre-installed, it doesn't take much time to charge the e-Bike.
Pros
Powerful 500W motor
3 Riding modes with 50 miles range
Max Speed 32 mph
Foldable design
IPx4 Waterproof rated
Adjustable heights
Disc brakes, Removable battery.
Where To Buy
You can buy this Lesoos FatSky e-Bike from their official site Lesoosebike.com. If you are concerned more about the range then, check out the 14-inch Folding bicycle – Lesoos PowerSky which gives you 100 miles with pedal assist (low motor power).
Maintainance Tips
Charge the e-Bike battery completely before you start your first ride, though it's waterproof makes sure that the battery charging port is covered with the cap. There won't be much maintenance apart from general things.