MonsterInsights will always listen to the customers in which their work in making the Google Analytics plugin ever existed for WordPress. Now today they came with a new plugin to improve the eCommerce tracking even better. Here we will discuss their plugin and what difference it makes.
MonsterInsights New Integration with GiveWP and Restrict Content Pro
If you want to start a new eCommerce website then you have to actively listen to your customers which make is the crucial part. While you might have thought to hire some other analyst which will cost you more.
Don't worry MonsterInsight has got you covered about how to insight the customer's online shopping behavior. This will help in optimizing your eCommerce store for a more audience that ultimately drives you to get more revenue.
MonsterInsight is expanding its supported plugins and decided to work seamlessly with GiveWP and Restrict Content Pro. As you might have already known about the GiveWP which is a top WordPress donation plugin that lets you collect donations, manage donor's information, and build donation forms.
While Restrict Content Pro is a popular membership plugin for WordPress, which will be useful to offer exclusive content to members, provide membership levels, and can help in managing the users from the dashboard.
With these new integrations, you will see how your eCommerce Store is performing. What strategies are working and what not?. So that you can know whether you have to tweak your approach to drive customers or not.
If you use this addon from the MonsterInsight. You don't even need to hire a developer neither edit the code. You can track the donation using GiveWP and memberships with Restricted Content Pro with just a few clicks.
MonsterInsight eCommerce Addon Tracking Feature
It is a fact that, understanding your audience will be the crucial success of an eCommerce store. The MonsterInsights eCommerce tracking will bring you all the data you need at your desk with simple steps.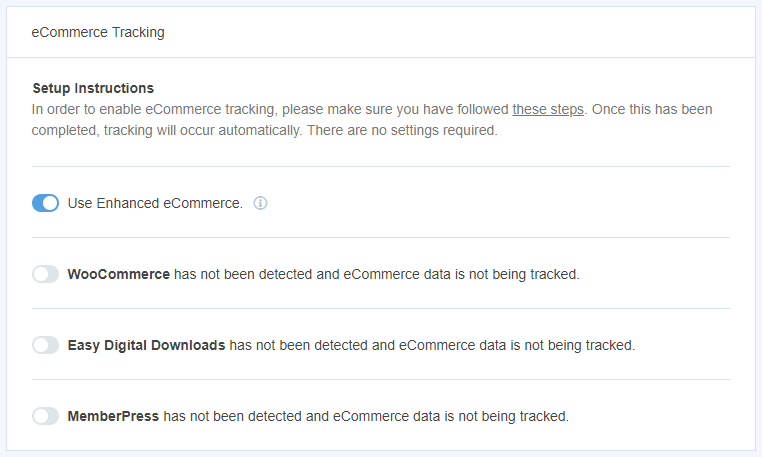 Google Analytics eCommerce tracking can be added to your WordPress with few clicks. In this new eCommerce, the plugin report will be available for the WordPress Admin. So that you can see all the crucial data in your eCommerce at a glance like Transactions, revenue, and average order value. Check the image below as a sample.
This eCommerce Tracking includes all kind of purchase activities
Best Sold Products
Average Order value
eCommerce Conversion rate
But if you want to know, where the traffic is coming from your website you can scroll down a bit. You will find the top referral sources to your website along with the exact revenue they are sending. After analyzing these reports you can know that which referral sources that you need to work on to make more revenue.
If you are weak at numbers and want the data in the pictorial form. So that you can understand the data easier. Google Analytics will offer even more details in pictorial form, which will help you to understand your customers and optimize your store for more sales.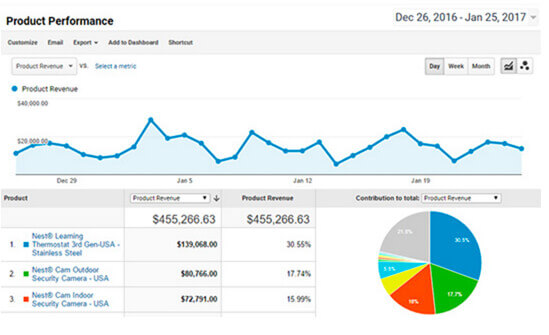 What is MonterInsight's?
To explain to you shortly, MonsterInsight's is a plugin (Google Analytics), which gives you a customizability feature for the Google Analytics services for your WordPress sites. If you want to try you can have a look at MonsterInsight's. This is very popular since it is created by the WordPress SEO plugin creator.
This makes Analytics simpler with a single click, the reports will fall in a sophisticated manner with custom dimension tracking, event tracking along many more trackings. MonsterInsight's plugin makes this simple so that you don't need to spend thousands of dollars to hire a developer for analytics.
They made this in a way to track all reports in one place (WordPress Dashboard). So you don't need to spend months in understanding the complex Google Analytics Interface.