Pokémon Home is available for download: here's how it works, how much it costs, the prices of the Premium membership and how to transfer Pokémon from Nintendo 3DS to Sword and Shield on Switch.
Pokémon Home is now available for download for iOS and Android: the app that allows you to transfer the Pokémon of the old games for Game Boy, Nintendo DS and 3DS to Sword and Shield on Nintendo Switch behind the payment of a subscription. But how does it work, how much does it cost to subscribe and how does the transfer of Pokémon take place on the latest generation games?
The application is downloadable from February 12, 2020 and will replace, in fact, the Pokémon Bank, with a new premium paid service, allowing all the Pokémon previously captured in games such as Red, Blue, Yellow, Ruby, Sapphire to be brought to Nintendo Switch, Emerald, Black and White and many others.
The transfer of the baton from the Pokémon Bank to Pokémon Home takes place through an annual subscription service on Nintendo 3DS and 2DS, which will allow you to obtain some of the most loved creatures on the Pokémon by Sword and Shield (which are often carried by generation and generation years ).
Pokémon Home: how much it costs and Premium subscription price
Pokémon Home will have two different versions, one standard and one paid Premium.
If you have the Premium service, you will be able to move Pokémon from the titles for Nintendo 3DS to Pokémon Home, using the same Pokémon Bank: this operation will be univocal and the transferred creatures cannot then be carried over to the previous database.
The Premium subscription to Pokémon Home can be purchased through the Nintendo eShop, which can also be associated with a PayPal account, and provides different types and prices, among which we have:
1 month (30 days) for 2.99 dollars
3 months (90 days) for 4.99 dollars
12 months (365 days) for 15.99 dollars.
To celebrate the release, the Pokémon Bank and the Poké Transfer will be made free for a month. You can move the monsters from the old games using the two tools which, normally, cost $4.99 per year.
Pokémon Home: features and benefits of the Premium membership
Signing up for Pokémon can be a huge expense, but full of benefits. Experienced coaches will in fact enjoy the unique features of the subscription:
| Pokémon Home differences | Standard subscription | Premium subscription |
| --- | --- | --- |
| Transfer Pokémon from the Pokémon Bank | Unavailable | Available |
| Number of Pokémon that can be deposited | 30 Pokémon | 6000 Pokémon |
| Number of Pokémon that can be deposited in the GTS at one time | 1 | 3 |
| Group exchange | Join an exchange | Join an exchange and organize it |
| Evaluation system | Unavailable | Available |
The advantages of subscribing to Pokémon Home, despite a price that could easily make users turn up their noses, are different:
the national Pokédex, always available and complete with all the creatures ordered from the first to the eighth generation
the secret gifts, obtainable through the mobile app and ready to be then transferred to Pokémon Home
the evaluation system, which allows you to identify the IVs, the characteristics and the strength of your Pokémon
your Home, to always have at hand all the information and events on games related to Pokémon Home, with many customization options such as stickers.
To these, the possibility of keeping Pokémon battles under control for those interested in the competitive field, or alternatively obtain special points using the two services (which can then be used in the games as PL points) are also added.
Pokémon Home Download: how to download it
Being available on three different platforms, Pokémon Home is downloadable from smartphones and tablets through the Google Play Store (Android) and App Store (iOS).
The third application available will be the one for Nintendo Switch, which can be downloaded through the Nintendo eShop instead.
Here are the direct download links:
Pokèmon Home: differences between the mobile version and Switch
Two different services imply different functions: the mobile version makes it easier to manage information related to creatures captured and transferred, while the one present within Nintendo Switch is much more practical. What can both do? We explain it to you in this summary table.
| Pokémon Home | app for iOS and Android | Nintendo Switch app |
| --- | --- | --- |
| Transfer from Pokémon: Let's Go, Pikachu! and Pokémon: Let's Go, Eevee! | No | Yup |
| Transfer Pokémon with Pokémon Sword and Pokémon Shield | No | Yup |
| Transfer Pokémon with the Pokémon Bank | Yup | Yup |
| Evaluation system | Yup | Yup |
| Exchange Pokémon | No | Yup |
| Receive Secret Gifts | Yup | No |
| Check fight data | Yup | No |
| Checking notifications | Yup | No |
| Convert Pokémon HOME points to Fight Points (PL) | No | Yup |
Pokémon Home: how to trade Pokémon
Pokémon Home features several types of swaps that make the app much more than a simple Pokémon cloud container.
Through the app it will be possible to exchange the captured Pokémon at any time, wherever you are. To do this we have several options:
the prodigious exchange, or the classic random exchange, even when the app is not open. Once you send your creature, just wait for the actual event of the exchange, which in the Premium version can also take place with multiple Pokémon at a time
the GTS, or the return of the Global Trade System. With this option it is possible to specify which creature you want to get in exchange for the Pokémon of turn offered, specifying various characteristics and requirements. Once you send your Pokémon, you will only have to wait for the exchange to be successful
the exchange group, lets you create a virtual group and trade Pokémon with only selected users. Groups of up to 20 people can form but don't know which Pokémon you will receive until the exchange. If you have a Premium subscription, you can create the group while otherwise only access it
the exchange with friends, which allows you to exchange Pokémon with other users once you become friends on Pokémon Home (as in a sort of social network).
Pokémon Home: how to transfer Pokémon to Sword and Shield
Waiting for the official release of Pokémon Home long ago a user on Reddit had depicted the complete cycle of transfers in Pokémon on the various consoles, including Nintendo Switch.
The operation is simple: for the passage of the old generation Pokémon to Switch, through Pokémon Home, it will be necessary to be in possession not only of a Nintendo 3DS or 2DS but also of an active registration at the Pokémon Bank.
The service, downloadable from Nintendo eShop on 3DS and 2DS, allows the necessary transfers to be made for a 12-month subscription at a cost of 5 dollars.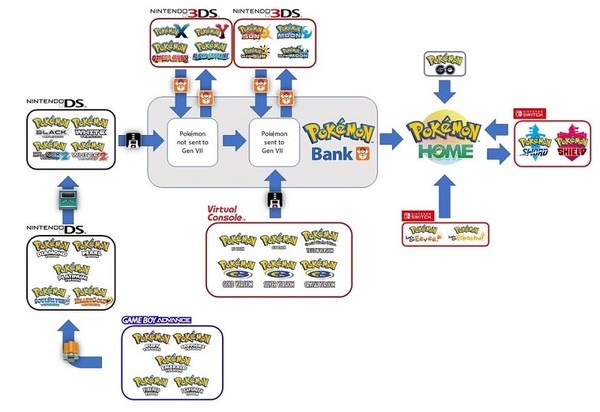 The operation scheme of Pokémon Home
If your subscription is not active, you will be forced to renew it in order to transfer your creatures (except by taking advantage of the free month offered by Nintendo).
How you do it? First of all, it must be emphasized that each game has a different dynamic and transfer mode from the other: for the titles released on Game Boy (Pokémon Red, Blue, Yellow, Gold, Silver and Crystal) and Game Boy Advance (Pokémon Ruby, Sapphire, Emerald, Fire Red and Leaf Green) you must make a first transfer to Nintendo DS (then to Pokémon Diamond/Pearl/Platinum, Heart Gold/Soul Silver, White Black/White Black 2) unless you have bought them back for the Virtual Console on Nintendo 3DS.
The latter titles will in turn have to refer to the Pokémon Bank available on the Nintendo 2DS and 3DS consoles, to which are added the new generation titles that already allowed to exploit the service: X and Y, Omega Ruby and Alpha Sapphire, Sun / Moon and Ultra Sole and Ultra Luna.
From these we will then arrive at Pokémon Home and the new generation titles such as Pokémon Let's Go Pikachu and Let's Go Eevee, Pokémon Go and Pokémon Sword and Shield that enjoy native integration to the app. Here is the official scheme: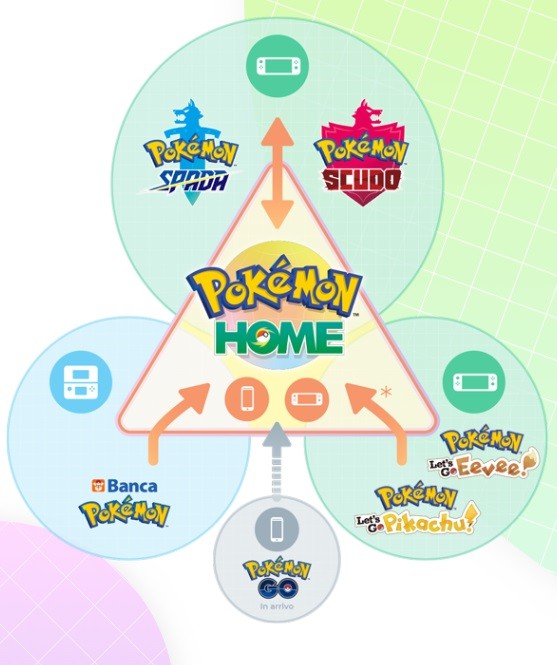 It is obviously obvious that Pokémon transferred to Home will no longer be able to return to their respective games of origin, with the exception of Sword and Shield, which will instead enjoy the possibility of using Pokémon Home as an additional box for the latter titles and for the others coming in the future on Nintendo Switch.