Deleting the files accidentally and regretting later happens always. It's quite common, but what if you can reverse the time and get your files back? Is this possible? Well, yes but not reversing the time. Getting the lost files is possible using the Stellar Data Recovery tool. So if you are here today (you have lost something) to get your files back, Get up geared…
Today, we are going to review the Stellar Data Recovery tool. In this detailed review guide, you will know about this little guy and what he can do for you…
What is Stellar Data Recovery?
Stellar Data Recovery is a reputed data recovery & backup tool available for all of your devices. It has many names (whatever you wish to call), and it recently changes to this name what you are listening to in this article.
Stellar Phoenix
Stellar Phoenix Windows Data Recovery
Stellar Phoenix Data Recovery
They removed Phoenix from the name and finally coined it as "Stellar Data Recovery", this tool has some amazing features and helps you in recovering all types of lost/deleted files "Great recovery tool for lost/deleted files". Though some limitations can be improved, at present it can recover documents, images, videos, emails, folders, docs, etc.
Stellar Data Recovery Features
All the features you are looking around in the image are available for Windows, macOS, and Linux. Stellar Data Recovery has some powerful features with powerful performance to recover your lost files across drives and locations. Let's take a look at each feature it has to offer instead of talking entirely about "Data Recovery".
File Formats
If you accidentally deleted your data or lost your data due to physical device damage. The Stellar Data Recovery tool is there for a cause (backup for you) allowing you to recover any file format docs, folders, emails, audio & videos.
Bootable Recovery Media
It's often that our devices will fail to start (bootable issues or crash). but you can restore the data by creating a bootable USB recovery media while your device startup to access storage and get the files back.
📝Note: This feature is only available for the paid version (Professional version) of Stellar Data Recovery
Corrupted Photo Repair
Stellar Data has this great feature whenever your image files got corrupted due to file transferring or due to any cause (virus, system corruption, etc). This toolkit can fix all the damaged photos and restore them to their original state if they are blurry, pixelated or grayed out, etc.
Corrupted Video Repair
There is a chance that your favorite videos might get corrupted due to several reasons. But this Stellar toolkit helps you out in recovering the corrupted videos for you it might be any format type (4K, 8K, and VR video) of any device brand (Canon, Nikon, Sony, GoPro, Leica).
Recover Partitions (Missing, Lost, Corrupted)
Some partitions require to be formatted before you start using them immediately. This has been the same when I insert an SD card into my device it asks me to format it. But with Stellar Data Recovery toolkit will recover the files for you.
It might be in any data format like APFS, NTFS, exFAT, HFS, HFS+, Ext2, Ext3, or Ext4 you can retrieve them as this tool will discover lost or deleted partitions on your storage device through "Deep Scan" & "Can't Find Drive".
Crashed System Recovery
Stellar Data Recovery is one of the best hard disk recovery tools and is well-reputed. This will create bootable media to recover files from a crashed system or unbootable devices like Windows or Mac. So, you don't need to bother and worry about your data even when your system not turning on.
Encrypted Drives Recovery
Even if you are using some encryption (BitLocker) for your drive, you can still recover the data using Stellar Data Recovery.
RAID Recovery
You can reconstruct the RAID arrays through parameters using disk order, start sector, and block size. There is full support for any RAID levels from 0 to 5 including 6 without any hassles. You can still be able to recover both non-bootable and encrypted files.
This toolkit also supports RAID and virtual drive recovery and can fix corrupted files.
Cloning
This will be a very useful feature to completely make a duplicate copy of the original disk. So, you can make a clone of a failed drive before the data is destroyed on the drive. Though this feature is available in the older version, a new build is released with some improvements.
4K drive and dual monitor support is one top feature, you can try out the new features by checking the new version.
Stellar Data Recovery Speeds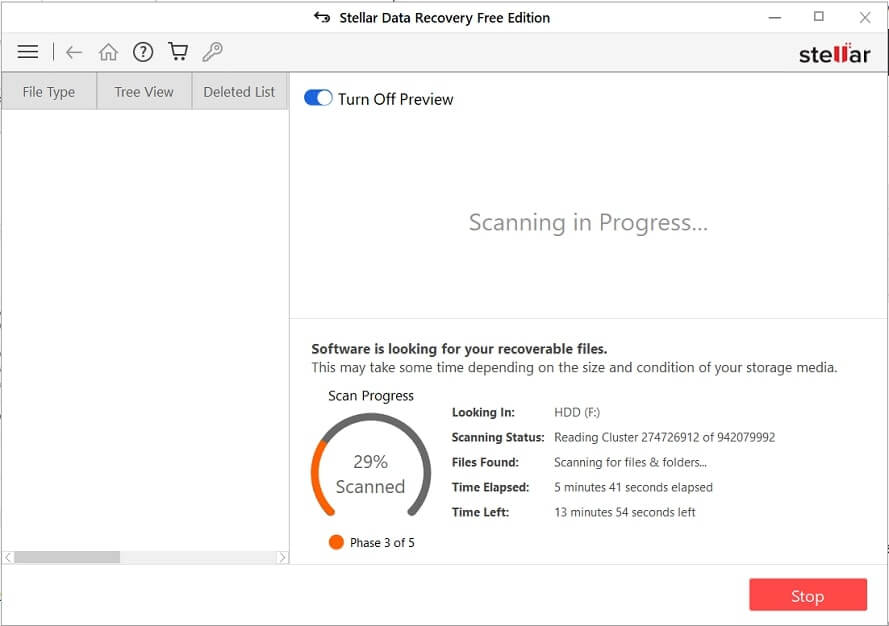 Many people praise this Stellar Data Recovery tool for its recovery speeds and it's very important that how quickly you can recover your lost files. So, we gathered as a team and put this Stellar Data Recovery to speed test considering useful aspects, and here are the fields we tested.
Scanning speed (Lost/Deleted files)
Recovery Speed
Efficiency in file recovery
Efficiency in file names
So, we have deleted some files in our device and then tried to retrieve them back to my HDD drive through this software. Recovering 1GB of deleted files took a couple of minutes (around 6 mins), even I got impressed by looking at the speeds. It's quite general to spend a minute transferring 1GB of file between devices, it's hardly the same for recovering as well.
When we tested this software on SSD with a deep scan recovering 10GB files it took more than 20mins (deep scan will eat more time). Retrieving 8GB of files to a USB Pendrive took 23+ minutes. Though the speeds quietly fluctuate on the second try (due to heat performance is low), so the speed results might differ in your case.
| Scan Options | Estimated Time |
| --- | --- |
| Quick Scan (500GB) | 5-6 minutes |
| Deep Scan (500GB) | 2.5 hours |
There is no doubt that Stellar Data Recovery was able to restore all the deleted files "100% efficiency in recovering lost/deleted files". There is a deep scan feature available for you if anything is lost beyond your hard disk.
📝Note:- Recovery speeds will depend on your hard disk RW speeds and the number of files you are trying to recover.
Stellar Data Recovery Interface and ease of use
Stellar Data Recovery on your device will not take more than 1 minute. Once you install it on your device, the home screen looks very minimal & easy to get understood by naive users listing what data you want to recover in sections. Have a look at the Windows app interface yourself.
I didn't notice any issues while navigating through its interface (user-friendly) and was well stacked. Though it seems more technical to deal with, there is nothing hard here to understand. But if you are a customization lover, you will get disappointed a bit. Also, you can apply filters to scan a file by its name or type (minimizing scan time)
| Operating System | Memory | Hard Disk | Available in Languages |
| --- | --- | --- | --- |
| Windows (10, 8.1, 8, 7), macOS X 10.8 and above | 4GB Ram | 250MB | English, German, Spanish, French, Italian, Japanese, Korean |
Here are the specification details and software available in different languages along with recent version release data. This will get updated on every release, so far this is the recent one.
📝Note:- You will get additional recovery features depending on your subscription plan.
Recovery Process
I will guide you through basic steps to recover your lost or deleted files quickly using the Stellar Data Recovery tool. These are the most common methods (two) used by naive users to professionals, though I might not be able to show you how to clone your partitions.
Download & install Stellar Data Recovery tool for the official website
Complete the setup wizard and open the shortcut available on your home screen.
Pick the specific files you want to restore, if you are not sure click All Data and Next.
Chooe the disk on where you lost your files and click Scan.
You can enable "Deep Scan" once you have choosen a drive.
Click on Scan, you scan will begin searfing for the lost files "Deep Scan will take more time".
Once the scan is complete, you will be shown the files that can be restored.
Click on the Recover option on selecting the desired files you want to restore.
Pricing
Stellar Data Recovery has five plans along with a free version for Windows and Mac. As you can see the chart for the plans. You will get 1GB of data and files up to 25MB, also there are other more features available in the other plans check out them once.
Standard ($49.99)
Professional ($89.99): Recover deleted files, Unbootable system recovery, Optical Meida recovery, Monitor & HDD Clonning.
Premium ($99.99): Along with professional benefits you can also repair corrupt videos, Repair multiole videos and you can extract thumbnails of images.
Technician ($199): This price plan offers Raid recovery (0,5 and 6) along with premium features. It also supports creation of virtual raids
Toolkit ($299): This plan supports virtual drive recovery and recovers data from Linux, Mac Drives (HFS, HFS+, ext2, ext3, ext4).
📝Note:- For every costly plan you will get some additional benefits, you can also refer to the website for more details.
Customer Support
Stellar Data Recovery has 24 hours help desk for any of your queries. They have a solid customer support reputation with a large library of FAQs solving complex queries. When we ask them some queries regarding deep scan features and partition recovery. They didn't even take more than 2 minutes to solve my query.
The stellar Data support team will try to fix your issue in a detailed manner through any medium email, or FAQ search database.
Final Verdict
The stellar Data Recovery tool is much improved in the latest version and works like 🛬breeze. Scan time is a bit high again it will depend on your drive speeds, latest version can recover any type of file located on your drive. I have seen in reports that some users restored their full database (10TB), really ✨impressive.
It excels in our performance test, you can check them. You can try this tool right away as they are providing a free version to know what it can do for its users to recover damaged or corrupted files across multiple device platforms.
FAQs Related to Data Recovery
Is the Stellar Data Recovery tool legit?
Many users using this tool make this legit in the digital world to restore their lost or deleted files from the drivers such as CD, USB, DVDs, HDD, or SSD. Also, there is support for corrupted files with some advanced features to fix them.
Is Stellar Data Recovery tool Safe?
Stellar Data Recovery is completely safe "there is nothing in it to harm your device", even I have scanned the setup file on "VirusTotal" there is nothing found on the installer file.
How many files can I restore at a time?
Your drive storage is the limit, how big it can be. Even during our test, I have an option to recover 1TB of data (Size of my HDD). There is no limit on how many files you can restore, but the speed of the recovery will depend on many factors.