The Slack finally (!) has dark mode and if you want to learn how to enable in your application, you are using an Android phone or an iPhone (iOS), follow the tips below. But first, make sure you have the latest version of the application.
In Slack mobile applications, as of March 2019, you can choose between a light mode and a dark mode. Night mode makes reading and writing much easier and "relaxes your eyes," allowing you to change the subject for more contrast.
How to enable Slack dark mode on iOS (iPhone)
Open the Slack app on iPhone;
Swipe left to open the sidebar;
Go to Settings;
Turn on "dark mode" to apply the dark theme.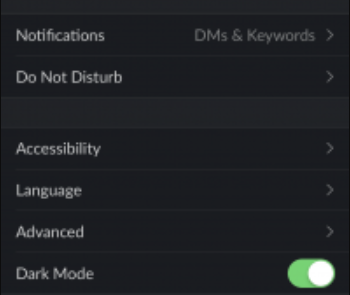 How to enable Slack's dark mode on Android
Open the Slack app on Android;
Touch the three-point menu at the top right;
Go to Settings and scroll to General;
Touch "Dark Mode" to activate the dark mode;
Confirm with "Continue" and the application will restart with dark mode.
For those who use Slack in the browser or in the desktop version, you'll have to wait. The dark mode is not available in the desktop app now, but the Slack development team says it's working on it. News will arrive.