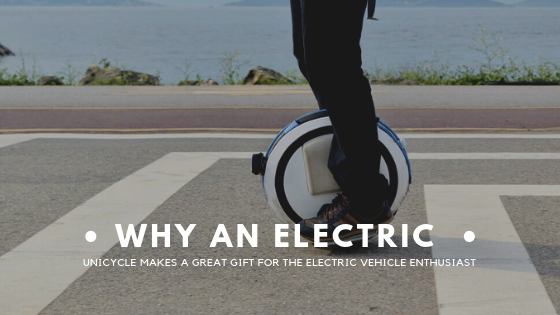 Electric vehicles are all the rage right now. From electric cars – which are becoming ever-more popular – to electric trams and buses, the drive to make the world of transport more ecologically-friendly is continuing to grow. There is a trend for personal electric transport, too; you might have seen bicycles with electric motors – they're great for getting up hills and the daily commute – but that's not what we're talking about!
What this article is about is the electric unicycle, and it's a great gift idea for someone who is into electric vehicles, or for those who undergo a lengthy walk to and from walk on the daily commute! What is an electric unicycle? Let's have a closer look at these very clever, neat and usable devices.
The Electric Unicycle
First, you need to get rid of that image you have in your head, the one of the clown at the circus on a tall-framed unicycle with one tiny wheel! The electric unicycle is nothing like that, and doesn't even come with a seat! Instead, think of it as a scooter with one wheel – and in fact much better than a scooter!
There are actually quite a number of makes and models of electric unicycle on the market – the best place to check them out is probably at https://www.electricunicycles.co/ where you will find details of some of the best – and they all have a few things in common.
They have, as mentioned, just one wheel, which is powered by an electric motor. The motor is usually USB rechargeable – great for when you use it to get to work – and the unicycles are designed to be self-balancing; unlike the clown, you won't fall off! You stand on a platform that extends each side, and off you go! Once you get used to the experience, and the controls, it's easy, convenient and truly great fun!
As for performance, can you imagine racing along at even 10mph on a single wheel that sits between your feet? That's pretty fast on a bike, right? Well, when you take into account that 10mph is about the top speed of a very basic model – such as the popular MonoWheel V2, a seriously great value model – then you are in for a surprise when you see the performance of the more powerful electric unicycles!
Choosing Your Unicycle
So, you want to buy an electric unicycle: is it for you, or as a gift? Either way, you need to consider where the user will be riding it, and for what purpose. For fun, the MonoWheel V2 mentioned above is a great choice: it's affordable, simple to use and highly enjoyable. It's great for a short commute, too, but only has a 10 mile range.
If you want one that goes further, the InMotion V Series can take you as far as 45 miles on one charge, and can reach speeds of up to 25mph – that's fast enough for anyone! Or, at a great price is the A1 Series, which can get you up to 15mph and take you 20mph, and they even come with an app for controlling your unicycle!
These are just a few examples of the potential of the electric unicycle, but we are sure you will agree that one of these would make a fantastic gift for someone who is into electric vehicles, or who loves gadgets, or even for yourself to have some fun and make the ride to work more enjoyable. Check out the website now, and join the many people who are enjoying the fun and freedom of the electric unicycle.