As chief of any business or enterprise, you wear many hats: creator, designer, visionary, operation manager, and many things. Therefore, any unique business activities should be the equivalent source of controlling such customized activity.  
Being the chief, you are familiar with your business, competitors, and company's needs. While managing so much, one of the challenging jobs that corporations and managers frequently confront is enterprise content management. However, Microsoft can redesign your challenging business work using agile SharePoint technology.
Because it offers a variety of features and capabilities that make it simple to manage, organize, and share content inside an organization, SharePoint is a good choice for an enterprise content management system.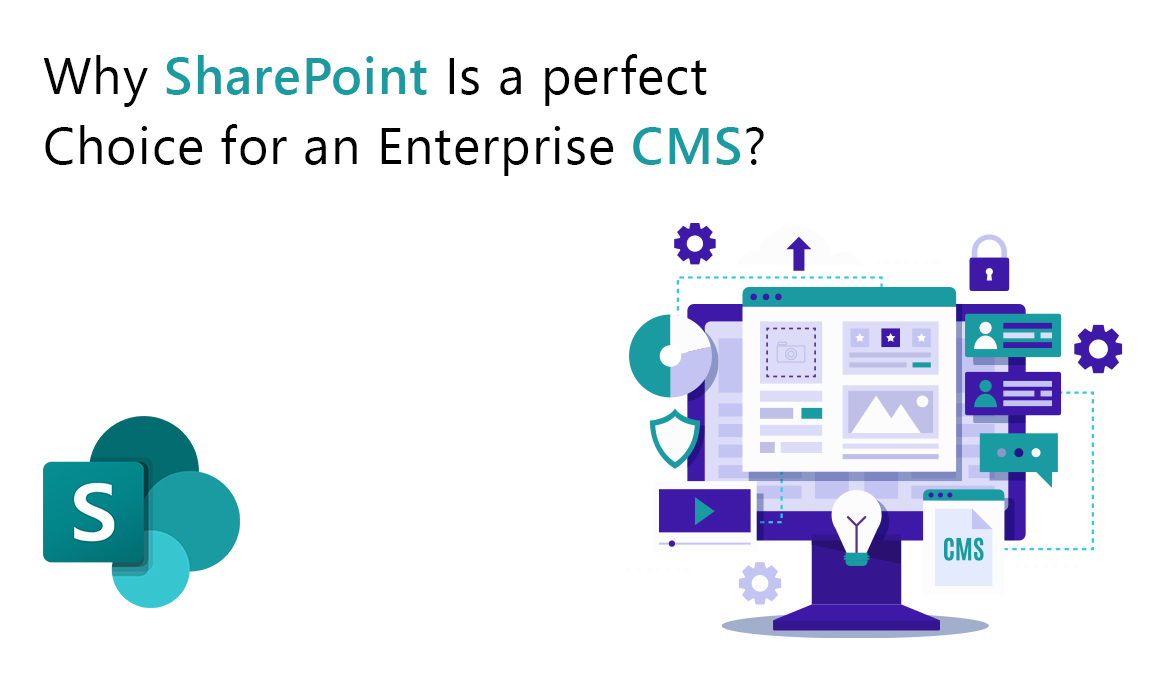 What is Enterprise Content Management System? –
A software program or collection of tools called an sssss content management system (ECMS) enables businesses to produce, organize, manage, and publish digital material like web pages, documents, files, photos, and videos.
The goal of ECM is to make it simple for non-technical people to create, update, manage, and publish material without the need for specialized coding or web development experience.
A significant tool for enterprise content management offered by SharePoint provides a wide range of features and functionalities that enable businesses to manage better and share content, boost teamwork and productivity, and adapt to the demands of the modern, digital workplace.
Capabilities of SharePoint Enterprise Content Management – 
Enterprise content management (ECM) systems are designed to help organizations manage, organize, store, and control their digital and physical content. Some standard capabilities of ECM systems include the following:
Document management: Enterprise content management systems allow users to store, organize, and access documents in a central repository. 
With the aid of the central repository feature, employees can seamlessly control, manage, and organize documents from one place and seamlessly find, recover, and share with management. This includes features such as version control, allowing users to track document changes over time. 
Collaboration: Enterprise content management systems often include tools for collaboration, such as the ability to share documents with other users, add comments and annotations, and track the progress of team projects.  
Enterprise content management systems can offer resources for managing and monitoring the development of group projects. Task assignments, deadlines, and status updates are a few features that may be present, which also ensure that everyone is aware of their roles and the project's overall progress.
Workflow: ECM systems can help automate and streamline business processes by defining and managing workflows. For example, a workflow might route a document for review and approval before publication. Enterprise content management system process a cycle where documents first get reviewed by authorized personnel. If an authorized person needs any changes, they can edit or add comments for changes. 
If a document is not approved, viewers will not be able to view it, and no information will be disclosed to anyone with access. Additionally, after the editor makes changes, the document is sent back to the appropriate person for approval before being shared with the organization. The entire cycle is protected, secured, and safe.
Security: ECM systems often include security measures to protect sensitive content and ensure that only authorized users can access it. This may include features such as user authentication, data encryption, auditing, logging, compliance, and access controls.
Moreover, the ECM system includes various functions like VPN support, role-based access control, data backup and recovery, two-factor authentication, and more, which help the organization control, protect, and secure physical and digital documents. 
Search: ECM systems often include powerful search capabilities that allow users to find and retrieve documents and other content quickly. Due to the elevation of agile technology, organizations today generate a heap of data.  
As a result, it can be challenging for employees and managers to search through such vast amounts of data. However, ECM uses AI technology to effortlessly assist users in finding documents by processing previous searches and predicting queries. Even when sharing the file with your coworkers, ECM will automatically look for files on which the user and coworker collaborated so that the user can share files quickly and improve collaboration. 
Integration: ECM systems can be integrated with other business systems and applications, such as customer relationship management (CRM) and human resources (HR) systems. This allows organizations to share and access content across different departments and systems.
Conclusion – 
SharePoint enterprise content management system in well-suited business solution which elevates business document sharing and managing operations. ECM rich-features enhance business collaboration, increase efficiency, and provide security to crucial documents.
Embark on the enterprise content management system and SharePoint service capabilities today, collaborating with the SharePoint consulting service provider.