DVDs are of course a good storage medium for keeping your valuable data. But often times we may have to face data loss due to damage in DVDs by the passage of time. It doesn't mean that DVDs are worse to store, but keeping a copy of the file in your hard disk from the disc will always be beneficial. Since we know how important is our data.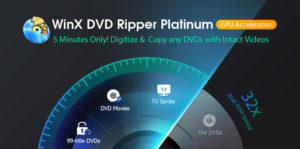 We human beings have a tendency of keeping tasks to finish later even if we have enough free time. So most of the time people think of copying data from DVDs to computer after the expiry of the disc. It will lead to DVD read error, right? think how we are going to copy data even if we can't read it. You will definitely consider it as a mysterious activity until you came to know about the WinX DVD Ripper Platinum.
WinX DVD Ripper Platinum from Digiarty is a software toolkit specially designed for windows which is capable of ripping any type of DVDs irrespective of old or new, DVDs or ISO. It supports almost all formats like H.264, MPEG, MP4, AVI, HEVC, MOV, and M2TS. So the user will get full freedom to rip in the file in the desired format. By downloading the utility you are getting a lot more than just a ripper. WinX DVD Ripper Platinum can convert the format to facilitate playback on Android, iOS, Windows phones.
Level 3 Hardware acceleration brings the full power of Intel® QSV and NVIDIA® NVENC/CUDA to boost the ripping speed without losing quality. It is promised to provide at least 50% extra speed while using the utility. Even low-end computer devices can finish ripping within 5-minutes. Let's get into more features detailed.
Finest Solution for all DVD Playback Issues
Have you ever came up with error DVD won't play on Windows 10, also might have faced situations like getting issues while trying to copy the disc contents to your computer. The main reason is either due to partially damaged or region code protected DVDs. If the disc is built with country code restriction (eg: cannot play DVD purchased in India in the USA) then there you will get a chance to deal with some errors.
Fortunately WinX DVD Ripper Platinum provides solutions for both of the issues. The utility is also capable of decoding encrypted DVDs. If this utility is in your computer then you don't have to bother about any of the issues, either it is difficult or easy all you have to do is to apply some clicks.
Other Compelling Features of WinX DVD Ripper Platinum
As we have already seen WinX DVD Ripper Platinum has great disc support. It is possible to rip almost all types of DVDs, like Homemade, Hollywood, Disney kids, TV drama,  workout DVDs, etc. The utility is built with powerful mechanisms for the analysis of DVD and title check.
The quality of the video will never get diminished due to its speed. The utility does take more job with perfection within very less time. The deinterlacing technology and high-quality engine facilitate to preserve the exact quality of the video. You don't have to worry about issues such as no audio out of sync with the video, FPS drops and aspect ration change errors.
A special Giveaway offer is going on! you will get a chance to win an Epson projector with the WinX DVD Ripper Platinum License.
WinX DVD Ripper Platinum License + Win Epson Projector Giveaway Offer >
WinX DVD Ripper Platinum is a perfect toolkit to rip protected DVDs. It is possible to decrypt any highly encrypted discs with ease. You can bypass encryptions like CSS encryption and new UOP, Region-code, Disney X-Project, Sony ARccOS.
How to Rip DVD to Video using WinX DVD Ripper Platinum
By following a few simple steps anyone can easily rip DVDs. It is not mandatory to have more technical knowledge to use this utility. let's see how to do it step by step.
First of all, you have to install the WinX DVD Ripper Platinum. Download>>
Select the Disk option from the top left corner. (make sure to insert the disk on the driver, select the source of DVD)
Now you can see a list of output profiles. Select any of the formats from the list and click ok button.
Now click on run. That's it… We are done. Your video is now safe on your computer. No more need to bear risk of storing the DVDs.
It is a good behavior to stay out from all risk factors, so we should adopt preventive measures to get rid of troubles. If you have valuable data on your DVDs make sure to copy those files to your computer. Even though lots free DVD Rippers available, WinX DVD Ripper Platinum will be a perfect utility for all your DVD needs.