Apple launched its first AirPods in 2016. The first generation of wireless headsets reinvented listening, making calls, watching movies, playing games and interacting with Siri. Criticized for their look – which just seems to have cut the cables from the original headphones – they came in a case that also serves to recharge and are always ready to use. In 2019, however, came the AirPods 2 and also the AirPods Pro (the third version, noise canceling).
Today we will not talk about AirPods Pro, but the differences between the first and second generation of AirPods. What changes? Is it still worth buying the AirPods 1? Read on.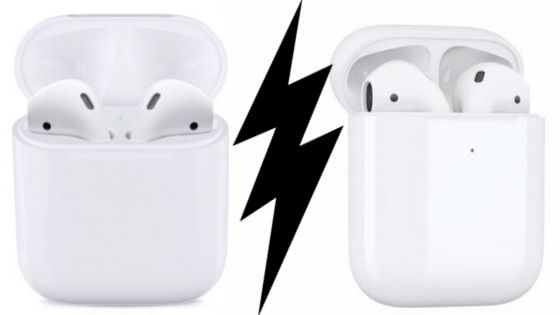 The AirPods First Generation
In AirPods 1, its main innovation was being able to just put the earbuds to the ear that the sound would start playing automatically (and stop when you take it off). To adjust volume, change music, make calls or search itineraries, Siri is activated with two taps.
AirPods 1 come with dual microphones; two optical sensors; motion detection accelerometer and voice detection accelerometer. All of this is designed to work with the Apple-developed W1 chip, which knows if you are using one or both headphones, directing the sound and activating the microphone automatically.
If you're on a call or talking to Siri, one of the accelerometers activates the spatially filtered dual microphones to counteract background noise and focus only on your voice. With an autonomy of 5 hours of music on one charge and 24 hours (listening only) with the extra charges on the case, it also lets you use a quick 15-minute recharge that guarantees up to three hours of sound.
AirPods 1 work with Apple devices with software running iOS 10, watchOS 3, or macOS Sierra versions. For compatible devices, see the tables at the end.
The AirPods 2
As a new feature, AirPods 2 brought new controls to Siri. Just double-tap to play, change music, or answer a call and say "Hey, Siri" to play a song, make a call, or get an itinerary from Apple Maps.
The new H1 chip has improved performance, and now the headphones offer 50% more talk time and the induction-powered case option (Qi standard). This created 2 purchase options: with or without the wireless charging case.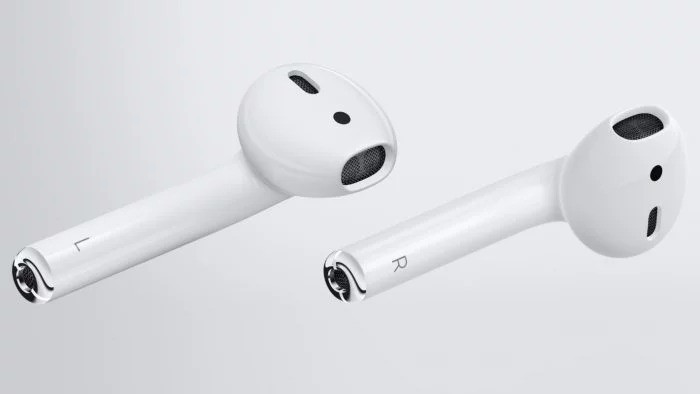 The LED light on the case conveniently shows charge status and those who already had AirPods 1 can buy the case wirelessly separately. AirPods 2 also comes at twice the connection speed, and you can switch handsets seamlessly when listening to music on iPhone, Apple Watch, or iPad.
Let's put this data side by side?
AirPods 1 vs AirPods 2
AirPods 1
AirPods 2
Ear Adjustment
Universal (no adjustment).
Universal (no adjustment).
Noise Canceling
Not
Not
Chip
W1
H1
What's up Siri?
Two-touch access.
By voice and always on.
Sweat and water resistant
Not
Not
Battery Life Audio / Charge Time
Up to five hours of sound Up to two hours of talk time.
Up to five hours of sound
Up to three hours of talk time.
Additional battery life with case
More than 24 hours of sound Up to 11 hours of talk time.
More than 24 hours of sound
Up to 18 hours of talk time.
Wireless case
No. Lightning / USB cable.
Yes. With Qi standard and / or Lightning connector.
Weight (each)
4 g (0.14 ounces)
4 g (0.14 ounces)
Weight (case)
38 g (1.34 ounces)
40g (1.41 ounces)
Size (each)
16.5 x 18 x 40.5 mm
16.5 x 18 x 40.5 mm
Size (case)
44.3 x 21.3 x 53.5 mm
44.3 x 21.3 x 53.5 mm
Bluetooth 5.0
Yes
Yes
Is First Generation Airpods still worth buying?
If you find AirPods 1 out there, it might be a good deal if it's much lower than the original wired case model that costs $159 on the Apple website. This model dropped to around $79 after AirPods 2.
For those who use Siri a lot and want to be up to date, moving to AirPods 2, therefore, is certainly the best option. And if you don't want to spend the full amount of the new AirPod (2019), you can choose to buy only the wireless case. There are some compatible (non-Apple) cases on the market at cheaper prices here.
Is your iPhone, iPad, or Apple Watch old?
Before you buy, check AirPods for compatibility with your devices.
AirPods 1 and AirPods 2 compatibility
Can I use on Android?
Can! AirPods can be used as Bluetooth headsets on both Apple devices with earlier software versions (not listed) and non-Apple devices, but some features will be limited.
The most obvious is Siri. However, because the phones are designed with chips specific to updated Apple devices, features may not run.
AirPods 1
AirPods 2
System Requirements

IPhone, iPad, and iPod touch models running iOS 10 or later
Apple Watch models with watchOS 3 or later
Mac models with macOS Sierra or later

IPhone and iPod touch models with latest iOS version
IPad models with the latest version of iPadOS
Apple Watch models with the latest version of watchOS
Mac models with the latest version of macOS
Apple TV models with the latest version of tvOS
Some features require iOS 13 or iPadOS, which are not compatible with iPhone 6 Plus, iPhone 6, iPhone 5s, iPod touch (6th generation), iPad Air (1st generation), iPad mini 3 and iPad mini 2.

IPhone models

iPhone XS
iPhone XS Max
iPhone XR
iPhone X
iPhone 8
iPhone 8 Plus
iPhone 7
iPhone 7 Plus
iPhone 6s
iPhone 6s Plus
iPhone 6
iPhone 6 Plus
iPhone SE
iPhone 5s
iPhone 5c
iPhone 5

iPhone 11
iPhone 11 Pro
iPhone 11 Pro Max
iPhone XS
iPhone XS Max
iPhone XR
iPhone X
iPhone 8
iPhone 8 Plus
iPhone 7
iPhone 7 Plus
iPhone SE
iPhone 6s
iPhone 6s Plus
iPhone 6
iPhone 6 Plus
iPhone 5s

IPad templates

11 inch iPad Pro
12.9-inch iPad Pro (3rd generation)
10.5 inch iPad Pro
iPad (6th generation)
iPad mini 4
12.9-inch iPad Pro (2nd generation)
12.9-inch iPad Pro (1st generation)
9.7 inch iPad Pro
iPad (5th generation)
iPad mini 3
iPad mini 2
iPad Air 2
iPad Air

12.9-inch iPad Pro (3rd generation)
12.9-inch iPad Pro (2nd generation)
12.9-inch iPad Pro (1st generation)
11 inch iPad Pro
10.5 inch iPad Pro
9.7 inch iPad Pro
iPad (7th generation)
iPad (6th generation)
iPad (5th generation)
iPad Air (3rd generation)
iPad Air 2
iPad Air (1st generation)
iPad mini (5th generation)
iPad mini 4
iPad mini 3
iPad mini 2

Mac models

12 inch MacBook
13-inch MacBook Air with Retina Display
13-inch MacBook Air
11-inch MacBook Air
13-inch MacBook Pro – Thunderbolt 3 (USB-C)
13-inch MacBook Pro
15-inch MacBook Pro – Thunderbolt 3 (USB-C)
15-inch MacBook Pro
21.5-inch iMac – Thunderbolt 3 (USB-C)
21.5 inch iMac – Thunderbolt 2
27-inch iMac – Thunderbolt 3 (USB-C)
27 inch iMac – Thunderbolt 2
iMac Pro
Mac pro
Mac mini – Thunderbolt 3 (USB-C)
Mac mini

MacBook (Retina, 12-inch, Early 2015 to 2017)
MacBook Air (11 inches, mid 2012 through early 2015)
MacBook Air (13 inches, mid 2012 through 2017)
MacBook Air (Retina, 13 inch, 2018 and 2019)
MacBook Pro (Retina, 13 inch, Late 2012 to Early 2015)
MacBook Pro (Retina, 15 inch, Mid 2012 to Mid 2015)
MacBook Pro (13 inches, mid 2012 through 2019)
MacBook Pro (15 inches, mid 2012 through 2019)
iMac (21.5 inches, late 2012 to 2017)
iMac (27 inches, Late 2012 to Late 2013)
iMac (4K Retina, 21.5 inches, end 2015 to 2019)
iMac (Retina 5K, 27 inches, end 2014 to 2019)
iMac Pro (2017)
Mac mini (Late 2012 to Late 2018)
Mac Pro (mid-2010 to 2019)

Watch Models

Series 4
Series 3
Series 2
Series 1
1st generation

Apple Watch Series 5
Apple Watch Series 4
Apple Watch Series 3
Apple Watch Series 2
Apple Watch Series 1

Apple TV models
IPod models

iPod touch 6th generation

iPod touch (7th generation)
iPod touch (6th generation)