You can create a virtual machine in the cloud by emulating multiple operating systems for various purposes. Companies like Google, Amazon, and Microsoft offer specific services for virtualization. However, none of them are free.
How to create a cloud virtual machine
To build a virtual machine in the cloud, you need to hire a virtualization service that will serve as the hypervisor (the virtualization layer).
In general, none of these programs are free, other than the fact that you pay on demand, a value that is proportional to the resources consumed.
The most popular services are those provided by Amazon, Microsoft and Google; all are paid and the values ​​are high, being options more suitable for medium and large corporate clients. However, you can use each of them for a free period, using a free data franchise as "credit".
1. Amazon EC2
Amazon EC2 ( ec2.amazon.com ) is a business-friendly cloud service that end users can access as well. It supports a large number of client-friendly operating systems, from versions of Windows to free or paid Linux distributions such as SUSE Linux and Enterprise Server.
Amazon EC2 allows users to use 750 free monthly hours on instances (the name given to virtual machines) for one year; At the end of the term and / or monthly credits, the system will pay as you use it.
2. Microsoft Azure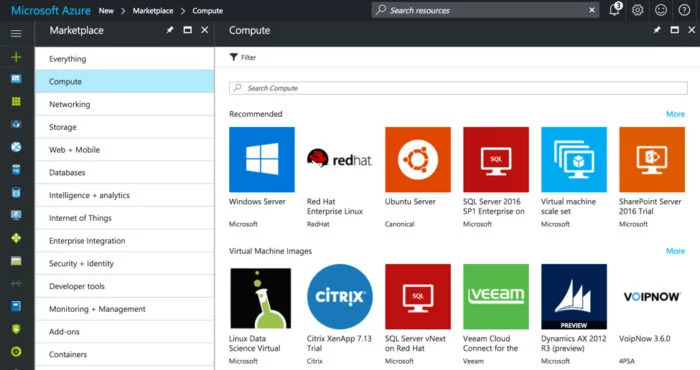 Azure ( azure.microsoft.com ) is Microsoft's cloud computing service for corporate customers and business partners, but it also has tools for developers and users. You can virtualize entire services, tools, and operating systems, from Windows (logical) and Linux, to less obvious ones. You can also create your own custom Azure Windows 10 VM i.e. Azure VDI at an affordable Azure Virtual Desktop Pricing.
Microsoft Azure offers 12 months of testing and 750 GB of monthly credits; You can virtualize up to 14 different operating systems within the period. At the end of the term, you must pay as you go.
3. Google Cloud Platform
Google Cloud ( cloud.google.com ) is another cloud virtualization service that supports development tools and operating systems such as Windows and Linux. You can use any instance supported by the platform in conjunction with miscellaneous services such as WordPress.
Google Cloud offers 12 free months and a $300 credit for the entire trial period; When the term or credit expires, you must pay as you go.