Call of Duty: Mobile is one of today's most successful mobile type games, thanks to the weight of the console and computer franchise. Gameplay on phones, tablets and PCs via emulators is not much different from the main games, but here you get some tips and know the basic commands.
How to play Call of Duty: Mobile
The commands in Call of Duty: Mobile are very basic, because it is a mobile game. The directional pad on the left side of the screen moves the character, while a tap on the right side moves the scope. Shots are automatic as long as you aim correctly at an enemy. If you select Advanced Mode, a dedicated shooting command will appear on the screen, allowing you to manually aim and fire.
The screen displays commands such as jump, squat (hold the button to lie on the floor), aim, throw grenade and reload. When you select the grenade, a new command to cancel the launch will be displayed, allowing you to save it. Similarly, a knife button will appear on the screen as you approach an enemy, allowing you to finish it silently and without spending ammo. Stay tuned to what appears on your screen.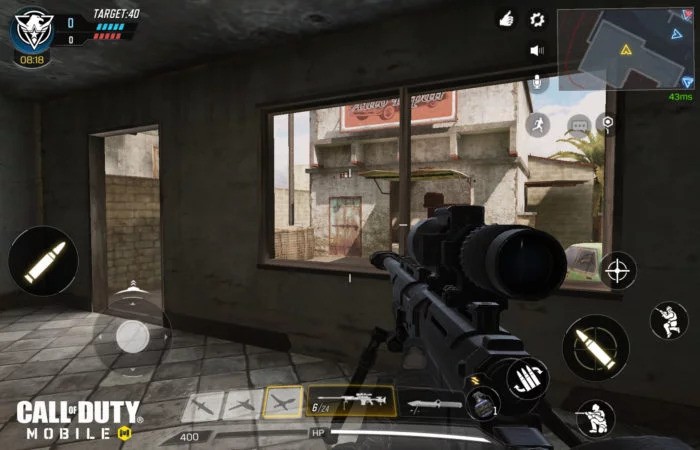 At the bottom of the screen. there are the pre-match scorestreak commands that are activated through the accumulated points, which range from airdrops drones to air strikes. Similarly, the operator skill, unique to each class, is a command that appears on the screen as the required points are accumulated.
How to launch the nuclear bomb
The nuclear bomb, the rarest and most powerful scorestreak in the Call of Duty franchise, eliminates all enemies without fail, but cannot be equipped or purchased. It can only be activated from level 20. After that, get a sequence of 20 kills in the match without dying. Once this is done, the nuclear bomb will be available.
Game modes, maps, patents and ranked matches
Call of Duty: Mobile has two game modes:
Multiplayer: combat between teams of 5 players;
Battle Royale: Up to 100 players face off, where it's each player for themselves
On the map side, the game features a selection of the most famous franchise locations of all time, such as Crash, Nuketown 2, Hijacked, Firing Range and so on.
Ranked games are only available in Multiplayer mode and from level 10 onwards. Each game earns the player points based on their performance such as number of kills and kills, assist, wins and losses. Every 200 points you will rise a rank, with some rewarding. Check out which ones in the list below.
| | | |
| --- | --- | --- |
| Patent | Required Points | Reward |
| Recruit I | Initial Patent | |
| Recruit II | 200 | MW11 – Star Camouflage |
| Recruit III | 400 | XP card folded |
| Recruit IV | 600 | XP card folded |
| Recruit V | 800 | XP card folded |
| Veteran I | 1,000 | |
| Veteran II | 1,200 | |
| Veteran III | 1,400 | |
| Veteran IV | 1,600 | |
| Veteran V | 1,800 | |
| Elite I | 2,000 | Semtex – Star Camouflage |
| Elite II | 2,200 | |
| Elite III | 2,400 | |
| Elite IV | 2,600 | |
| Elite V | 2,800 | |
| Pro I | 3,000 | AK117 – Camouflage Star |
| Pro II | 3,200 | |
| Pro III | 3,400 | |
| Pro IV | 3,600 | |
| Pro V | 3,800 | |
| Master I | 4,000 | M4LMG – Star Camouflage |
| Master II | 4,200 | |
| Master III | 4,400 | |
| Master IV | 4,600 | |
| Master V | 4,800 | |
| Legendary | 5,000 | Exclusive ranking frame |
From the Veteran I patent, defeats will result in scoring discounts, which may overturn your patent. Also, the higher your level, the harder it will be to accumulate points, which forces the player to perform better and better.
Although it's only 200 points to evolve the rank, reaching Legendary isn't easy.
Battle Royale's HUD is slightly different from Multiplayer
Battle Royale mode commands are essentially the same as Multiplayer mode commands, but HUD provides some additional information. In the upper left corner are the numbers of live players in the match, total players, and kills you got. While in the lower left corner is the button that toggles the view between first and third person.
At the bottom, above the energy bar, is the backpack, which displays all equipped items; In the far right corner is the skill button, which varies by character class and fills with time.
Finally, Call of Duty Mobile allows you to customize all controls to suit your style and platform of choice. Whether you're playing on mobile, tablet or PC (via emulator, keyboard and mouse).