Mirror Cast, or screen mirroring, is a useful feature there when you need to share the contents of a mobile phone on another display, or access the contents of your computer from another location. You can run media stored on your mobile device on your TV, such as replicating the screen of your computer in another gadget.
In this article, we've listed the 6 best apps with Mirror Cast feature, each with very interesting functions like the chance to remotely control devices.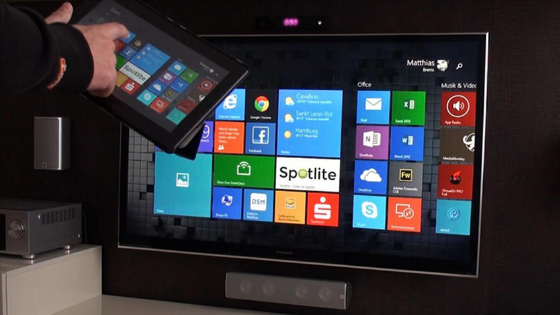 6 best Mirror Cast apps (screen mirroring)
1. Google Home
The Google Home ( iPhone, Android ) is the dedicated application to stream content from your phone to a TV with Chromecast installed, or the speakers connected to Google Home. In the case of Android, however, it is possible to mirror the cell phone screen on your TV, allowing content to be rendered incompatible with the dongle. Feature is not available for iPhone. Google Home is free, but for mirroring to work, you'll need to have a Chromecast connected to your TV.
2. Chrome Remote Desktop
The Chrome Remote Desktop ( iPhone, Android ) is an application that works in conjunction with the extension Remote Desktop Chrome; it allows the user to access his computer by mobile from anywhere and works very well on smartphones. With it, you can access and control your computer easily, over the internet and securely. Chrome Remote Desktop is free.
3. Microsoft Remote Desktop
The Microsoft Remote Desktop ( MacOS, iPhone and Android ) lets you access a Windows computer from a mobile device or Mac, and it's a pretty safe use by allowing access only preconfigured computers, with the feature Remote Area activated and a pre-registered Microsoft user account.
With this application, you can freely access and control your computer from anywhere, and it even works very well with running local videos over the internet. The Microsoft Remote Desktop application is free.
4. TeamViewer
The TeamViewer ( Windows, MacOS, Linux, Chrome OS, iPhone and Android ) is one of the screen mirroring applications and most popular remote access. With it, you can have full access to your computer from any of the compatible devices. The difference for other mirror cast programs is the ability to control Android phones and tablets remotely with the software. TeamViewer is free, but only for personal use, with no corporate focus.
5. VNC Viewer
The VNC Viewer is a remote access software to computers, compatible with a variety of devices and systems, to Raspberry Pi and Oracle Solaris. To use it, you must install VNC Connect on the computer that will be accessed from a distance. Provides end-to-end encryption and data exchanged between the computer and the mobile phone are protected, hacker-proof, and overall badgers. VNC Viewer is free.
6. ApowerMirror 
The ApowerMirror ( iPhone, Android ) is, like the others, a program that allows you to mirror the screen of your mobile PC or Mac by simply having the program installed on the computer. It makes streaming from iPhone to another device, or controls Android from PC with keyboard and mouse, being an interesting option to run Android apps on a larger screens. ApowerMirror has a free version, which displays a watermark on the screen, absent in the version paid for home users.