It is always better to keep files as small as possible right? Think of an urgent situation where you have to mail a pdf document to someone and you are having a really large file. Then you definitely have to compress pdf right? Without looking anything you'll go straight to Google and search for an online pdf compressor, do you think this is the right way? If you don't care about privacy and security then alright get an online tool. But if you want to keep your privacy in your hands then it will be good to use offline PDF compressor.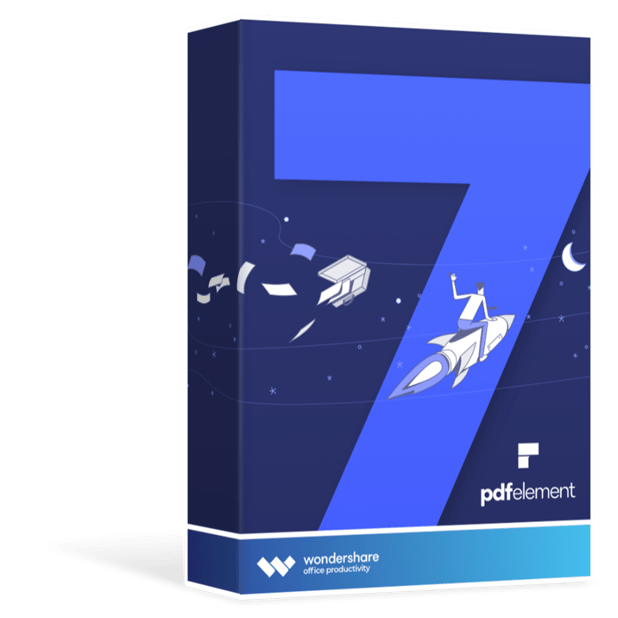 PDFelement Pro from iSkysoft will help you to compress PDF files by maintaining the quality. Most of the other such utilities will ruin the file by making images and content blurred while compressing. And if you have this software installed on your PC then you will be having a lot more other useful features as well. So it will become the one-stop solution for all your PDF needs. Let's see the awesome features of PDFelement Pro.
Edit PDF Files Quickly
It is possible to edit PDF files with ease by using the utility. You can modify all the elements in the file such as Watermarks, images, texts, links, headers, footers, and backgrounds.
Annotate
You can give more explanation to your content by using the awesome features like drawing, sticky notes, text boxes, comments, stamps. Thus the content can have more clarity and easy collaboration.
Convert PDFs
With the help of PDFelement, you can convert PDFs "from" or "to" different formats. So no need to have extra tools for converting the documents.
Create Forms
Creating forms made easy as drinking a glass of water. It's really difficult to create a form in Word/Powerpoint. PDFelement Pro is having a lot of different interactive form controls that can be used to create amazing forms. And one can digitally sign the documents as well.
Use of OCR Feature
Optical character recognition is one of the highlighted features of this utility, can be helpful to get editable texts from scanned documents. Suppose if you want to take some portion from a book to store as an editable word file you can first scan the page and with the help of PDFelement's OCR tool you can easily copy/extract the words.
There are quite a number of useful tools such as Text, Draw, Fill Form, Sign Images, Highlight, Create Forms, Password, Pages, Comment, Merge Files, Permission, Links, Stamp, Extract Pages, Redaction which can be really useful to edit the pdf files.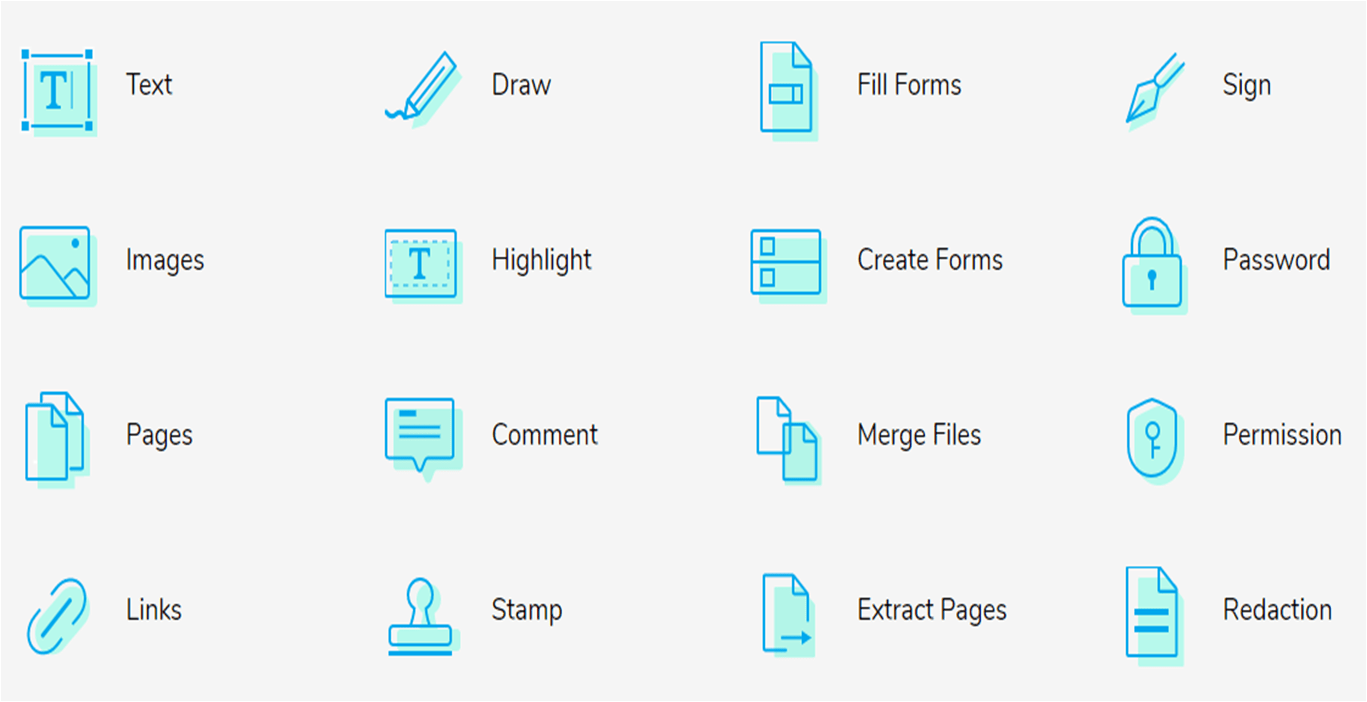 Once purchased users will get the complete privileges to use all the features and tools along with the powerful PDF compressor. Now let's see how to compress pdf using PDFelement Pro for Windows.
How to Compress PDF using PDFelement Pro – Windows
If you are a Windows user and if you want to reduce pdf file size or to shrink pdf file you can follow the steps given below.
Import File – First of all we have to import the file to downsize pdf, for that click on open and browse on the local storage or cloud storage and get the file.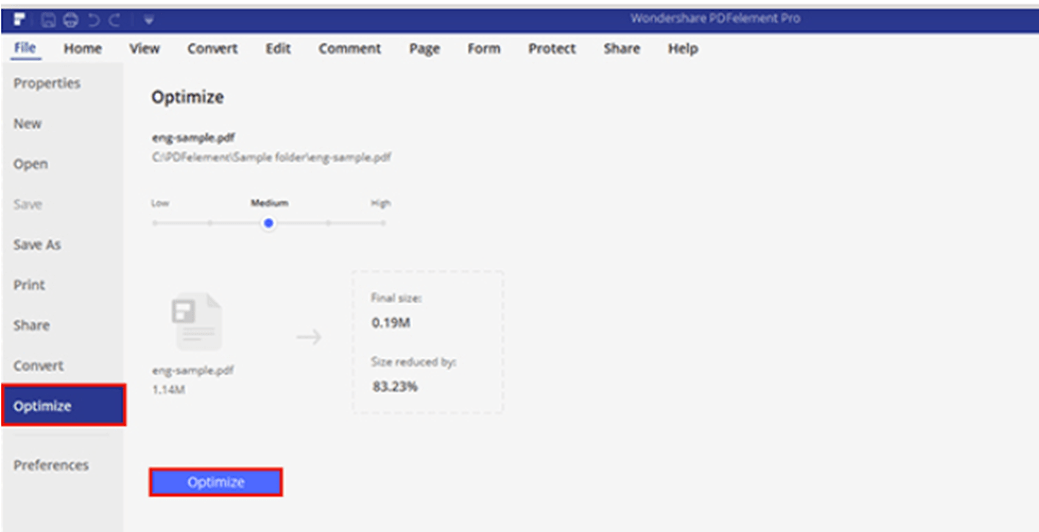 Optimizing – As you can see in on the above image you can decide how much size you want to reduce. The final file size will be shown on the display, if you are okay with that size then just click the optimize button. Done! share, store, read do whatever you want…
How to Compress PDF using PDFelement Pro – Mac
If you are a Mac user and want to make your pdf file size reduced then you are in the right place let's move on.
Open File – Click on the open file button or just drag and drop the pdf file you want to reduce the size.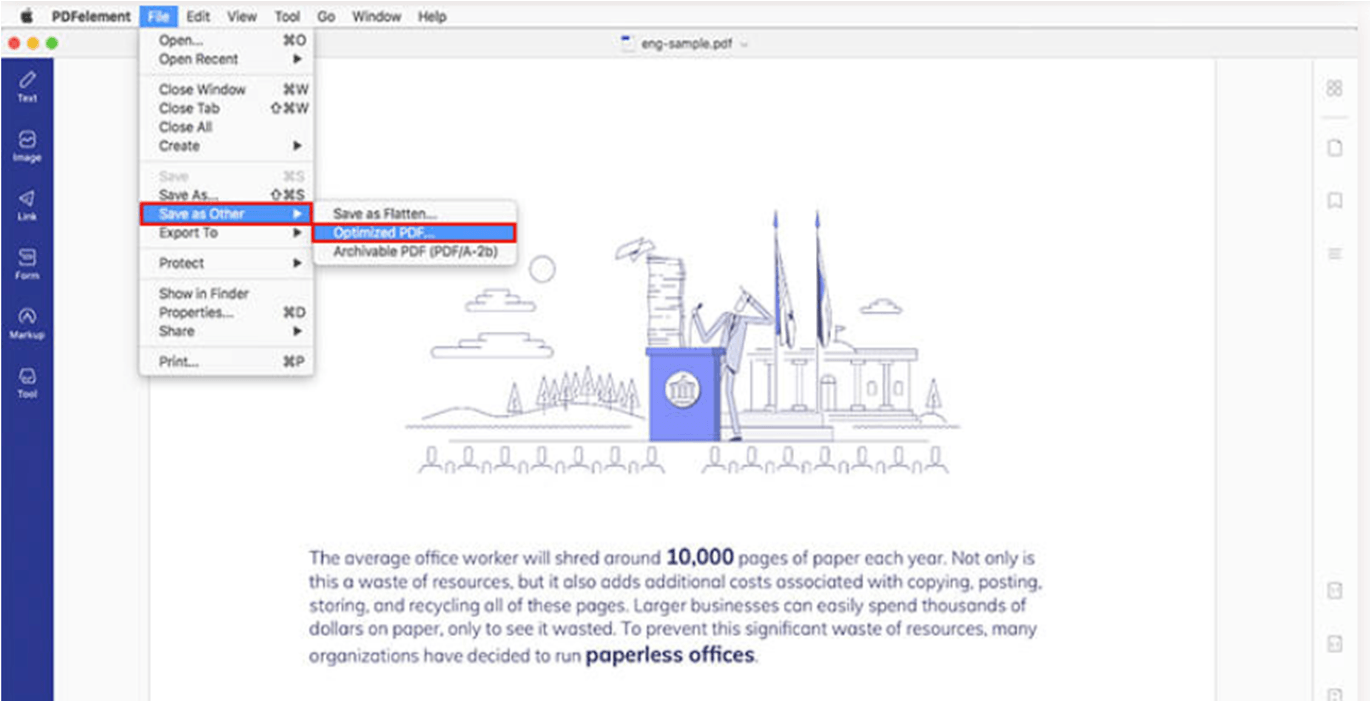 Optimizing – After getting the pdf click on File > Save as Other > Optimized PDF as you can see on the above picture. After selecting the compression settings you can click save to confirm the changes. Yep! Done.
It is always better to have the software installed on your computer than going for any online tools because our data will be safe since we are not sending any request along with the data to some unknown servers. Once you got any software installed on your computer then it will stay as long as you uninstall but do you think online tools are also like that? not in our hands right?
PDFelement Pro Pricing and Plan Details
You can download and try the software for free from the official website. If you want to avail of all the useful features then you can go for any plans where you can choose perpetual license or yearly billing.
The yearly plan starts with $69 and the perpetual plan starts with $79. You can see the below image for better understanding. In the starter plan, you will get features View & Read, Review & Markup, Edit Text & Images, Fill out PDF Forms, Convert & Export, Organize & Manage, Passwords & Permissions. The features will remain the same for both perpetual and Billed yearly licenses.
You can select any of these plans according to your requirements. But we recommend going for the $99 Billed yearly or $129 Perpetual for Pro license because it consists of all the highlighted features such as OCR Function, Batch Process, Support PDF/FA, Redact PDF, Data extraction, Create Fillable Forms, Compress PDF. If you take that plan then we assure that you will not miss any feature. And if you have a team or looking for an enterprise then you can choose the respective plans. And if you are going for the starting plan it is also fine you can upgrade your plan later on if you want to do so. Pricing and Plans are the same for both Mac & Windows
Download Element Pro Now! And Get 50% Off>> You will get a special discount of 50% on Individual PDFelement license for Mac/Windows. Don't miss to grab this offer, it will be only valid for a limited time.