Our SmartPhones are full of precious memories whether they are our Photos, Videos or any other kind of data. But what when we see our all memories have vanished just because of our single mistake, virus attack or our phone gets damaged? And even our costly iPhone is not much far from this type of issues.
For this type of situations, TunesKit has developed a series of utilities dedicated to the iOS world that are particularly comfortable in most contexts. From DRM removal to data recovery, there are many options available for those who rely on their program package. On this occasion we are talking about iPhone Data Recovery for Mac.
TunesKit iPhone Data Recovery for Mac
As the name suggests, iPhone Data Recovery for Mac will allow you to recover all the photos, documents, contacts and much more that you think have been irretrievably lost.
There are three options available to recover the lost data we will talk about in detail: through your own iDevice, relying on iTunes or inheriting files from iCloud. Below is the complete list of files that can be recovered:
Deleted Data From the Device
Messages & attachments
Contacts
Call history
Notes& attachments
Calendar & reminders
Safari bookmarks
WhatsApp Chat & attachments
Kik & attachments
Viber & attachments
Photos
Voice memos
Saved images from app and screenshots
Documents from the app
Existing Data on the Device
Photos
Voice Memos
Voicemail
App Photos
App Videos
App Document
Restore from iDevice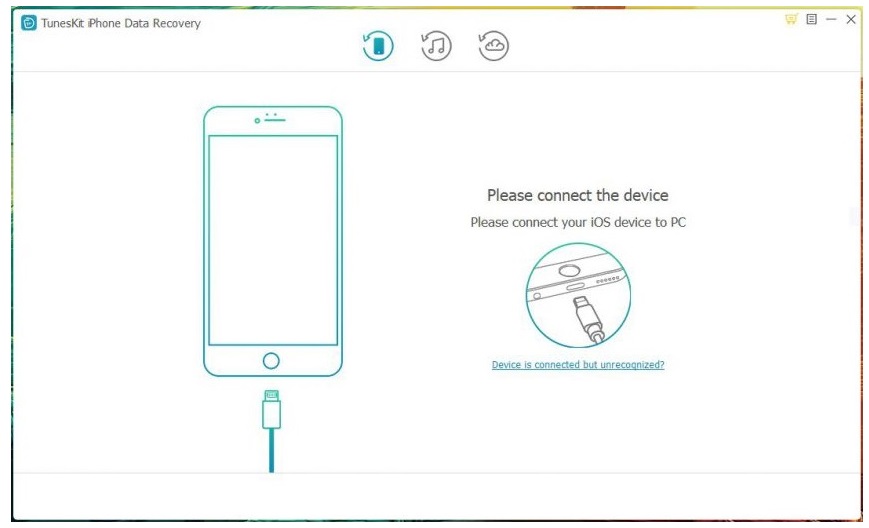 Once the program is installed and started, you will be faced with the first of the three options: recovery from iDevice. In this case, you can simply connect your iPhone, iPad or iPod Touch to start the restore wizard. Unfortunately, If the device is connected but not recognized, simple preliminary operations are proposed to solve the problem; Even if somehow you cannot succeed to restore your data with this method then do not worry you can rely on the other recovery options proposed below.
Restore from iTunes
The restore from iTunes is very simple: as soon as you click on the icon to start it, we will immediately recognize the various backups of the devices previously used, with complementary information such as operating system version, serial number, last backup date the size of the backup. Once the device has been selected, the Scan button will take you to the selection screen of the items to be recovered, divided into macro-categories such as System and Media & Docs. At the bottom you can also choose the destination folder where you will find the files you see previewed after restoring them.
Restore from iCloud
Through iCloud restore you can recover lost files even if you don't have iTunes installed on your computer. The only step required is the entry of Apple ID and password. Once logged in, it will be possible to access the synchronized data and then proceed with the recovery.
Data recovery
For our review we have opted for a restore from iTunes, simulating a user whose iPhone is damaged and the data it contains are no longer reachable. So we downloaded and installed TunesKit iPhone Data Recovery and, when the program opened, we selected the second of the three icons.
TunesKit iPhone Data Recovery immediately recognized four backups coming from iPhone 4, iPhone 5 and iPhone 6, demonstrating complete compatibility with Apple- made phones.
After selecting the iPhone 5 backup, the software offered us the various types of files that can be restored. The whole procedure took very little time and we were able to recover all the contacts, messages and media. In the preview we were able to check all the data, including WhatsApp chats.
Conclusions
TunesKit iPhone Data Recovery is definitely a great program for restoring data from iOS; offers a wide compatibility of devices, including iPhone, iPad and iPod Touch. The usage scenarios are different: from a system crash to forgotten access passwords, from viruses to deletions by mistake.
Availability and price
TunesKit iPhone Data Recovery is available for download from the official website – find the link at the bottom of the article – in the Free Trial version, which allows the preview of restorable files to be displayed. In order to effectively restore the data you need to purchase the full version on offer in $49.95. We remind you if you do not use Mac then Tuneskit iPhone Data Recovery is also available for Windows which provides the same functionality as Mac.