Yes, It is possible to send WhatsApp messages to other people while keeping their identity hidden (therefore name, photo and telephone number).
Being able to remain anonymous would be a sort of "dream come true". If you are interested in sending messages anonymously, I invite you to stay with me for a few minutes and read this guide carefully. Let's not waste any more time. You will be able to send anonymous WhatsApp messages in a simple, fast and absolutely free.
"Warning: Neither I nor Teknologya takes responsibility for how the information below will be used. The guide is written for illustrative purposes only and does not encourage fraudulent behavior in any way."
Sending WhatsApp messages without phone number
Wassame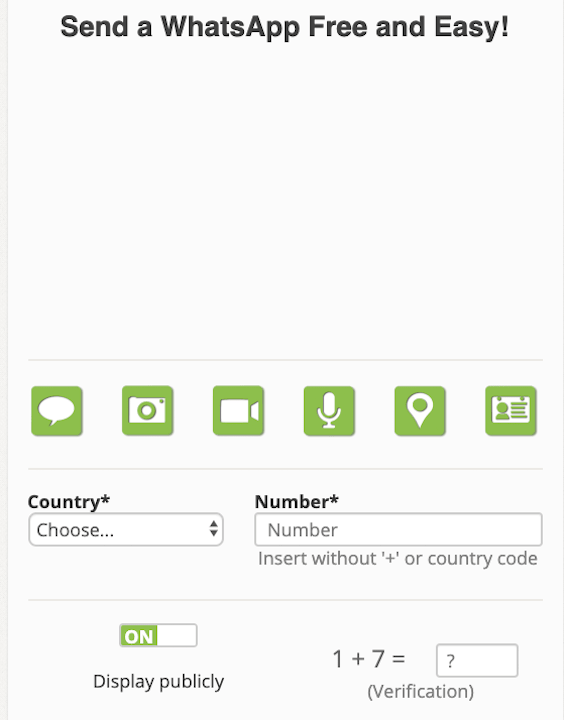 Steps to send with Wassame:
Step 1. To send a WhatsApp message with Wassame, simply connect to the platform and fill in the mandatory text entry fields, such as:
Recipient's phone number (without the international prefix, therefore omitting the +39)
Country (where the recipient's phone number is registered)
Write the message
Step 2. Write the message, select in what form you want to send it choosing between: "Anonymous" or "Emergency" (for emergency). In this last case, however, you will also be asked for the sender's name.
Step 3. So if you want to send anonymous messages on WhatsApp, select "Anonymous" and then enter the country and number of the person to whom you want to send it. Before sending the message, however, pay attention to another detail.
Step 4. On the bottom left you will notice a small "switch" that – when it is green – will show you the word "Display publicly": this means that your message will be shown publicly in the section on the right of your screen, along with many other messages. To not show the message publicly, move the button to "OFF".
Step 5. Resolve the security question and click on the SEND button: you're done!
As you see send anonymous messages on Whatsapp is extremely simple but Wassame also has many limitations that it is good to know. Let's see them now:
Limitations in the use of the service
Precisely to avoid that the service is used fraudulently, Wassame puts some limits in the use that should – at least in part – discourage those who try to read WhatsApp conversations, or at least trying to spy on a WhatsApp contact.
Here is a list of all the functions and limitations of the service to which you should pay attention:
Ability to send messages all over the world.
Function to send anonymous messages WhatsApp.
Maximum 1 message per day (24 hours) per number.
5 minutes of waiting between one message and another.
Every message (of any type) can be sent for free.
In short, the only limit to pay particular attention is that which requires you to send at most one message per day per person. In fact, the problem could easily be solved by browsing incognito (not showing your IP). About this, we had already talked about how to browse incognito from PC browsers or Android smartphones.
Are you worried about how to defend yourself?
Don't worry, Wassame has also thought of this and offers a very useful service to protect yourself very easy to activate: let's find out how!
Defend against anonymous messages
Defend yourself from those who try to send anonymous messages WhatsApp to annoy you or even worse to send you WhatsApp message virus, it is very simple and fast. As said, Wassame provides a free protection service from these people.
To defend yourself from anonymous messages, click on this link and you will be faced with a page similar to the one shown below:
Through this page, you will be able to put your number in a Black List. Simply put, by following the procedure you will be able to block your number on Wassame and no one can send you anonymous messages through it!
Doing so is very simple: select your country in the "Country" section, enter your mobile number (without prefix) in the "Number" box and finally indicate a reason why you want to protect your number. For example, you can copy-paste this message:
"I want to be Block-Listed because I do not want to send me anonymous messages!"
After doing this, now your number can not be used by anyone to send anonymous messages WhatsApp. However, for further protection block all the contacts that are bothering you or who have tried to send you anonymous messages.
WaHelper
More recent, but no less interesting, is WaHelper, another anonymous messaging service for WhatsApp. The interface is very clean and simple to use. Again, you will need to enter:
Phone number (To which you want to send message)
Country (where the recipient's phone number is registered)
Write the message
Then enter the verification code and, immediately afterwards, press the Send button to deliver the message. This is a procedure that is truly accessible to everyone and, at least for the moment, completely free.
Sending WhatsApp messages with a temporary phone number
Imagine this scenario: you have just lost your smartphone and you absolutely must recieve a message to arrange an appointment. The hypothesis is not so unreal and it could happen to anyone to run into this problem. In this regard, you may send anonymous messages on WhatsApp through a temporary number. Let's see how.
SMS-MAN is one of the most popular services for temporary numbers in the world. They provide many numbers from more than 180 countries and more than 2000 services. The quality of the numbers is very good and the percentage of sms for each number is over 70%. 
Steps:
Step 1. First you need to register on the sms-man website. This is easy to do, only an email address is required and you can also sign up via facebook, twitter and google.
Step 2. Add a balance. SMS-MAN supports many different payment methods including credit cards, cryptocurrency and alipay, so you can easily get a virtual number
Step 3. Simply buy a number for the country you like and the service you'd like to create an account in. Here you can find how to create fake WhatsApp account.
Free Online Phone Service
Steps:
Step 1. First, you must connect to the Free Online Phone site and choose one of the phone numbers on the home page by pressing the "Read SMS" button.
Step 2. Now, you will have to install WhatsApp from scratch (I recommend using a second account to not lose chats), enter that phone number in the verification field and wait for the confirmation code to arrive via SMS.
Step 3. Once you are sure of sending, just press the "Read SMS" button to update the page and be able to view the text of the message .
Step 4. Try to completely delete sensitive data once received from the online platform. In fact, I remind you that messages sent to a specific number are not private, but accessible by anyone who visits the website. It is also true, however, that the WhatsApp code is temporary.
Alternatively, I remind you that you could use the same service simply to send traditional messages, or SMS, anonymously. In addition to these services, ISPs also offer anonymity. See the insight on how to send anonymous messages for more information.
"Receive SMS Online" service
Also Receive SMS Online is a very simple to use portal, which allows you to have a provisional number to receive emergency messages.
Steps:
Step 1. First, connect to the service (you can search for it on the internet and also use alternatives, as they all work the same way).
Step 2. Then, choose one of the phone numbers on the screen and click on "Read SMS". As for the previous solution, you will find the number to send the messages at the top. Simply enter it in the WhatsApp verification field and wait for the confirmation code to arrive.
Step 3. Once the verification of the number is complete, you will be allowed to send anonymous messages on WhatsApp for a limited period of time. As an alternative, of course, you could choose to simply use online SMS to converse anonymously.
If you need help, have doubts or concerns, do not hesitate to leave a comment below or on our Facebook page or in the comment box below and we will try to help you as soon as possible!