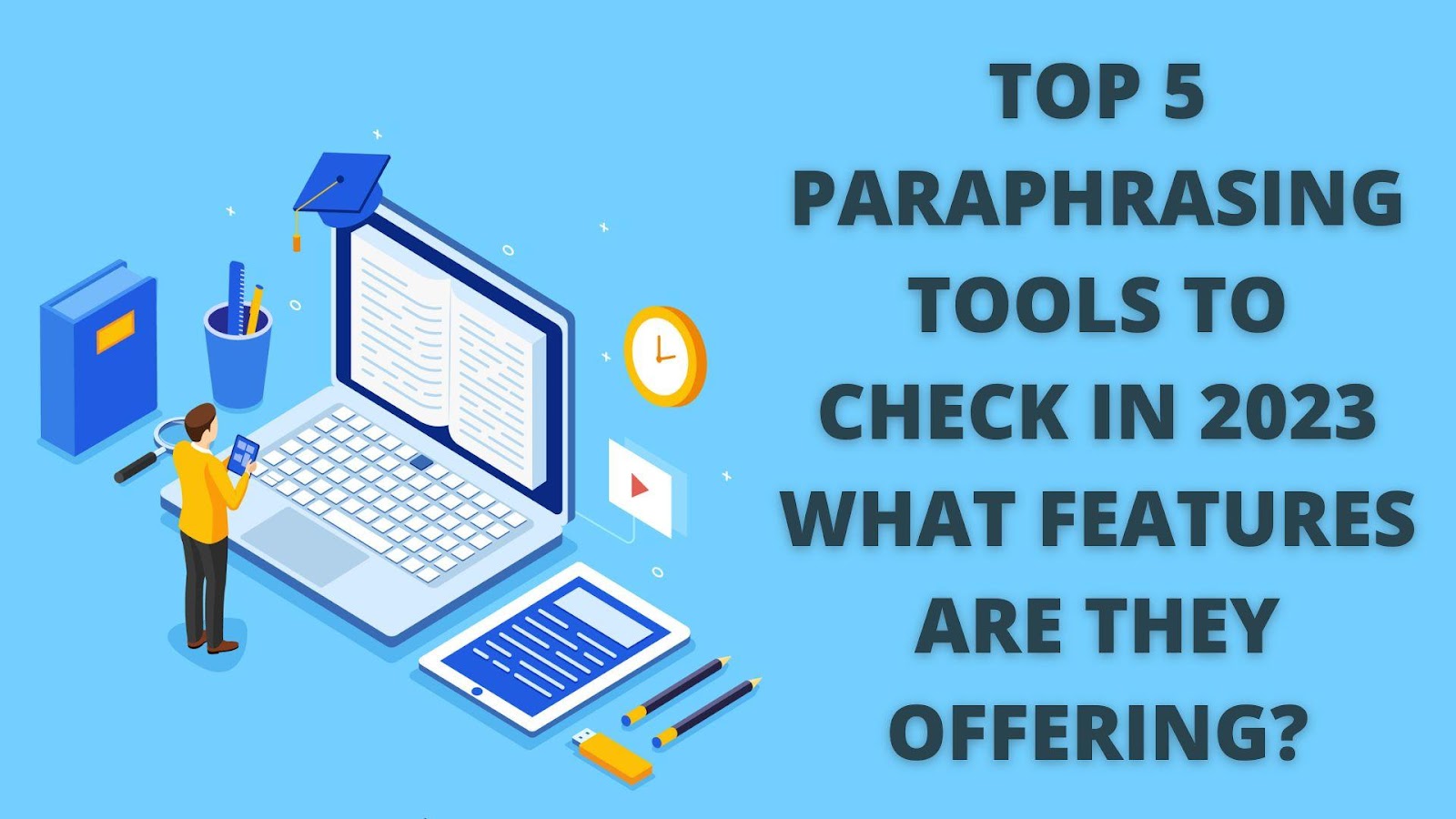 Paraphrasing is an interesting technique often used by content writers to recreate already published contentwhile providing the same intent.
We live in the digital world where content on the internet is published every turning day. Bloggers, website owners, and SEO experts are always adding or updating web content.
You can find more than hundreds of billions of words worth content on Google's index, so it can be quite difficult for a writer to create 100% original content.
What is Paraphrasing?
If you have to create content on a topic that is already published on the web, then the best way to create a new draft without worrying about duplication is by using the paraphrasing technique, aka rephrasing. 
Paraphrasing is rewriting words, sentences, or complete articles that look different from the original input text and still maintain the meaning and intent of the input text. 
Paraphrasing might sound like a life saver for you but you must know that it is not an easy skill to master.
It takes years of writing experience and expert skills. 
You can easily be accused of plagiarism if you don't know how to rephrase accurately. Plagiarism is the duplication of content or intellectual property of an author without formal attributions and referencing.
What Are Online Paraphrasing Tools?
If you don't know how to paraphrase and yet need to do so, then you can easily use the online paraphrasing tools.
Paraphrasing tools are cloud-based digital tools that can help you create unique content. 
These tools are designed to accommodate the requirements of a non-writer or a person in dire need of urgent content.
Today online paraphrasing tools are being used by not only content writers but other people as well. 
Some parties who can benefit from these tools include:
Students can use paraphrasing tools to rewrite essays and assignments submitted by their classmates.
Writers can use paraphrasing tools to create content capital on topics or niches they are unfamiliar with.
SEO experts can use online paraphrasing tools to create multiple versions of optimized content for their sites for free.
Bloggers can create great content for their blog section in competition with their counterparts.
In short, every person related to the content writing fraternity can benefit from online paraphrasing tools.
Now the problem is that today you can find more than hundreds of online tools for paraphrasing in Google's search results.
Unfortunately, finding too many options can confuse a newbie user.
This is why in this article; we have discussed the top five reliable paraphrasing tools that you can use in 2023.
Let us discuss these popular rewriter options in detail:
Five Popular Online Paraphrasing Tools & Their Salient Features!
Out of hundreds of online options, we have picked the most reliable ones for your help.
The rephraser.co is a very reliable web-basedtool; this paraphrasing tool is famous for its simple layout yet accurate results. 
You can find many content spinning tools on the web, but this one is different from others. 
This paraphrasing tool not only changes words with synonyms but also changes the draft's complete structure without compromising the input text's original meaning. 
The tool is available in free & paid versions, and it is up to the user to pick the required option. 
Some features which make this tool a popular choice include:
This paraphraser helps you paraphrase and produce creative, fluent, and human-like content.
It can help you create plagiarism-free content without any manual effort.
It helps you learn and improve the quality and style of writing.
It provides free grammar and spell check options to check the quality of output results.
The tool is user-friendly; even a beginner can learn how to use it in two to three minutes.
Besides these features, you can enjoy many more things once you use this tool.
Rewriteguru.com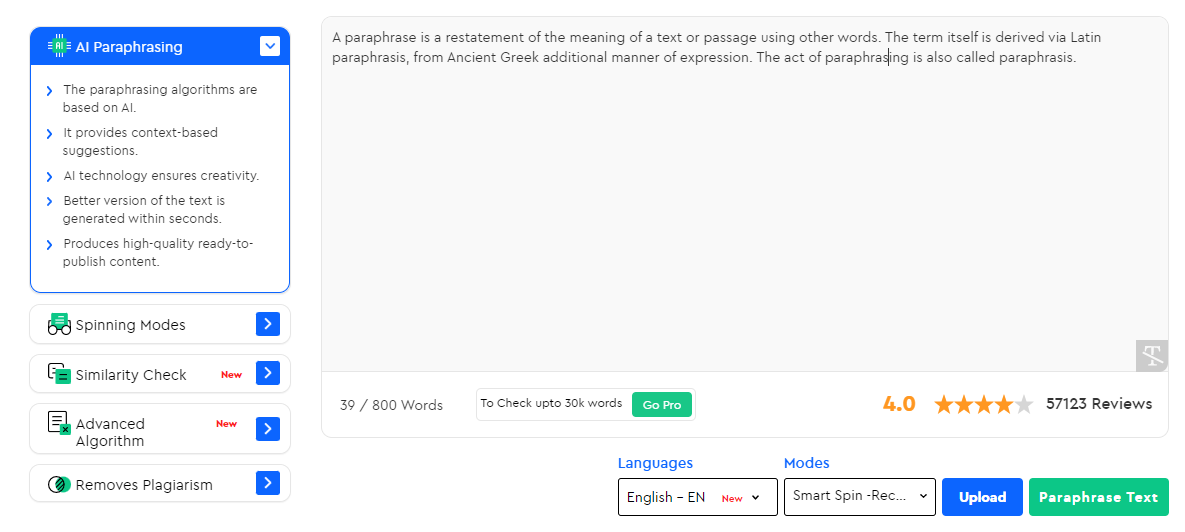 Plagiarism can create a lot of issues for a writer. If you don't want to be blamed for copying content and face bad consequences, you should try Rewrite guru. 
Rewrite guru is a very credible option when it comes to rephrasing duplicate content. 
If you want to remove plagiarism from your work or create a new content capital, you can rely on this tool.
Rewrite guru comes in more than five different modes. 
The most popular mode of this tool is smart spin. 
The smart spin mode of this tool helps you create humanoid content with the help of AI-based bots. 
Some notable features of this tool include:
Simple, friendly and a very straightforward layout/design.
The tool has its dictionary and thesaurus from which it finds various synonyms and words required for rewriting.
The tool can create output content based on your inputs in less than ten to fifteen seconds.
The tool allows you to check plagiarism and grammatical errors in its resultant draft.
The tool is available in free and paid versions and it is up to you to use the one that suits your requirements.
Paraphrase-online.com

Paraphrase-online is another rephrasing option you can find on the top SERPs of Google?
This rephrasing tool can be used for rewriting articles, blogs, sentences, research papers, and many other types of content. Again, using this tool doesn't need any technical knowledge or experience.
Today this paraphrasing tool is used by students, bloggers, and professional content creators. 
The reason behind its popularity is its accuracy. You can get 100% plagiarism-free content with this tool.
The tool comes with a native word generator along with paraphrasing options.
You can create free new content for websites, blogs, and assignments.
The tool deletes your content once you export the output draft.
There are no limitations or restrictions to the use of this tool.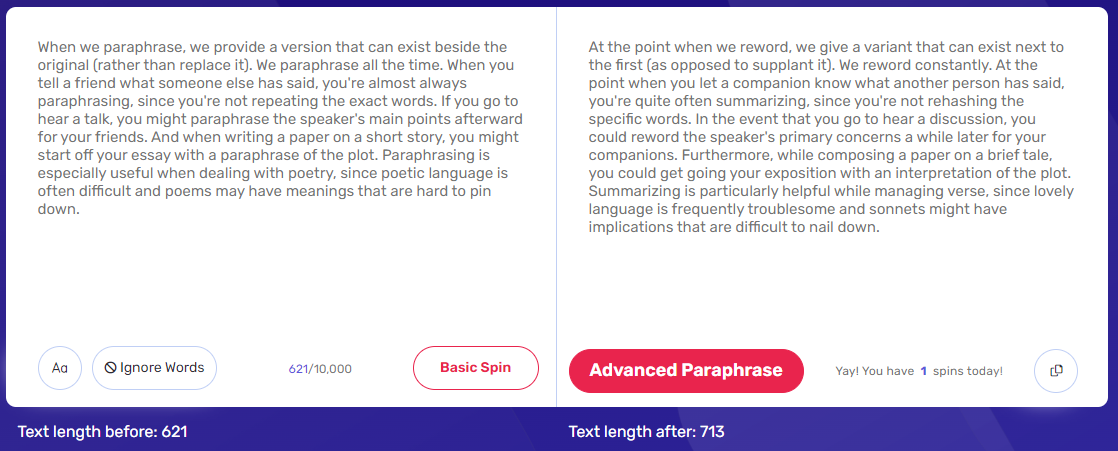 Spinbot is a very popular content spinner tool, this automatic rephrase tool can help you create new content based on duplicate input, or you can also simplify your articles. 
This tool can easily improve the quality of your content for free. 
You must give this tool a fair chance if you want unique and high-quality content capital. See what Spinbot offers its users:
It can rephrase up to a thousand words or ten thousand characters in one go.
The tool has a free version which helps you save a lot of money.
One-click paraphrase lets you easily update your old blogs, social media posts, and website content.
You don't have to worry about registrations or restrictions in the free version.
The premium version of this tool is far better than the free one and is also very affordable, even for a newbie.
Seowagon.com
This is an ideal tool that is used for rephrasing content; this rephrasing tool is very popular among SEO experts and web admins.
This is because it can help them create SEO-friendly and unique content.
Unfortunately, website owners have to pay hundreds of dollars to writers to create unique content for their pages.
This can be avoided if you use a credible rewriter tool like this.
All you need to do is borrow/pick content from your competitors and rewrite it in a unique style with this tool.
Some notable features of SEO Wagon include:
The tool has a database of over 500,000 synonyms used for rewriting your drafts.
The tool uses AI, which helps it give options to the user to create customized content.
This tool can create a thousand-word post in less than ten seconds.
The tool is very easy to use, especially for people who are good with SEO and blogs.
The tool provides exceptionally good results, but its main problem is that it doesn't allow you to rewrite the same draft more than once. Doing so would result in spam.
Final words
Paraphrasing is a very important technique, without paraphrasing, it can be hard for a writer to create 100% unique content as there isn't always time for new research and creativity.
Therefore, most posts written today are the more explained versions of the ideas that different authors already published in the past.
Now it is best that you learn how to rephrase the right way, but if you don't know how to do it, you can easily use one of the five paraphrasing tools we discussed in this post. These tools are reliable, easy to use, efficient, and can provide unique content in a very short time.
You must pick the best option that suits your work and get going with content creation.
Using these online tools, you can save a lot of your efforts, time, and money.