The Android Auto is the automotive system from Google, which puts the Android experience in compatible automobiles. With it, you transmit the key features of your phone to the dashboard, from real-time navigation to music players.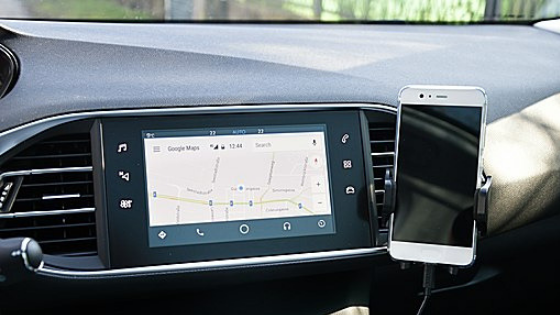 What is Android Auto?
The Android Auto is an automotive competitor to Apple CarPlay and other owners of automakers operating system, which integrates the Android phone and applications ready for use with smart panel of certain vehicles.
This is an alternative to using the mobile device itself to receive directions in apps like Google Maps and Waze, which because of the smaller screen (in relation to the panel) can end up taking away the concentration of the driver, leading to accidents.
The driver has a more intuitive interface adapted to the day-to-day driving, with larger icons, more readable texts and relevant information, so you do not get distracted. Much of the inspiration for Android Auto comes from standalone GPS navigation devices such as the Dutch company TomTom.
One of the main advantages of the Google system for others that allow Wi-Fi mirroring for the car dashboard (such as CarLink) is the need to connect via USB cable, which reduces the loss of information. In addition, all processing is performed on the mobile, dispensing cutting-edge hardware in the car.
In addition to compatible vehicles, the user can purchase a compatible panel on their own and install in your car; there are some that support both Android Auto and CarPlay.
Because it runs entirely on mobile (you can download the app on play.google.com) Android Auto also stores all the requests and notes, such as appointments and reminders you make while driving, and you can take them with you when you disconnect the phone; the app will remind you when you're behind the wheel or on foot.
In addition to navigation apps such as Google Maps and Waze and Google Assistant, the system supports music streaming platforms such as Google Play Music, Youtube Music, Spotify, Amazon Music and even Apple Music, as well as messengers such as Google Hangouts, WhatsApp, Facebook Messenger, Skype and Telegram.