Bison may be the best-known villain in the Street Fighter series. Dictator and megalomaniac, his goal is to put all the governments of the world under the dominion of his criminal organization, Shadaloo. His first appearance was in the second game of the franchise and now he returns with his classic skills and new combos. See how to fight with Bison in Street Fighter V.
1. Tips for playing with Bison
Mister Bison is known as the master of hypnosis and also has a characteristic and larger and heavier physical bearing. So, let go of strategies that involve walking to get closer to your opponent.
But to make up for this weakness, Bison has an invincible, super-leap forward onslaught (despite his size) that can easily reach the other side of the stage. But it is worth remembering that more experienced opponents can use anti-aircraft strikes to counterattack, since they are well choreographed.
Another tip is to combine the EX Psycho Blast, before jumping, and loading. Using the sliding kick is a good alternative as well, especially against opponents who are not very good at blocking low blows.
2. Tips to play against Bison
As the villain is slow and will always try to compensate this with onslaughts and combos. Be prepared to counterattack whenever he tries some of these moves. However, attacking it during a Psycho Power V-Trigger needs a literally perfect timing.
It's also possible to hit him even when Bison uses his Devil Reversal. Do not forget to try to counterattack your LK and MK versions of Double Knee Press attacks.
To conclude, remember that MK/MP and HK/HP skills are very slow and make it easier for players to control more aggressive characters when cornering Bison in a corner, especially because he is slow to walk.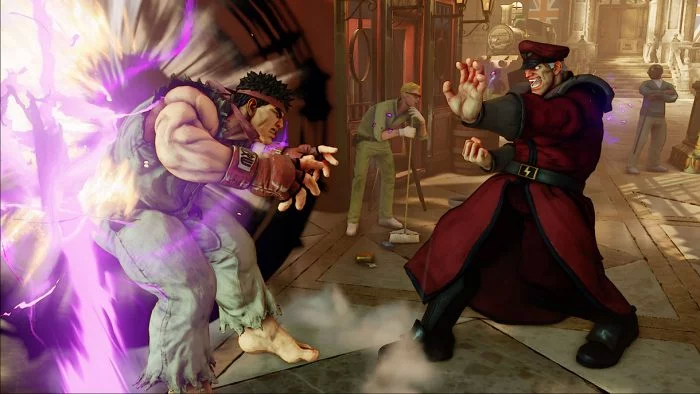 3. Best Bison combos
Combo 1
Charge DB, Cr. + LK, XX, Cr. + LP, XX, LK, Trade for B Charge, XX …
Combinations:
LK Double Knee Press Charge
EX Double Knee Press Charge
V-Trigger, EX Psycho Blast Charge
V-Trigger, EX Psycho Blast Charge, XX, EX Double Knee Press Charge
Combo 2
Combinations:
MP Psycho Blast Charge
LP Psycho Inferno
HK Double Knee Press Charge (1-Stroke), XX, Ultimate Psycho Crusher
EX Double Knee Press Charge
MK Double Knee Press Charge, XX, HP + HK, f, LK, XX, EX Psycho Blast Charge, XX, EX Double Knee Press Charge
V-Trigger, LK Double Knee Press Charge, XX, EX Psycho Inferno, XX, Head Press Charge
V-Trigger, LK Double Knee Press Charge, XX, EX Psycho Blast Charge, XX, EX Psycho Inferno, EX Double Knee Press Charge
Combo 3
Combinations:
MP Psycho Inferno
EX Psycho Inferno, Charge B, MK Double Knee Press Charge
Combo 4
Charge B, Cr. + LP, XX, LK, F, LK, XX …
Combinations:
LK Double Knee Press Charge
EX Double Knee Press Charge
LP Psycho Blast Charge
V-Trigger, EX Psycho Blast Charge
V-Trigger, EX Psycho Blast Charge, XX, EX Double Knee Press Charge
Combo 5
Combinations:
MP Psycho Inferno
MP Psycho Inferno, XX, Ultimate Psycho Crusher
EX Psycho Blast Charge
V-Trigger, LP Psycho Blast Charge, EX Double Knee Press Charge
V-Trigger, LK Double Knee Press Charge, XX, EX Psycho Blast Charge, XX, Head Press Charge
More tips for Street Fighter V